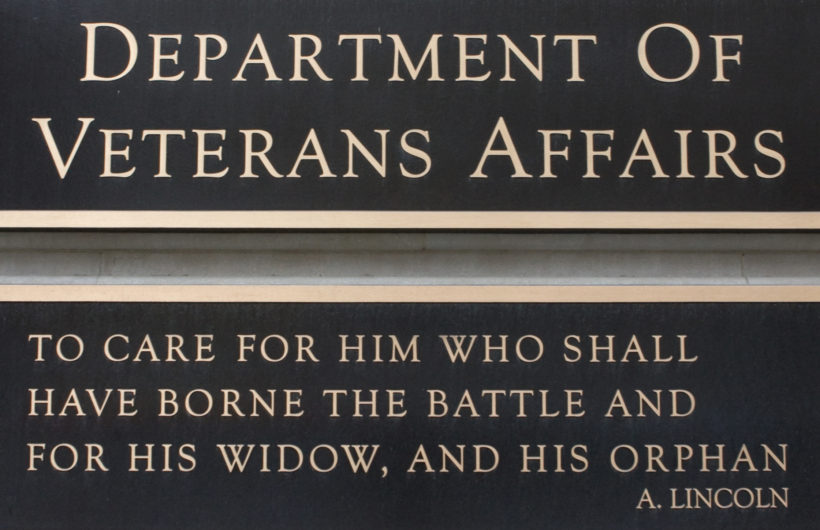 redo Jump to...
print Print...
(by David B. Caruso, Associated Press – posted at Star Tribune & Military Times) FAYETTEVILLE, N.C. – The chronic delays plaguing the Veterans Affairs health system are concentrated in a fraction of its hospitals and clinics – many of them in the South – that have done far worse than others in delivering prompt care, according to government data reviewed by The Associated Press.
A year after…revelations that sick veterans were getting sicker while languishing on waiting lists, VA statistics show that the number of patients facing long waits has not declined, even after Congress gave the department an extra $16.3 billion last summer to shorten waits for care.
Nearly 894,000 appointments completed at VA medical facilities from Aug. 1 to Feb. 28 failed to meet the health system's timeliness goal, which calls for patients to be seen within 30 days. More than a quarter of those appointments involved a delay of longer than 60 days.
Since the summer, the number of vets waiting more than 30 or 60 days for non-emergency care has largely stayed flat. The number of medical appointments that take longer than 90 days to complete has nearly doubled.
Those delays were not spread evenly throughout the VA's vast network of hospitals and clinics.
Many occurred in a handful of Southern states, often in areas with a strong military presence, a rural population and patient growth that has outpaced the VA's sluggish planning process.
Of the 75 clinics and hospitals with the highest percentage of patients waiting more than 30 days for care, 12 are in Tennessee or Kentucky, 11 are in eastern North Carolina and the Hampton Roads area of Virginia, 11 are in Georgia or southern Alabama and six are in north Florida.
Seven more were clustered in the region between Albuquerque, New Mexico and Colorado Springs, Colorado.
Those 47 clinics and hospitals represent just a fraction of the more than 1,000 VA facilities nationwide, but they were responsible for more than one in five of the appointments that took longer than 60 days to complete.
That has meant big headaches for veterans like Rosie Noel, a retired Marine gunnery sergeant awarded the Purple Heart in Iraq after rocket shrapnel slashed open her cheek and broke her jaw.
Noel, 47, said it took 10 months for the VA to successfully schedule her for a follow-up exam and biopsy after an abnormal cervical cancer screening test. Her first scheduled appointment in February of 2014 was postponed due to a medical provider's family emergency, she said. Her make up appointment at the VA hospital in Fayetteville, one of the most backed-up facilities in the country, was canceled when she was nearly two hours into the drive from her home in Sneads Ferry on the coast.
Noel said she was so enraged, she warned the caller she had post-traumatic stress disorder – and they better have security meet her in the lobby.  "To say I was livid is being mild," she said.  "I served my country. I'm combat wounded. And to be treated like I'm nothing is unconscionable."
The AP examined six months of appointment data at 940 individual VA facilities to gauge changes since a scandal over delays led to the resignation of the VA's secretary and prompted lawmakers in August to give the VA an additional $16.3 billion to hire doctors, open more clinics and build the new Choice program that allows patients facing long delays to get private-sector care. Data for individual facilities were not available for August.
The analysis reveals stark differences….  In the Northeast, Midwest and Pacific Coast states, few VA sites reported having significant delays. …
But at the VA's outpatient clinic in Jacksonville, Florida, 7,117 appointments completed between Sept. 1 and Feb. 28 involved a wait of more than 60 days. There were more vets experiencing extended delays there than in the entire states of New York and Pennsylvania combined.
VA officials cite numerous efforts to ramp up capacity by building new health centers and hiring more staff. Between April and December, the system added 8,000 employees. In Fayetteville, the VA is finishing a new 250,000-square-foot health center to help alleviate the delays that frustrated Rosie Noel.
It is difficult to [evaluate] exactly how things have changed because the VA introduced a new method for measuring wait times at the end of the summer. VA officials say the new methodology is more accurate, but its adoption also meant that about half of all patient appointments previously considered delayed are now being classified as meeting VA timeliness standards. That means published wait times now can't be directly compared with data the VA released last spring.
The trend, however, is clear: Under the VA's old method for calculating delays, the percentage of appointments that took longer than 30 days to complete had been steadily ticking up, from 4.2 percent in May to nearly 5 percent in September. Under the new method – the one that counts half as many appointments as delayed – the percentage went from 2.4 percent in August to 2.9 percent in February.
VA officials say they are aware of the trouble spots in the system. They cite numerous efforts to ramp up capacity by building new health centers and hiring more staff. And they say that in at least one statistical category, the VA has improved: The number of appointments handled by VA facilities between May and February was up about 4.5 percent compared to the same period a year earlier.
But they also readily acknowledge that in some parts of the country, the VA is perpetually a step behind rising demand.
…Deputy Secretary of Veterans Affairs Sloan Gibson told the AP…that the VA has historically been "not very adroit as a bureaucracy" in responding to those changes. It takes too long to plan and build new clinics when they are needed, he said, and the VA isn't flexible in its ability to reallocate resources to places that need them most.
"We are doing a whole series of things – the right things, I believe – to deal with the immediate issue," Gibson said. "But we need an intermediate term plan that moves us ahead a quantum leap, so that we don't continue over the next three or four years just trying to stay up. We've got to get ahead of demand."
He also asked for patience, saying it will take time to get some of those initiatives expanded [with the $16.3 billion] to the point where they "move the needle," Gibson said. …
From the Associated Press. Published at Star Tribune .com and Military Times .com. Reprinted here for educational purposes only. May not be reproduced on other websites without permission from The Associated Press.
Questions
1. a) What is the VA's timeliness goal?
b) Why has the VA established this goal? (See "Background" below the questions for the answer.)
2. Answer the following about wait times for veterans at VA medical facilities.  How many:
a) failed to be seen within 30 days
b) appointment took longer than 60 days
c) medical appointments that take longer than 90 days to complete
3. a) How much money did Congress give the VA in August to shorten waits for medical care for vets?
b) What three improvements was the money to be used for?
4. a) How many VA medical facilities are there across the country?
b) Forty-seven of the 75 facilities where the highest percentage of patients were found to wait more than 30 days for care were in the south (with a few between Albuquerque and Colorado Springs). Those 47 clinics and hospitals are about 5% of all VA facilities. What percent of appointments that took longer than 60 days to complete were found to be in those facilities?
5. Why is it difficult to evaluate whether the VA has improved wait times under the new method they use to measure wait times?
6. a) VA Deputy Secretary of Foreign Affairs Sloan Gibson attempted to explain they the VA is improving and asked for patience. Should the American people and the veterans themselves who are awaiting medical treatment continue to be patient? Explain your answer.
b) Ask a parent: what do you think would be the best solution for this problem?
7. What do you think should be done about the fact that VA facilities in the South still do not give vets the timely service they deserve?
Background
Disparities abound in VA treatment
In many parts of the country, the VA can boast of being able to deliver care that is just as fast, or even faster, than patients would get in the private sector. Relatively few VA facilities in the Northeast, Midwest and Pacific Coast states reported having significant numbers of patients waiting extended periods for care.
Of the 940 hospitals and outpatient centers included in the AP analysis, 376 met the VA's timeliness standard better than 99 percent of the time. A little less than half of all VA hospitals and clinics reported averaging fewer than two appointments per month that involved a wait of more than 60 days.
The difference…can be stark.
The Minneapolis VA, one of the system's busiest medical centers, completed 276,094 medical appointments between Sept. 1 and Feb. 28. Only 424 of them involved a wait of more than 60 days.
At the VA's outpatient clinic in Jacksonville, Florida, a facility handling a third of the volume, 7,117 appointments involved a wait of more than 60 days. That means there were more vets experiencing extended delays at that one clinic than in the states of New York, New Jersey and Connecticut combined.
Equally surprising: The Jacksonville clinic is practically brand new. It opened in 2013 with the express intent of improving access to care in a fast-growing city with a lot of military retirees and a close relationship with three Navy bases: Naval Air Station Jacksonville, Naval Station Mayport and the Kings Bay Naval Base.
But like other VA facilities built recently in spots now struggling with long waits, the clinic took so long to plan and build – 12 years! – that it was too small the day it opened, despite late design changes that added significantly more space. (from militarytimes.com)
---
In 1996, Congress passed a law requiring that any vet needing care be seen within 30 days. The General Accountability Office reported in 2000, and again in 2001, that excessive waiting was still a problem. In 2007, and again in 2012, the VA's own inspector general reported that VA schedulers routinely cheated to hide long waits.
In April 2014, the nation was shocked by charges that more than 1,400 vets lingered and 40 died on a secret waiting list at the Phoenix, Ariz., Veterans Administration medical center. The list was made to conceal long waits for care. But what you haven't heard is even worse: VA hospitals across America were manipulating the official electronic waiting list, and the deadly coverups have been going on for years.
The dirty tricks at the Phoenix VA came to light on April 24 when retired VA physician Sam Foote exposed how the hospital evaded legal requirements that patients be seen promptly. But Congress has known since the 1990s about vets at many VA facilities waiting hundreds of days for care and sometimes dying in line.
(from a May 2014 StudentNewsDaily article)


(read a

June 2014 follow-up article

)
Daily "Answers" emails are provided for Daily News Articles, Tuesday's World Events and Friday's News Quiz.