(by Jillian Badanes, WashingtonTimes.com) — A soldier at Camp Buren in Kuwait was gearing up for deployment to Iraq this month when his pregnant wife went into labor back home.
With a satellite hookup, camera and telephone, he was able to see and speak with her via a computer in her hospital room throughout the delivery.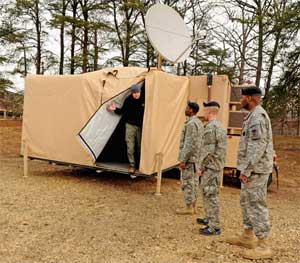 This unprecedented communication came courtesy of the United Service Organizations [USO], the same nonprofit group that sent Bob Hope to entertain the troops in World War II and again in Vietnam.
Its mission remains the same – supporting U.S. military service members and their families – but it's not your grandfather's USO.
As the battlefield has been transformed by 21st-century warfare, so has the USO. An organization that once offered only camp shows and movies is now air-dropping entire electronic entertainment centers in trailers – complete with televisions, laptops and video games – to the most remote areas of Iraq and Afghanistan.
"We are constantly adapting," Sloan Gibson, president and chief executive of the USO, told editors and reporters of The Washington Times this week. "Many of our troops are serving in very small forward operating bases or combat outposts, where they don't have much else, and so we've been adapting on how to reach those troops."
The USO – established at the request of President Franklin Roosevelt in 1941 – now has 130 fixed centers across the United States, Europe and Asia, including Iraq and Afghanistan. Resources in the two war zones are split 60-40 in favor of Iraq, but Mr. Gibson said the percentage would shift more toward Afghanistan as U.S. troop levels increase there and decrease in Iraq.
"In Afghanistan, we are working hard to keep pace with the ramp-up in forces, developing ways to reach these forward areas that we otherwise would not be normally able to do," he said. "Afghanistan does not have infrastructure to move people and stuff like Iraq does. If you are going to go from point A to point B, you are going to be in a plane or a helicopter."
The challenges of unconventional warfare, with suicide bombings and improvised explosive devices, as well as limited in-country infrastructure, have made it more difficult for the USO to reach all the troops. That led the organization to develop "USO in a Box," as the mobile entertainment centers are known, and "USO to Go" – bundles of video games, portable DVD players, books and snacks delivered directly to remote bases.
"USO in a Box" comes in trailers "slung under a helicopter that can be taken anywhere in the world," Mr. Gibson said. "USO to Go" is "like Christmas for these guys," he said. "The guys don't have water; they live on MREs [meals ready to eat]; so finding ways to reach these troops is vitally important."
Another growing focus for the USO is assisting troops and families dealing with long-term injuries and mental and emotional trauma.
"It's about adapting; it's about understanding the needs of our troops and their families. We lift the spirits of America's troops and their families," Mr. Gibson said.
While the services and mode of delivery have changed, the traditional celebrity tour remains a staple. Since its inception, the USO has maintained a strong relationship with Hollywood and has recruited thousands of performers to travel overseas and entertain the troops.
Mr. Gibson, who recently returned from a recruitment trip to Hollywood, said stars are lining up to follow in the footsteps of icons like Mr. Hope and Marilyn Monroe. While support has always been strong, he said it has increased since the election last year of President Obama. …
Mr. Gibson said the USO targets specific musicians and actors based on troops' interests, but tries to recruit a wide variety of entertainers. Country singer Toby Keith recently returned from a 10-day tour of Afghanistan. Troops in Kuwait and Iraq met stars from the NFL after the Super Bowl, and actress Scarlett Johansson and tennis star Anna Kournikova have greeted troops in Kuwait and Europe.
Late-night TV host Craig Ferguson and the host of Comedy Central's "The Colbert Report," Stephen Colbert, are scheduled to visit the Persian Gulf this summer. Mr. Gibson said Mr. Colbert would be broadcasting his TV show from the field.
The celebrities may endure long hours, sleepless nights and rough accommodations – not the five-star treatment they are accustomed to receiving. Last year, during a Toby Keith performance in Afghanistan, the camp came under mortar fire, Mr. Gibson said.
Most celebrities sign up to tour again, enthralled by audiences that are often more enthusiastic than they have ever experienced. "If we ever get them out on a tour one time, they're hooked," Mr. Gibson said. …
Copyright 2009 News World Communications, Inc.  Reprinted with permission of the Washington Times.  For educational purposes only.  This reprint does not constitute or imply any endorsement or sponsorship of any product, service, company or organization.  Visit the website at www.washingtontimes.com.
Questions
1. What is the mission of the USO?
2. How have USO services changed over the past several years?
3. a) What has made it more difficult for the USO to reach all of the troops in Iraq and Afghanistan?
b) How is the USO overcoming this challenge?
4. Which service provided by the USO has not changed since its founding in 1941?
5. USO President Sloan Gibson said that while celebrities have always volunteered to entertain the troops, support has increased since the election of Barack Obama. We believe celebrities should want to encourage and entertain the troops no matter who is in office.  What do you think? Explain your answer.
Daily "Answers" emails are provided for Daily News Articles, Tuesday's World Events and Friday's News Quiz.