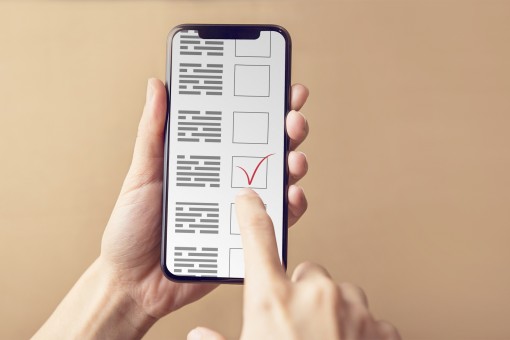 redo Jump to...
print Print...
(by Morgan Chalfant, The Hill) – West Virginia is testing a new secure mobile voting application to help active-duty military members vote in the upcoming May primary election.
Secretary of State Mac Warner (R) announced the pilot program on Wednesday afternoon. It will initially be limited to military voters and their spouses and children who are registered to vote in Harrison and Monongalia counties. However, the state plans to expand the program to all 55 counties in the upcoming November general election if the pilot proves successful.
The app is powered by Blockchain, a type of technology used to secure cryptocurrency that has gained increased attention with the rising popularity of digital currencies such as bitcoin. The technology has already been [used] in health care and other industries to secure data.
Security experts…have increasingly pointed to blockchain technology as a way to secure election systems and ensure confidence in future votes.
West Virginia is the first state to test out a blockchain-based application to administer a federal election.
"West Virginia is taking the lead in providing safe, secure and accurate voting systems to encourage voter participation at every level," Warner said in a statement. "We're working hard to increase the level of confidence citizens have in our election process. Increased confidence results in increased participation."
In order to sign up for the new program, military voters in the two counties need to apply for special absentee status and download the secure app on an Apple or Android phone or tablet.
Military members registered vote in West Virginia are currently allowed to cast ballots by mail, fax and email.
The app was designed by Boston-based tech startup Voatz, which secured more than $2 million in funding earlier this year to develop blockchain voting technology. It encrypts data to ensure the voter's ballot is securely transmitted.
The West Virginia primary will take place on May 8.
Reprinted here for educational purposes only. May not be reproduced on other websites without permission from The Hill. Visit the website at thehill .com.
Questions
1. The first paragraph of a news article should answer the questions who, what, where and when. (In this article, 1st and 2nd paragraphs). List the who, what, where and when of this news item. (NOTE: The remainder of a news article provides details on the why and/or how.)
2. a) What will West Virginia do if the pilot program is successful? b) How will the state election board know if the program is successful (that the app is recording all votes (and correctly)?
3. Describe the technology the app will use.
4. What is significant about West Virginia's pilot program?
5. Based on what you know about privacy, security and the ability of hackers to hack into anything including:
Equifax – hackers stole the personal data of 145 million people,
Yahoo – 3 billion accounts were hacked
Uber – 57 million customers hacked
Sony's PlayStation Network, eBay, Target, Home Depot, etc. customers' personal information stolen.
a) CHALLENGE: Ask at least two fairly tech-savvy people over the age of 50: Do you think using an app to vote a good idea? Please explain your answer.
b) One expert said that blockchain allows each vote to become "immutable after it is recorded" on the blockchain ledger, "unlike penetrable electronic voting systems currently in use." To ensure records when people cast their votes, states are moving to paper ballots:
-In September 2017 it was reported: Virginia Ends Use of Touch-Screen Voting Machines
-In February 2018 it was reported: PA to require voting machines with paper backup
Is a reportedly secure technology like blockchain better or just as good as paper ballots to ensure the integrity of the vote, or do you think it is possible to hack this technology? Explain your answer. (Ask the same adults this question also; compare your answers.)
Daily "Answers" emails are provided for Daily News Articles, Tuesday's World Events and Friday's News Quiz.