redo Jump to...
print Print...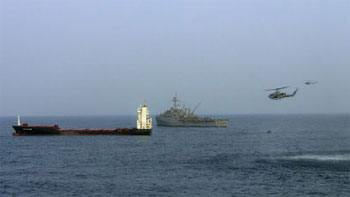 (from FoxNews.com) AP, MANAMA, Bahrain – U.S. Marine commandos stormed a pirate-held cargo vessel off the Somalia coast Thursday, reclaiming control of the ship and taking nine prisoners without firing a shot, the U.S. Navy said.
The Navy declined to give specific tactics used in the pre-dawn raid, but it ranks among the most dramatic high seas confrontations with pirates by an international task force created to protect shipping lanes off lawless Somalia.
Lt. John Fage, a spokesman at the U.S. Fifth Fleet headquarters in Bahrain, said the operation took about an hour and no injuries were reported among the Marines or crew of the German-owned Magellan Star, which was commandeered by pirates on Wednesday.
"There were no shots fired," Fage said in an e-mail to The Associated Press.
A Turkish frigate on anti-piracy patrols, TCG Gokceada, first responded to a distress call from the Magellan Star, which flies the flag of Antigua and Barbuda.
The U.S. team from the 15th Marine Expeditionary Unit's Maritime Raid Force launched the assault from aboard the USS Dubuque, an amphibious transport ship, a U.S. Navy statement said.
Fage said details of the operation could not be disclosed under Navy policies. But he noted the Marine Expeditionary Unit has the capability to board ships both by sea and air.
The Navy statement said nine suspected pirates were taken into custody.
U.S. warships are part of a 25-nation mission protecting merchant vessels from pirate attacks off the coast of Somalia and into the Gulf of Aden. The task force often opens fire on suspected pirates, but boarding raids are rare.
In April 2009, a team of Navy Seal sharpshooters positioned on the fantail of a U.S. warship killed a trio of Somali pirates to free an American sea captain who had been taken hostage and was being held at gunpoint onboard a lifeboat.
Last month, Denmark said a helicopter from one of its warships fired warning shots and foiled a pirate attack off Somalia.
At the United Nations, Secretary-General Ban Ki-moon said last month options under consideration to prosecute suspected pirates include creating a special international court.
More than 140 piracy-related incidents have been reported off Somalia's coast since January and more than 30 ships have been hijacked, according to U.N. and anti-piracy task force reports.
Associated Press. Reprinted from FoxNews.com. For educational purposes only. This reprint does not constitute or imply any endorsement or sponsorship of any product, service, company or organization. Visit the website at foxnews.com.
Questions
1. When was the German-owned Magellan Star captured by pirates?
2. How did U.S. Marines aboard the USS Dubuque respond to distress calls from the Magellan?
3. a) How many people were killed in the Marine rescue operation?
b) How many pirates were taken into custody?
4. For what reason do you think the spokesman for the Fifth Fleet declined to give details about the Marines' raid on the Magellan Star?
5. How many countries are taking part with the U.S. in the mission to protect merchant vessels from pirate attacks off the coast of Somalia and into the Gulf of Aden?
6. How many ships have been hijacked by pirates since January 2010?
Background
In December 2008, pirates tried to attack a U.S. cruise ship, the MS Nautica, with over 1,000 people on board. The Nautica was able to outrun the pirates, but other ships have not been so lucky. (Read about the problem of piracy here.)
Somali pirates attacked about 100 ships in 2008 and captured about half, including a Saudi supertanker loaded with $100 million worth of oil.
The pirates, estimated to number about 1,500, are thought to have received more than $30 million in ransom payments, according to an estimate by the Associated Press.
From wikipedia:
Piracy off the Somali coast has been a threat to international shipping since the second phase of the Somali Civil War in the early 21st century. Since 2005, many international organizations, including the International Maritime Organization and the World Food Program, have expressed concern over the rise in acts of piracy. Piracy has contributed to an increase in shipping costs and impeded the delivery of food aid shipments. Ninety percent of the World Food Programme's shipments arrive by sea, and ships have required a military escort.
In August 2008, Combined Task Force 150, a multinational coalition task force, took on the role of fighting Somali piracy by establishing a Maritime Security Patrol Area (MSPA) within the Gulf of Aden. The increasing threat posed by piracy also caused significant concerns in India since most of its shipping trade routes pass through the Gulf of Aden. The Indian Navy responded to these concerns by deploying a warship in the region in October 2008. The regional Puntland government in northeastern Somalia has also committed itself to eradicating piracy, and begun construction on a naval base to facilitate the task.
By the first half of 2010, these increased policing efforts by Somali government authorities on land along with international naval vessels at sea reportedly contributed to a drop in pirate attacks in the Gulf of Aden from 86 a year prior to 33, forcing pirates to shift attention to other areas such as the Somali Basin and the wider Indian Ocean.
Resources
For a map of some of hijackings in the Gulf of Aden and around Somalia in 2008-2009, go to wsj.com.
View photos of some Somali pirates at wsj.com.
For a map of Africa, including the Gulf of Aden and the Suez Canal, go to worldatlas.com. (NOTE: The Gulf of Adan is between the Arabian Sea and the Indian Ocean.)
For background information on Somalia, go to the CIA World FactBook at cia.gov/cia/publications/factbook/index.html.
Daily "Answers" emails are provided for Daily News Articles, Tuesday's World Events and Friday's News Quiz.