(by Jonathan Weisman in Washington and Jeffrey Ball in Port Fourchon, La., The Wall Street Journal, WSJ.com) – Frustration among federal and state officials over the handling of the Gulf oil spill boiled over Monday, even as the government's lead crisis manager said there was little that federal authorities could do but let BP PLC try to stop the gusher.
While some critics have asked why the White House doesn't take control of the cleanup, Coast Guard Admiral Thad Allen, speaking at the White House Monday, said he wouldn't recommend it. He said the government doesn't have more technology or expertise than the oil giant to deal with the leaking well, anyway.
"To push BP out of the way, it would raise a question: Replace them with what?" said Mr. Allen, who's leading the federal disaster teams in the Gulf. He said he had consulted with leaders of rival oil companies, who told him that BP appears to be doing what they would do.
Even so, political leaders traded barbs over the response to the spill by BP and the government, amid a rising tide of criticism from left and right.
Interior Secretary Ken Salazar, speaking to reporters in Louisiana, vowed that the government "will keep our boot on their neck until the job gets done," repeating a phrase that the White House has used previously to characterize its pressure on BP.
But Louisiana's Republican Gov. Bobby Jindal, speaking at the same press conference, in turn blasted the federal response. "We need more boom. We need more resources. We need the materials we requested to fight this spill," Mr. Jindal said.
For its part, BP has said it aims to try again Wednesday to plug the gushing well . But Chief Executive Tony Hayward warned Monday in Louisiana that the operation may not work.
The pressure on both the government and the company is growing as oil washes into coastal wetlands and fisheries along the Louisiana coast. Liberal allies of President Barack Obama have accused him of acting like a passive bystander as the company responsible for the disaster appears unable to fix it.
…..
Mr. Allen's extensive briefing at the White House underscored how difficult the task facing the president is and how ill-prepared the industry and government are to stem the oil gushing 5,000 feet below the ocean surface. Mr. Allen said C17 cargo planes are flying protective booms from Alaska to the Gulf coast. Air Force aircraft are delivering chemical dispersants. The Navy is using advanced imaging to track the spill. He personally has delayed a retirement that was to begin Tuesday.
But, he said, "the government doesn't have everything we need to solve this problem."
"I've been dealing with oil spills for 30 years. This is an unprecedented, anomalous event," he said.
How far to bend the rules to respond to such an event has become a point of dispute between Louisiana officials and the Obama administration.
Mr. Jindal again called on the Obama administration to approve a proposal to build sand berms offshore to protect sensitive wetlands from oil. The administration has balked at the plan.
Mr. Jindal said state and local officials have "taken matters into our own hands" to start some sand barriers, and that more wetlands are put at risk every day the federal government delays action. But Mr. Allen said the Army Corps of Engineers had to look at feasibility, environmental impact, where the sand would come from, and how quickly the artificial islands could be built. His estimate: six to nine months.
The so-called permanent solution-two relief wells being drilled to pull oil from the billowing well head-isn't a sure thing, Mr. Allen said, The government is now looking at whether a third relief well should be started.
Mr. Hayward said it was necessary to be realistic about the likelihood that the company will succeed later this week in using a so-called "top-kill" procedure to stem the leak. He put its chance of success at 60% to 70%.
"It has never been tried in 5,000 feet of water," he told reporters Monday afternoon, standing in a blue shirt and khaki pants on a beach, as workers in white protective suits and green gloves shoveled up pools of gooey oil that were sitting on the sand.
Responding to increasingly angry criticism from Obama administration officials, Mr. Hayward said the spill "is clearly a major reputational issue for BP."
The administration is also feeling the heat as Congress steps up investigations of the spill. On Tuesday, senior administration officials will testify before the Senate Energy and Natural Resources Committee on how high to raise the current $75 million liability cap on economic damages should be set in the event of an oil spill.
Mr. Obama has said he wants it raised, but Mr. Salazar has said a high cap could hurt less robust firms.
Write to Jonathan Weisman at jonathan.weisman@wsj.com and Jeffrey Ball at jeffrey.ball@wsj.com.
Copyright 2010 Dow Jones & Company, Inc. All Rights Reserved. Reprinted here for educational purposes only. Visit the website at wsj.com.
Questions
1. a) Who is Thad Allen?
b) How does Mr. Allen respond to critics who think the White House should take control of the oil spill cleanup?
2. What will BP attempt to do again on Wednesday (May 26)?
3. List the measures the military is taking to contain the oil spill.
4. What has Louisiana Governor Bobby Jindal said his state needs from the federal government?
5. Which request made by Governor Jindal has the Obama administration been hesitant to do? Why?
6. What do you think about Gov. Jindal's request and the government's response?
Resources
Visit BP's website for information on the disaster at bp.com/genericarticle.do?categoryId=9033573&contentId=7061731.
Visit the U.S. government website for information on Coast Guard and other response to the BP oil disaster at deepwaterhorizonresponse.com/go/site/2931.
For a previous article on the attempt to contain the oil leak with the big dome, go to studentnewsdaily.com/daily-news-article/expedition-to-contain-oil-leak-begins-in-gulf.
and another article on the attempt to contain the leak with a smaller dome, go to studentnewsdaily.com/daily-news-article/bp-takes-new-tack-to-capture-escaping-oil-in-gulf.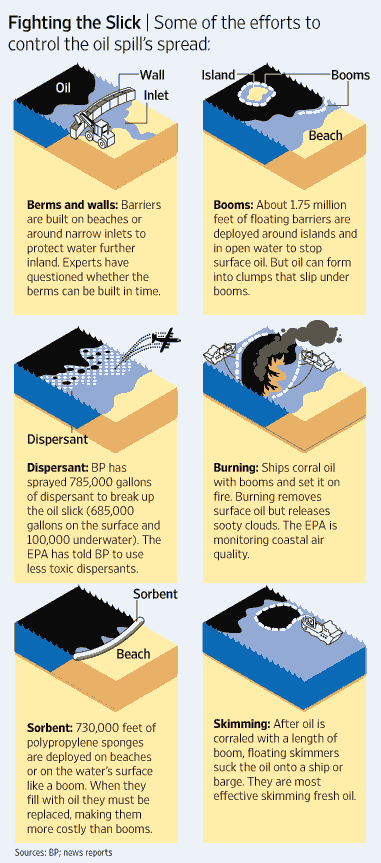 Daily "Answers" emails are provided for Daily News Articles, Tuesday's World Events and Friday's News Quiz.