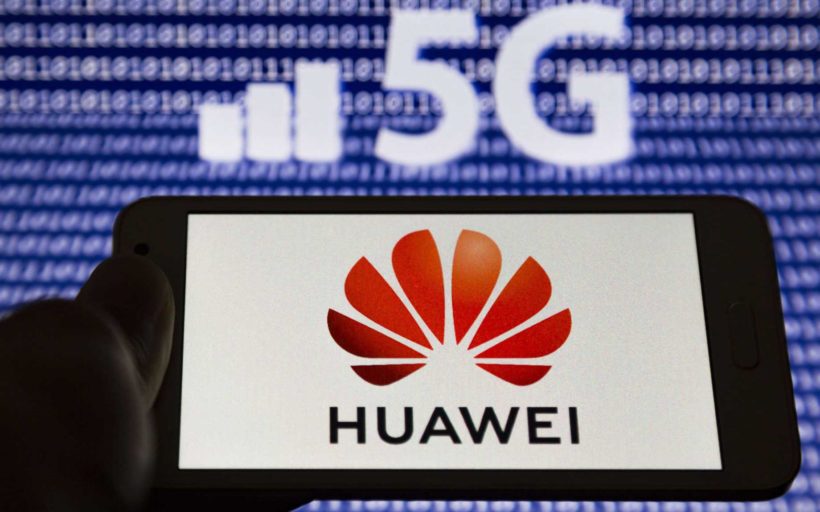 redo Jump to...
print Print...
(by Jack Stubbs and Alexandra Alper, Reuters) LONDON/WASHINGTON — The United States is making a final pitch to Britain ahead of a UK decision on whether to upgrade its telecoms network with Huawei equipment, amid threats to cut intelligence-sharing ties, people with knowledge of the matter told Reuters.
Britain is expected to make a final call on how to deploy Huawei equipment in its future 5G networks later this month, weighing U.S.-led allegations that the equipment could be used for Chinese state spying against Britain's relationship with Beijing and industry warnings that banning the firm outright would cost billions of dollars.
Chinese company Huawei, the world's largest maker of mobile networking equipment, has repeatedly denied the allegations. A company spokesman said UK lawmakers had confirmed Huawei equipment would not be deployed in networks used for intelligence sharing:
"Our 5G equipment does not pose a threat to information security," he said. "We are confident the UK government will take an evidence-based approach when making its decision about Huawei's inclusion in the 5G network."
U.S. Secretary of State Mike Pompeo was expected to press British Foreign Secretary Dominic Raab over Huawei at a meeting in Washington on Thursday, Jan. 9, the sources said.
Ahead of the decision, Washington had also planned to send a delegation, including deputy national security adviser Matt Pottinger, to meet with British officials this week, sources said. But the trip was cancelled at the last minute, two of the people said, due to bad weather. …
A UK government spokesman said: "The security and resilience of the UK's telecoms networks is of paramount importance. The government continues to consider its position on high-risk vendors and a decision will be made in due course."
The U.S. State Department and National Security Council did not immediately respond to requests for comment.
Britain is a key battleground in the geopolitical tug-of-war over Huawei. Officials decided in principle last year to block the company from critical parts of the 5G network but give it limited access to less sensitive parts. A final decision has yet to be made public.
A provision of the U.S. 2020 defense spending law, signed by President Trump in December, directs intelligence agencies to consider the use of telecoms and cybersecurity infrastructure "provided by adversaries of the United States, particularly China and Russia," when entering intelligence-sharing agreements with foreign countries.
The provision, added by Republican Senator Tom Cotton, was aimed in particular at members of the Five Eyes intelligence-sharing alliance made up of the United States, Britain, Canada, Australia and New Zealand, and was intended as a "a first shot across the bow," said a person familiar with the matter.
An aide to Cotton said the senator's team is working on a new draft bill that could be released this month and would "significantly restrict" intelligence-sharing with countries that use Huawei equipment in their 5G networks, following through on earlier U.S. threats to do so.
"I'm profoundly concerned about the possibility that close allies, including the UK, might permit the Chinese Communist Party effectively to build their highly sensitive 5G infrastructure," Cotton told Reuters.
Published by Reuters .com on January 8, 2020. Reprinted here for educational purposes only. May not be reproduced on other websites without permission from Thompson Reuters.
Questions
1. What is Huawei?
2. a) What is the U.S. asking the UK to do about Huawei?
b) What has the U.S. warned we will do if the UK uses Huawei equipment in its 5G networks?
3. Why does the U.S. aim to prevent the UK from using Chinese company Huawei's equipment in its 5G networks?
4. How has Huawei responded to U.S. allegations of spying by the Communist government of China?
5. a) How did a UK government spokesman respond to U.S. concerns?
b) What decision did British officials make about Huawei last year?
6. a) What does a provision of the U.S. 2020 defense spending bill direct intelligence agencies to do?
b) Sen. Tom Cotton added the provision at members of the Five Eyes intelligence-sharing alliance. What will a new draft bill by Sen. Cotton do? – Why is the senator taking this step?
7. a) How important do you think it is for Huawei and other Chinese technology to be banned in the U.S. and our ally countries? Explain your answer.
b) Ask a parent the same question.
Background
What is Huawei? (from a 2012 WSJ article)
Chinese company Huawei (pronounced WAH-way) has become the world's second largest producer of network equipment – the transmitters, base stations and routing gear that connects calls and cellphone traffic.
Huawei climbed to the top by selling low-cost gear, quickly surpassing industry stalwarts like Nokia, Siemens, Alcatel, Lucent and Motorola. The competitive pressure forced the industry to consolidate underneath market leader Ericsson. Alcatel bought Lucent, Nokia and Siemens merged their infrastructure businesses, and a hobbled Motorola sold itself to Nokia Siemens.
Huawei has faced regular claims that its climb was aided by stolen intellectual property.
-Cisco sued Huawei in 2003, and people interviewed by the company for jobs said they were quizzed extensively about their work.
-In 2010, Motorola sued the Chinese company alleging it engaged in an elaborate plot involving former employees and a shell company to steal cellular network technology. Huawei denied the claims, and the companies later settled.
Starting in 2012, Huawei was taking on the smartphone market with low-cost phones using Google Inc.'s Android operating system.
Though new to the business, Huawei held a 2.6% share of the worldwide mobile phone market at the end of the second quarter, ahead of more established competitors like HTC, Motorola and BlackBerry maker Research In Motion.
The phones have found a niche in the U.S. market, where they're sold by carriers like MetroPCS and Leap that specialize in month to month contracts.
Resources
Read previous StudentNewsDaily posts on Huawei and concerns over China:
No Chinese citizen is free from Communist government surveillance. How could any Chinese company be free from Communist interference and control? :
---
Daily "Answers" emails are provided for Daily News Articles, Tuesday's World Events and Friday's News Quiz.