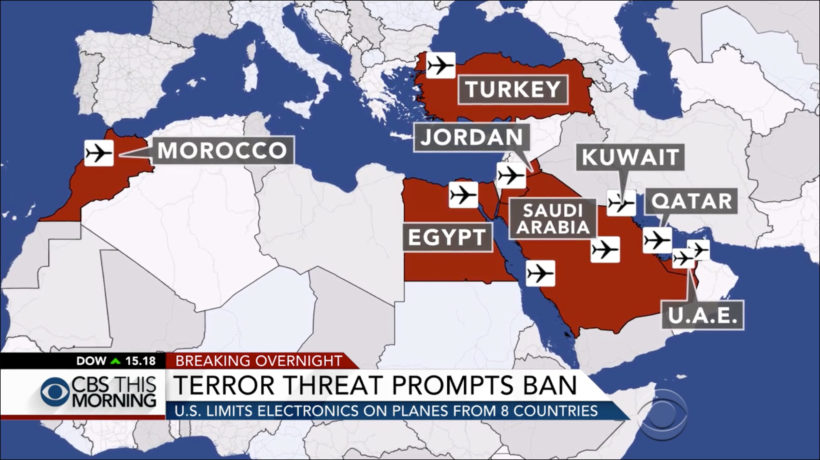 redo Jump to...
print Print...
(by David Shepardson, Reuters) WASHINGTON — The Trump administration on Tuesday imposed restrictions on carry-on electronic devices on non-stop flights coming to the United States from 10 airports…in the Middle East and North Africa in response to unspecified terrorism threats.
The Department of Homeland Security [DHS] said passengers traveling from those airports could not bring devices larger than a cellphone, such as tablets, portable DVD players, laptops and cameras, into the main cabin. Instead, they must be in checked baggage. (read the Fact Sheet at DHS.gov)
The new restrictions were prompted by reports that [Islamic terrorist] groups [including ISIS and Al Qaeda] want to smuggle explosive devices in electronic gadgets, officials told reporters on a conference call on Monday.
They did not provide further details on the threat. [See BBC video under "Resouces" below for an explanation Reuters and other media don't appear to be aware of.]
The airports are in Cairo, Egypt; Istanbul, Turkey; Kuwait City, Kuwait; Doha, Qatar; Casablanca, Morocco; Amman, Jordan; Riyadh and Jeddah, Saudi Arabia; and Dubai and Abu Dhabi in United Arab Emirates.
…DHS spokeswoman Gillian Christensen said the government "did not target specific nations. We relied upon evaluated intelligence to determine which airports were affected."
…The airports affected by the electronics rules are served by nine airlines that fly directly from those cities to the United States about 50 flights a day, senior government officials said. The policy does not affect any American carriers because none fly directly to the United States from the airports, officials said.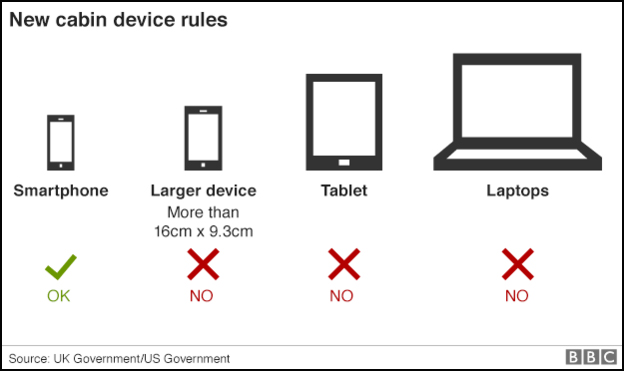 The carriers with non-stop flights – Royal Jordanian Airlines, Egypt Air, Turkish Airlines, Saudi Arabian Airlines, Kuwait Airways [KA.UL], Royal Air Maroc, Qatar Airways, Emirates and Etihad Airways – have until Friday to comply with the new policy, which took effect early on Tuesday and will be in place indefinitely.
Several of the carriers, including Turkish Airlines, Etihad and Qatar, said early on Tuesday that they were quickly moving to comply. Royal Jordanian and Saudi Airlines said on Monday that they were immediately putting the directive into place. …
DHS officials did not explain why the restrictions only apply to travelers arriving in the United States and not for those same flights when they leave from there.
The rules apply to U.S. citizens traveling on those flights, but not to crew members on those foreign carriers. Homeland Security will allow passengers to use larger approved medical devices.
Angela Gittens, director general of airport association ACI World, likened the move to years-long restrictions of liquids on planes, which she said also came suddenly, in response to a perceived threat, and caused some disruption.
Airlines will adjust to the electronics policy, she said. "The first few days of something like this are quite problematic, but just as with the liquids ban, it will start to sort itself out."
DHS said the procedures would "remain in place until the threat changes" and did not rule out expanding them to other airports. The agency said in a statement it "seeks to balance risk with impacts to the traveling public and has determined that cellphones and smartphones will be allowed in accessible property at this time."
The government said it was "concerned about terrorists' ongoing interest in targeting commercial aviation, including transportation hubs over the past two years."
Reuters reported Monday that the move had been under consideration since the U.S. government learned of a threat several weeks ago.
U.S. officials have told Reuters the information gleaned from a U.S. commando raid in January in Yemen that targeted al Qaeda in the Arabian Peninsula included bombmaking techniques.
Al Qaeda in the Arabian Peninsula (AQAP), based in Yemen, has plotted to down U.S. airliners…. The group claimed responsibility for a Dec. 25, 2009, failed attempt by a Nigerian Islamist to down an airliner over Detroit. The device, hidden in the underwear of the man, Umar Farouk Abdulmutallab, failed to detonate.
In 2010, security officials in Britain and Dubai intercepted parcel bombs sent from Yemen to the United States.
The Homeland Security Department under President Obama stepped up security of U.S.-bound flights in July 2014, requiring tougher screening of mobile phones and other electronic devices and requiring them to be powered up before passengers could board flights to the United States.
(Additional reporting by Yara Bayoumy, Mark Hosenball and Phil Stewart in Washington; Alexander Cornwell in Dubai and Victoria Bryan in London; Editing by Lisa Shumaker and Lisa Von Ahn)
Reprinted here for educational purposes only. May not be reproduced on other websites without permission from Thomson Reuters. Visit the website at Reuters .com.
Questions
1. a) Which federal agency has issued new restrictions on non-stop flights from certain airports to the U.S.?
b) What specifically will the new rules require passengers on these flights to do?
2. List the carriers and airport locations included in the new requirements.
3. For what reason has DHS issued these new restrictions? Be specific.
4. a) Why don't the new regulations include any U.S. carriers?
b) How have the airlines included in the new rules responded?
5. CHALLENGE: The Reuters reporter writes in paragraph 10: "DHS officials did not explain why the restrictions only apply to travelers arriving in the United States and not for those same flights when they leave from there."
What is the most likely the reason?
6. a) How does Angela Gittens of airport association ACI view the new restrictions?
b) In a CNN interview with CNN news anchor Richard Quest, Mr. Quest claims the new rules will be "chaotic" "incredibly inconvenient" and the countries on the list were chosen "for seemingly inexplicable reasons." He said of the new rules "this is going to be devastating" and noted "we have not heard from the U.S. authorities on the specific threat."
Should U.S. authorities tell the media and the public all of the specific intelligence they have on the threat? Explain your answer.
c) Watch the news reports explaining the new rules under "Resources" below. In the BBC video the reporter explains the threat behind the new restrictions. Do you think the BBC report provides credible reasons for the new restrictions? Explain your answer.
Background
From a Department of Homeland Security Q&A "Aviation Security Enhancements for Select Last Point of Departure Airports with Commercial Flights to the United States" released on March 21, 2017:
Q13: How does this affect the American public, either those traveling to/from these selected airports and those flying within the U.S.?
A13: All passengers flying through and from these locations will have to place electronic devices that are larger than a cell phone/smart phone in their checked bags regardless of the passenger's citizenship.
Q14: Will the security procedures continue to apply to both international and domestic passengers?
A14: This applies to all passengers traveling from 10 specific airports overseas.
Q15: Why are you only implementing these measures overseas, could the same tactics be used domestically?
A15: Electronic devices will still be allowed on all flights originating in the United States. Security procedures, both seen and unseen, are in place to mitigate the risk to flights in the United States.
Resources
Watch a CBS News report:
---
In addition to the restrictions placed by the U.S., it was also announced yesterday that Great Britain will ban electronic devices on flights from six Middle Eastern nations amid a terror threat. The BBC explained: "The restriction is based, we are told, on 'evaluated intelligence.' That means that US intelligence has either intercepted discussion of a possible extremist plot or has been passed word of one by a human informant."
Watch a BBC report:
Daily "Answers" emails are provided for Daily News Articles, Tuesday's World Events and Friday's News Quiz.