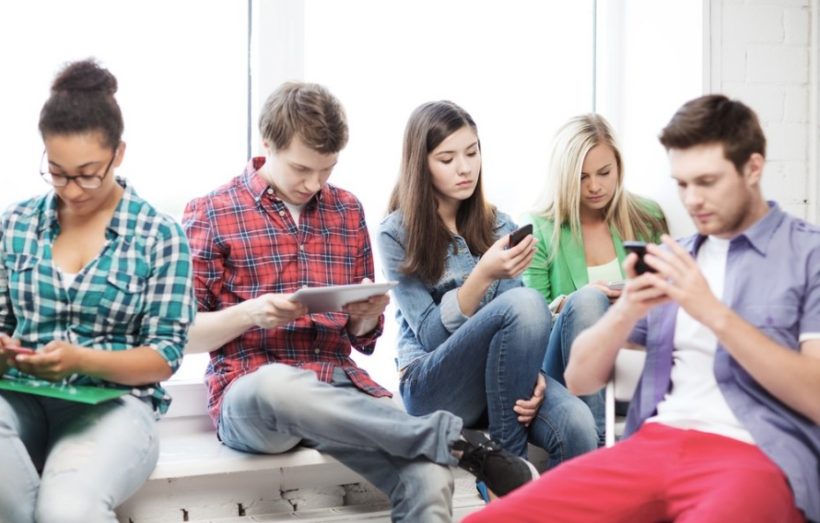 redo Jump to...
print Print...
(by Susan Heavey, Reuters) – Half of teenagers in the United States feel addicted to their mobile phones, with most checking the devices at least every hour and feeling pressured to respond immediately to messages, a survey released on Tuesday found.
The majority of parents concurred, with 59 percent of those with children between ages 12 and 18 saying their kids cannot give up their phones, according to a poll of 1,240 parents and children by Common Sense Media.
The findings from the nonprofit group, which focuses on the effects of media and technology on children, highlighted the tension such close ties to devices can cause, with it disrupting driving, homework and other time together.
About a third of those polled said they argue every day about screen use, the San Francisco-based group said.
"It is causing daily conflict in homes," Common Sense Media's founder and CEO James Steyer said in a statement.
Its survey is the latest indication of American families struggling to balance mobile devices in an age of ever-evolving technology. It also underscores the ongoing debate over Internet addiction and its consequences.
A separate review of available data on Internet and technology use cited concerns for problematic media. Multi-tasking can hinder the ability to form memories and the lack of human interaction can also make it harder to develop empathy, Common Sense Media found.
U.S. children between ages 8 and 12 report spending nearly six hours a day using media, while those ages 13 to 18 spend almost nine hours per day using media, according to the group.
"The seemingly constant use of tech, evidenced by teens immediately responding to texts, social-networking posts, and other notifications, is actually a reflection of teens' need to connect with others," it said in its review. …
…Teenagers were not the only cause for concern, according to the poll, which had a margin of error of 4 percentage points. Parents also took big risks.
Fifty-six percent of adults surveyed said they check their mobile phones while driving – and more than half of teens said they had seen their parents do so.
"What we've discovered is that kids and parents feel addicted to their mobile devices," Steyer said.
 Reprinted here for educational purposes only. May not be reproduced on other websites without permission from Thomson Reuters. Visit the website at Reuters.com.
Questions
1. The first paragraph of a news article should answer the questions who, what, where and when. List the who, what, where and when of this news item. (NOTE: The remainder of a news article provides details on the why and/or how.)
2. a) What percent of parents surveyed say their kids cannot give up their phones?
b) What problems does this cause?
3. a) How many teens say they argue with their parents about screen use?
b) Do you experience the same problems? Explain your answer.
4. a) What did Common Sense Media conclude from their separate review on Internet and technology use?
b) Do you think this is true for you and the teens you know? Explain your answer.
c) Ask a parent if they think Common Sense Media's conclusion is accurate.
5. a) According to the group, how much time on average do 8-12 year olds spend using media?
b) How much time on average do 13-18 year olds spend?
c) How does this compare with your daily use? Why do you think this is so?
6. Generally, studies show that excessive use of media is detrimental to teens. Describe 2 or 3 possible solutions to this problem.
Daily "Answers" emails are provided for Daily News Articles, Tuesday's World Events and Friday's News Quiz.