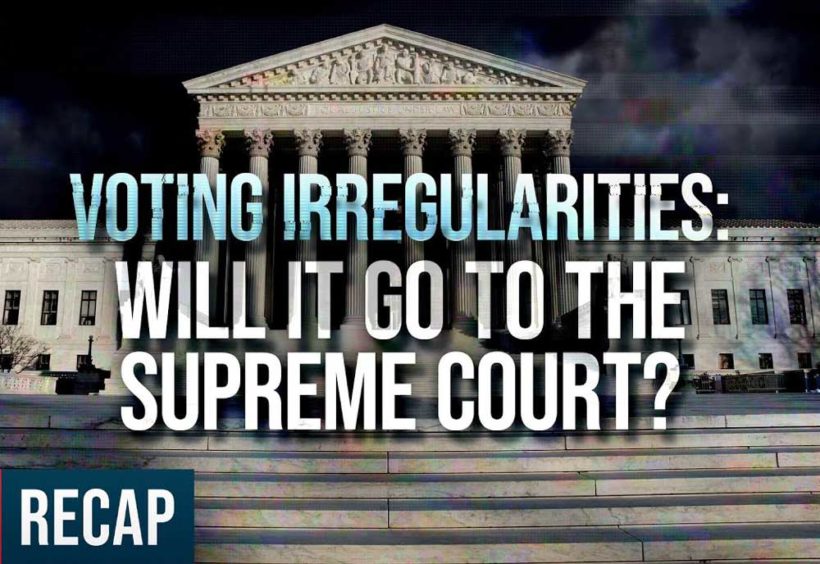 redo Jump to...
print Print...
(by Mark Martin, CBN News) – A member of President Donald Trump's legal team is pointing to potential voting problems that could reverse the current state of the election – for example, allegations about voting machines in nearly 40 states.
During a recent interview with CBN News, Jordan Sekulow said, "You could imagine how that could change the outcome of an election."
Sekulow is a member of President Donald Trump's legal team and the executive director of the American Center for Law and Justice.
He said the post-election legal fight is a serious situation.
"When Georgia announced a full recount, hand recount, but also an audit of their vote, that is a major deal," he said.

"And so, that's a state that could flip. There are people that have done the statistics that could flip for President Trump," Sekulow continued. "There's the cases out of Pennsylvania."

"There are very serious allegations coming with the voting machines as well, that actually, if you use the electronic ballot, but you get that piece of paper, and then you stick it into that machine – 37 states use a machine (made by Canadian company Dominion Voting Systems) that's been reporting problems," he said.
It could be a while before we know exactly who is president of the United States. Election results have not been officially certified by the states, and the courts need to weigh in on the legal challenges, for example, those in Pennsylvania.
"There's a number of legal challenges there, but one is already at the Supreme Court," Sekulow told CBN News Wednesday. "And a stay that was put in place [in Pennsylvania] Friday by Justice Alito is still in effect as (of) the time we're talking together right now."

"And that was a stay to segregate [separate] all the late-arriving mail-in ballots," he continued. "You could count them, but you could not include them in the actual total votes."
Legal challenges also exist in Arizona, Michigan, and Nevada, and then there's Georgia's hand recount, which Sekulow said could result in a lawsuit.
"In the beginning, you heard all these accusations of things happening all across the country," he explained. "Is it machines? Is it people that are doing the wrong thing? Are there missing ballots? Are there extra ballots? Are dead people voting?…"

"Then you give us a week, and we've kind of started to put together the actual legal cases that are going to be brought in court, either by the RNC, the Trump campaign or the president's legal team," Sekulow continued. …
"So I ask people to give us the same amount of time that the Bush campaign had back in 2000; it was 37 days," he explained. "We're about eight days in to this."

"Take it all with a grain of salt," Sekulow continued. "Let the attorneys do their job, and again we're going to make sure that the vote, the integrity of the vote is secured, whether that is a vote ultimately that favors President Trump or Joe Biden."
Sekulow told CBN News there are only two ways this legal situation ends.
"It either ends with a kind of massive Supreme Court case, where they actually include I think a lot of these cases from different states together," he said. "They do a multi-hour case, which they're doing some of right now because they're doing everything by conference call."

"Or it will end at the lower court levels," Sekulow said. "And so again it kinda goes all the way up, or these lawsuits kind of go midway and don't get above that."

"And if they don't make it all the way to the Supreme Court, it means that probably Joe Biden is president of the United States," he concluded.
Published at 1.cbn .com. Reprinted here for educational purposes only. May not be reproduced on other websites without permission from CBN News.
Questions
1. a) Who is Jordan Sekulow?
b) What potential voting problem could reverse the current presidential election results, according to Mr. Sekulow?
2. How does Mr. Sekulow view the full recount by hand just announced in the state of Georgia?
3. How many states use the voting machine that has been reporting problems?
4. In what states has the Trump administration submitted legal challenges to the legitimacy of the election?
5. List the types of voter fraud that have been alleged, according to Mr. Sekulow.
6. a) What does Mr. Sekulow ask voters to do?
b) Is this a reasonable request? – Would your answer be different if you supported Biden or Trump? Explain your answer.
7. a) What are the two possible results of the legal challenges being waged by the Trump campaign, according to Mr. Sekulow?
b) Ask a parent and/or a grandparent: what do you think? Will these legal challenges make it to the Supreme Court? Please explain your answer.
8. Re-read paragraph 15.
President Trump won over 72 million votes. A large majority of his supporters question the legitimacy of the election in several states and say that there is evidence of widespread voter fraud in various forms.
Joe Biden won over 77 million votes. Biden's supporters (as well as everyone in the media) say there is no evidence of any voter fraud and Trump needs to concede.
Trump voters say if the accusations of voter fraud are fairly investigated and only legal ballots counted, and Biden wins the electoral college, they will accept it.
a) Should voters be patient and allow the attorneys and courts to see the legal process through as a way to "make sure that…the integrity of the vote is secured, whether that is a vote ultimately that favors President Trump or Joe Biden," as Mr. Sekulow suggests?
b) How will not allowing the legal process to be carried out harm our country?
Background
When do states certify their election results?
On election night, the results reported are unofficial and must undergo canvassing — that is, ensuring that all the valid votes have been counted. Each state utilizes its own processes to double-check vote totals and make sure that each vote was properly counted.
Then, the states certify the votes, which makes those results official; each state also has its own deadline to certify the results. Certification is typically done by a state's governor, chief election official or board of canvassers.
The states must formally certify their election results on December 8, six days before the Electoral College members meet in their respective states to cast their votes for president.
Several states have already certified their results, while others, like the battleground states of Arizona and Georgia, which have not yet finished reporting unofficial results, will not certify until later this month.
Georgia announced Wednesday that it will conduct a manual hand recount of all ballots cast in the presidential race because the margin of Mr. Biden's lead over the president is so narrow — less than 0.3%.
(from a Nov. 11 CBS News report)
---
Check for updates at ballotpedia.org/Election_results_certification_dates,_2020
Resources
Watch the interview with Jordan Sekulow:
Daily "Answers" emails are provided for Daily News Articles, Tuesday's World Events and Friday's News Quiz.