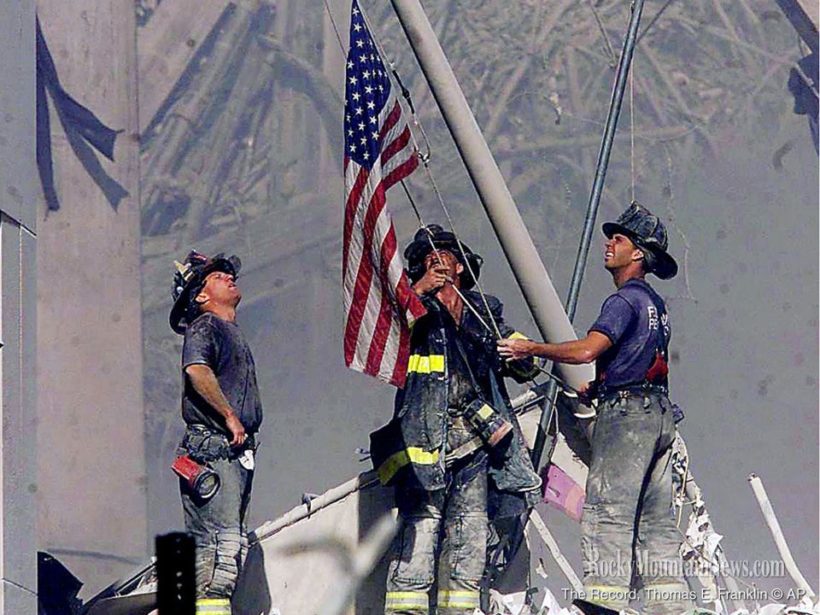 redo Jump to...
print Print...
NOTE: This article is reprinted from a September 9, 2011 Daily News Article:
(by Stephanie Farr, Philly .com) – [In 2011], a decade after the 9/11 terrorist attacks at the Pentagon, New York City and Shanksville, Pa., family and friends of the fallen [visited] these consecrated spots, and the official memorials at Ground Zero and Shanksville [were] unveiled.
Shanksville
The 250-acre memorial in Somerset County in western Pennsylvania, which honors the victims of Flight 93, is not just a memorial. It's a cemetery.
A 17-ton sandstone boulder near a mature hemlock grove at the edge of the park marks the spot where the plane hit the ground, exploding on impact. Only 8 percent of the human remains from passengers were found, and when the coroner sent cadaver dogs to sniff around the hemlock grove, the dogs just sat down, said Keith Newlin, superintendent of the memorial.
"So, in other words, they're here. They're still here," Newlin said, pointing to the hemlock grove. "This is a cemetery."
Because of years of construction, visitors to the site have been relegated to the park's western overlook, but on [Sept. 11, 2011], the main memorial and wall of names open[ed]. The entire park [opened] in 2017, including a new visitors center and a memorial grove of 40 trees to represent each victim.
Unlike the memorials at the Pentagon and Ground Zero, which many people visit as part of planned trips to D.C. or New York, visitors to Shanksville have to make an effort to find the memorial, which is about 20 minutes from the closest highway.
Perhaps that extra effort is fitting, because what sets Flight 93 apart from the others is that the passengers were not only vividly aware that they were part of a coordinated attack, they fought back and prevented the plane from reaching its intended target – reportedly the U.S. Capitol building.
To Mary Duranko, 62, who came from Johnstown, Pa., to visit the memorial, the passengers of Flight 93 are more than victims. They're heroes.
"They knew their destination. It was inevitable and they gave their lives," she said. "That's a big decision. I don't know if I could have made it."
Before the park closed on a recent evening, as visitors started to file out, an older gentleman in an NYPD T-shirt walked away from the site with tears in his eyes. In his right hand was one of the small American flags that visitors place on the fence at the overlook in remembrance.
The 69-year-old New Yorker, who preferred not to give his name, said that he lost many friends on 9/11, including his partner. He said that he worked for months at Ground Zero cleaning rubble and had made a promise to himself to "be here" in Shanksville one day. …..
Pentagon
While men and women in Army fatigues rushed in and out of the Pentagon in Northern Virginia, all was calm at the nearby memorial.
The sound of running water, so integral to the memorial's design, seemed to drown out even the traffic from nearby Route 27 and the thrumming helicopters above.
Benches, made to look like airplane wings, each bear the name of a victim. They're arranged diagonally along the flight path of Flight 77, with those facing one way honoring victims on the plane and those facing the other direction commemorating people killed inside the Pentagon.
Janice Tate, 66, of Madison, N.C., liked the way each individual was honored.
"If it was my family member, I'd very much appreciate sitting on my loved one's bench and listening to the water," she said.
Brad Palmer, of Ontario, Canada, who was visiting D.C. with his wife and two boys, decided to bring them all to the memorial on his 52nd birthday.
He did so, he said, because 9/11 was "huge" in Canada. When all air travel was grounded in the wake of the attacks, many planes were rerouted to Canada, where locals took in stranded travelers.
"Obviously, it was specific to the United States," he said. "But it touched people all over the world that day."
Ground Zero
With the finishing touches of the memorial still under way, visitors observed the progress from the second floor of the nearby World Financial Center.
Matte Tonna, 43, of Parma, Italy, brought his wife and three children to see the site on their first visit to New York City.
"It was something that touched the minds and souls of everybody in the world," he said. "We would like our children to experience this, to let them see firsthand the scene of this tragedy."
But just two weeks before it was to open, the site still looked like any other construction zone.
"We are a little bit unimpressed," Tonna said. "But, if this is all we can see, so be it. We will come back."
Nearby, Marie Livanos, 53, pointed out pending structures to her five guests from Long Island and Israel.
Livanos was working at a law firm on the 40th floor of the second tower when the first plane hit the other tower. Although she would speak little of it, Livanos' guests said that she was instrumental in helping her colleagues get out alive.
In 2003, Livanos' law firm moved in to the World Financial Center, where Livanos can see Ground Zero every day.
"At first, when you would look out the window, you saw something that was not there," she said. "Now, when you look out, you see hope. We see hope, rebuilding and future. It's like a little phoenix coming up from the ashes."
One of Livanos' guests, Alon Roitman, 18, of Tel Aviv, Israel, said that terrorist attacks are a regular occurrence in his country.
"Who better to show us how to get through them than America?" he asked. "This shows the power of democracy and the strength that comes out of rising and building ourselves up again."
The Philadelphia Daily News.  Reprinted here for educational purposes only. May not be reproduced on other websites without permission from The Philadelphia Daily News. Visit the website at philly .com.
For a better understanding of what happened on September 11, 2001 (9/11) and to learn the stories of those who were killed and of the survivors, read the "Background" and check out the links under "Resources."
Watch two news reports from that morning:
---
Questions
NOTE TO STUDENTS: Before answering the following questions, read the "Background" and look through the "Resources".
1. Answer the following questions about 9/11:
a) Who was President on 9/11?
b) Who was the mayor of New York City on 9/11?
c) How many planes were hijacked on 9/11? What were their flight numbers and where did each crash?
d) What three locations were the terrorists targeting?
e) At what time did each plane hit (time, place and flight number)?
f) Who were the terrorists? (religious ideology and terror group)
g) How many people were killed on 9/11?
h) Describe the first World Trade Center bombing in 1993.
2.  How is the memorial in Shanksville different from those at the Pentagon and Ground Zero?
3.  How was the hijacking of Flight 93 different from those of Flt. 77 (Pentagon) and Flights 11 and 175 (World Trade Center)?
4.  Describe the setup of the Pentagon memorial.
5.  What similar sentiment did Canadian Brad Palmer and Italian Matte Tonna share about their reason for visiting the Pentagon and Ground Zero sites?
6.  How does WTC survivor Marie Livanos view the Ground Zero memorial?
7. What do you know about what actually happened on September 11, 2001 as a result of the actions of al Qaeda terrorists?
(For a timeline of what happened that day, go to timeline.911memorial.org/#Timeline/2)
a) Read the "Background" then watch the videos and visit some of the links under "Resources" below to gain an understanding of what people experienced that day. List 2-3 things you did not already know about 9/11 from this information that you think is important for all Americans to know.
b) Regarding 9/11, people say "Never Forget." Why do you think this is important?
8. Wikipedia states "On a typical weekday 50,000 people worked in the towers with another 200,000 passing through as visitors." Many people believe that God's mercy spared them – and there were many stories of miracles that day. What do you think?
9. Ask a parent and a grandparent: What do you remember about 9/11?
Background
What do you know about the first World Trade Center terrorist attack in 1993?
On February 26, 1993, Islamic terrorists detonated a truck bomb below the North Tower of the World Trade Center in New York City.
The 1,336 pound device was intended to send the North Tower (Tower 1) crashing into the South Tower (Tower 2), bringing both towers down and killing tens of thousands of people.
It failed to do so but killed six people and injured more than a thousand.
Watch a report from 2013, the 20th Anniversary of the first bombing of the World Trade Center:
---
September 11, 2001 (9/11):
The September 11 attacks (also referred to as 9/11) were a series of four suicide attacks committed by Muslim extremists against United States civilians on September 11, 2001, coordinated to strike the areas of New York City and Washington, D.C.
On that Tuesday morning, 19 terrorists from the Islamist militant group al-Qaeda hijacked four passenger jets.
The hijackers intentionally piloted two of those planes, American Airlines Flight 11 and United Airlines Flight 175, into the North and South towers of the World Trade Center complex in New York City; both towers collapsed within two hours.
The hijackers also intentionally crashed American Airlines Flight 77 into the Pentagon in Arlington, Virginia, and intended to pilot the fourth hijacked jet, United Airlines Flight 93, into the United States Capitol Building in Washington, D.C.; however, the plane crashed into a field near Shanksville, Pennsylvania after its passengers attempted to take control of the jet from the hijackers.
Nearly 3,000 people died in the attacks, including the 246 civilians and 19 hijackers aboard the four planes.
Al-Qaeda and its leader Osama bin Laden cited U.S. support of Israel, the presence of U.S. troops in Saudi Arabia, and sanctions against Iraq as motives for the attacks.
The United States responded to the attacks by launching the War on Terror and invading Afghanistan to depose the Taliban, which had harbored al-Qaeda.
In May 2011, after years at large, bin Laden was located and killed. (from wikipedia)
Deaths:  A total of 411 emergency workers died as they tried to rescue people and fight fires
The New York City Fire Department (FDNY) lost 340 firefighters, a chaplain and 2 paramedics.
The New York City Police Department (NYPD) lost 23 officers.
The Port Authority Police Department lost 37 officers.
Eight emergency medical technicians (EMTs) and paramedics from private emergency medical services units were killed.
At least 200 people fell or jumped to their deaths from the burning towers (as exemplified in the photograph The Falling Man), landing on the streets and rooftops of adjacent buildings hundreds of feet below.
Resources
See videos below the links.
On Sept. 11, 2002, President Bush proclaimed Sept 11th be observed as 'Patriot Day'.
(In 2009 President Obama renamed it 'Patriot Day and National Day of Service and Remembrance'.)
---
Inside 7 World Trade Center Moments Before Collapse:
---
9/11 Audiotape of firefighters last moments:
---
Inside the world trade center while collapse:
Daily "Answers" emails are provided for Daily News Articles, Tuesday's World Events and Friday's News Quiz.