redo Jump to...
print Print...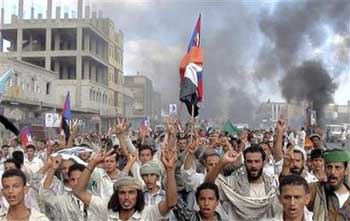 (by Ahmed Al-Haj, YahooNews.com) AP, SANAA, Yemen – Tens of thousands of Yemenis demanded the president step down in nationwide protests Thursday, taking inspiration from the popular revolt in Tunisia and vowing to continue until their U.S.-backed government falls.
Yemen is the latest Arab state to be hit by mass anti-government protests, joining Tunisia and Egypt in calls for revolutionary change. The demonstrations pose a new threat to the stability of Yemen, the Arab world's most impoverished nation, which has become a haven for al-Qaida militants.
"No delays, no delays, the time for departure has come!" shouted protesters, calling for the ouster of President Ali Abdullah Saleh, who has ruled for nearly 32 years. Saleh's government is riddled with corruption, has little control outside the capital, and its main source of income – oil – could run dry in a decade.
The protesters were led by opposition members and youth activists in four parts of the capital, Sanaa. In the southern provinces of Dali and Shabwa, riot police used batons to disperse people, while thousands took to the streets in al-Hudaydah province, an al-Qaida stronghold along the Red Sea coast. …..
A few hundred pro-government supporters held a counter-protest in Sanaa, but they were greatly outnumbered. There were no immediate reports of violence or major unrest in the capital.
The protests calmed by early evening, but organizers said there was more to come Friday.
"We are pleased to announce that no major clashes or arrests occurred, and the police presence was minimal," said Mohammed Al-Basha, a spokesman for the Yemeni Embassy in Washington. "The government of the Republic of Yemen strongly respects the democratic right for a peaceful assembly."
Saleh has tried to defuse simmering tensions by raising salaries for the army and by denying opponents' claims he plans to install his son as his successor.
After the Tunisian revolt, which forced that country's president to flee into exile, Saleh ordered income taxes slashed in half and instructed his government to control prices. He deployed anti-riot police and soldiers to several key areas in the capital and its surroundings to prevent riots.
That hasn't stopped critics of his rule from taking to the streets in days of protests calling for Saleh to step down, a red line that few dissenters had previously dared to cross.
"We will not accept anything less than the president leaving," said independent parliamentarian Ahmed Hashid. "We'll only be happy when we hear the words 'I understand you' from the president," invoking a statement issued by Tunisian President Zine El Abidine Ben Ali before he fled the country.
Nearly half of Yemen's population lives below the poverty line of $2 a day and doesn't have access to proper sanitation. Less than a tenth of the roads are paved. Tens of thousands have been displaced from their homes by conflict, flooding the cities.
The country is enduring a rebellion in the north and a secessionist movement in the south.
Saleh's current term in office expires in 2013 but proposed amendments to the constitution could let him remain in power for two additional terms of ten years.
U.S. Secretary of State Hillary Rodham Clinton urged Yemen to step up security cooperation with the United States during an unannounced visit this month.
Following the Obama administration's pattern in Afghanistan and Pakistan, Clinton also emphasized that the United States wanted a broader relationship with Yemen beyond the fight against violent extremists. Clinton was the first U.S. secretary of state to visit Yemen in two decades.
Radicals have used the country as a base for launching attacks on the U.S. The radical cleric Anwar al-Awlaki, thought to be hiding in Yemen, is suspected of having inspired some of those attacks. …..
In the past five years, U.S. military assistance to Yemen has totaled about $250 million. In 2010, military and civilian aid was almost evenly split and combined for about $300 million.
Military aid to Yemen would reach $250 million in 2011 alone, U.S. officials said, and Clinton said there will be additional development aid.
Yemen has been the site of numerous anti-U.S. attacks dating back to the 2000 bombing of the USS Cole in Aden harbor, which killed 17 American sailors
Last month, several CIA operatives were the targets of a failed bombing at a restaurant in a Sanaa suburb, and Al-Qaida in the Arabian Peninsula was thought to be behind the attempted bombing of an American airliner landing in Detroit on Christmas Day 2009.
Al-Awlaki is thought also to have inspired the deadly 2009 shooting rampage at Fort Hood, Texas. The al-Qaida group's fighters attacked the U.S. Embassy in Sanaa twice in 2008.
With the help of U.S. money and training by elite U.S. commandos, Yemen is setting up provincial anti-terrorism units to confront al-Qaida in its heartland.
Copyright ©2011 The Associated Press. All rights reserved. Reprinted here for educational purposes only. The information contained in this AP News report may not be published, broadcast, rewritten, or redistributed without the prior written authority of The Associated Press. Visit news.yahoo.com/s/ap/ml_yemen_protest for the original post.
Questions
1. a) What is the population of Yemen?
b) What percentage of the population can read and write?
c) What is the capital of Yemen?
d) Who is the president of Yemen?
e) For how long has the president been in power?
2. a) How many people attended protests in Yemen on Thursday?
b) In most of the photos/videos, the protesters appear to be men only. Why do you think this is so?
c) What demand did protesters make of the President?
3. How is the government responding to the protesters?
4. What do you think about the counter-protest held by pro-government supporters? (from para. 5)
5. What do you learn about Yemen's economy/living conditions in this article?
6. Prior to this week's protests, what additional problems with unrest has the Yemeni government been confronting?
7. a) How does Yemen pose a threat to the U.S.?
b) What support has the U.S. been providing to Yemen (economic and military)?
8. What do you think of the Obama Administration's [Secretary of State Hilliary Clinton's] response? Explain your answer.
Background
Yemen, located at the southern tip of the Arabian Peninsula, is a poor Muslim country with a weak central government, armed tribal groups in outlying areas, and porous borders, which makes it fertile ground for terrorists.
Its government has tried to help the United States after September 11, and the State Department calls Yemen "an important partner in the campaign against terrorism, providing assistance in the military, diplomatic, and financial arenas."
But experts say that terrorists live in Yemen, sometimes with government approval; Yemen-based corporations are thought to help fund Osama bin Laden's al-Qaeda terrorist network; and Yemenis affiliated with al-Qaeda have targeted U.S. interests in Yemen, including the October 2000 bombing of the navy destroyer U.S.S. Cole in the Yemeni port of Aden. (from cfr.org)
Interesting note: The reputed home of the Queen of Sheba, Yemen has been at the crossroads of Africa, the Middle East and Asia for thousands of years thanks to its position on the ancient spice routes.
Resources
Watch a video from Yemen below:
Daily "Answers" emails are provided for Daily News Articles, Tuesday's World Events and Friday's News Quiz.