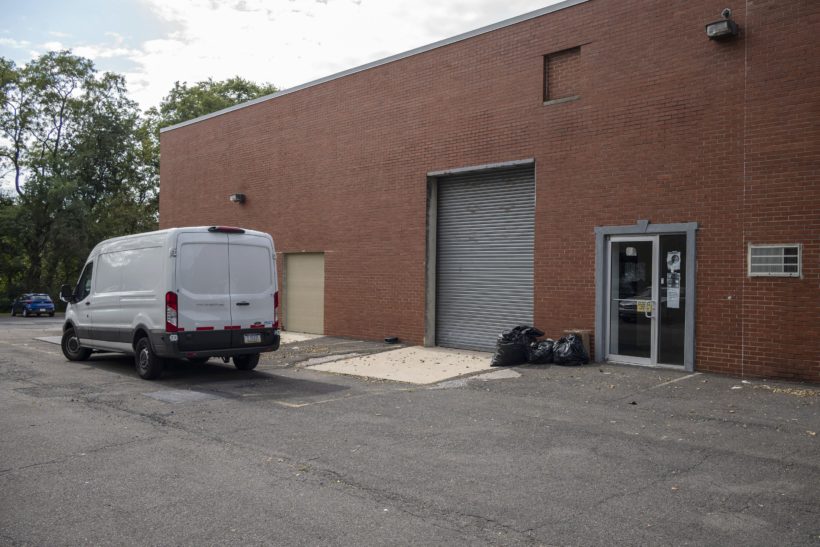 redo Jump to...
print Print...
(by Max M. Marin, WHYY-TV, Billy Penn News) – A contractor's laptop and several encrypted USB devices were stolen from Philadelphia's election warehouse in the East Falls neighborhood sometime this week, the Philadelphia Inquirer reported Wednesday. Police are investigating, and election officials assure voters that voting integrity is in no way compromised by the theft.
New machines implemented earlier this year all include a paper trail as an added security measure.  But a Thursday morning visit to the warehouse where the machines are stored revealed lax security measures.
This reporter was able to walk into the building and roam around unattended for several minutes before being asked to leave. He strolled past hundreds of voting machines, various boxes, and other unidentified equipment without seeing other people.
Eventually, the reporter stumbled upon a staffer in an office, who said press was not allowed in the building and escorted the reporter to the door, locking it behind him. The staffer declined to answer questions about security, or answer why it was so easy to enter. No security cameras were immediately visible, either inside or outside the building.
A security guard should have been stationed outside the door, said Philadelphia Deputy [Election] Commissioner Nick Custodio. Reached by phone, Custodio said he did not know whether the guard was supposed to be there 24 hours or only during operating hours.
Custodio, who works for the Office of City Commissioners, which oversees elections in Philadelphia, said he would address the situation.
Current policy limits building access to only approved staff and authorized guests, according to city spokesperson Mike Dunn.
"As the Mayor committed yesterday, we are moving swiftly to enhance the security measures for the facility," Dunn told Billy Penn, adding that changes would be "put into place expeditiously."
In response to the theft and a reporter's subsequent access to the warehouse, Dunn said new enhancements would include:
Greatly increasing the number of security personnel stationed at the site (24/7)
Adding a round-the-clock police presence
Instituting a strict logging procedure for anyone entering and exiting the buildings
Enforcing strict adherence to the current policy
The warehouse is situated in a semi-industrial area surrounded by other warehouses in a neighborhood that's tucked next to the Schuylkill River as it stretches northwest from Center City into Fairmount Park. Getting there requires navigating an out-of-the-way back road, and going to the back of a lot to find a nondescript brick building. No sign indicates there are election materials inside.
As the reporter left the warehouse, a guard was visible at the other side of the building. More staffers later arrived at the facility, with one taking up a station outside the door.
It's so far unclear exactly what other materials are stored in the election machine warehouse. (Billy Penn has requested an inventory.) Rolled out last year to great hubbub and at a cost of $30 million, the new voting equipment leaves a paper ballot trail while also recording each person's vote electronically.
Reached Thursday afternoon, Bob Brady, chair of Philly's Democratic Party, was outraged by the situation.
"That's disgraceful," said the former U.S. representative. "How could that happen? I can't believe it. That somebody could walk into the warehouse — especially a reporter. I would have grabbed you by the neck."
Questions
NOTE: Read the "Background" below before answering the questions.
1. What did investigative reporter Max Marin discover when he visited the Philadelphia board of elections warehouse (where election machines [and paper ballots?] are stored? Be specific.
2. For what reason did election officials need to assure voters (prior to Marin's visit) that voting integrity is not compromised?
3. a) What do Philadelphia's new election voting machines include as added security to ensure the integrity of the vote?
b) Do you think Philadelphia voters can trust that this measure will protect their votes? Explain your answer.
4. a) List the security measures Democratic Mayor Jim Kenney has implemented following the theft and reporter Max Marin's report from the board of elections warehouse, according to spokesperson Mike Dunn.
b) Why do you think the city commissioners did not take these steps until Max Marin published his report?
5. Re-read the last two paragraphs of the article. What do you think of Mr. Brady's response to Max Marin's report on his investigation of the election facility?
6. There were no security cameras evident in the board of elections warehouse, even after the theft. The reporter describes the election warehouse, saying "Getting there requires navigating an out-of-the-way back road, and going to the back of a lot to find a nondescript brick building. No sign indicates there are election materials inside." He notes, "A laptop and several memory sticks used to program Philadelphia's voting machines were stolen. …It and the USB drives were the only items believed to have been taken."
a) Why do you think the Office of City Commissioners, which oversees elections in Philadelphia, had no plan in place to guard the election machine facility?
b) Who do you think stole the items? (a random theft? an inside job? etc.) Explain your answer.
7. Should Philadelphia voters, Democrat and/or Republican, as well as Independents, be concerned?
If you answered no, please explain your answer.
If you answered yes, what can they do to express their concern?
Background
Last week, a laptop and several memory sticks used to program Philadelphia's voting machines were stolen from a city warehouse in East Falls, officials confirmed Wednesday, setting off a scramble to investigate and to ensure the machines had not been compromised.
Though it remains unclear when the equipment was stolen, sources briefed on the investigation said the items vanished this week. The laptop belonged to an on-site employee for the company that supplies the machines. It and the USB drives were the only items believed to have been taken.
City officials vowed Wednesday that the theft would not disrupt voting on Nov. 3.
"We are confident," said Nick Custodio, a deputy to Lisa Deeley, chair of the city commissioners, who oversee elections, "that this incident will not in any way compromise the integrity of the election."
The commissioners initially refused to confirm the theft or that an investigation had been opened. They only did so after The Inquirer informed them it would be reporting the incident based on sources who were not authorized to publicly discuss it. (from a Sept. 30 Philadelphia Inquirer report by Jeremy Roebuck)
---
Another story from July 23, 2020:  "Former PA Congressman Ozzie Myers charged in alleged bribery of South Philly judge of elections"
Former U.S. Congressman Michael "Ozzie" Myers was indicted (July 22) for his an involvement in an alleged scheme to rig elections in Philadelphia.
The indictment comes two months after a South Philly judge of elections pleaded guilty to accepting political bribes. Myers allegedly was the Democratic operative waving the money.
Myers, 77, represented Pennsylvania's 1st District from 1976-1980, when he was expelled from the House of Representatives over his involvement in the notorious Abscam scandal. During an FBI sting targeting public corruption and organized crime, Myers was videotaped accepting a $50,000 bribe from undercover agents and was later sentenced to three years in prison.
In the years following his expulsion, Myers remained involved in Democratic politics in Philadelphia, where prosecutors say he offered money to "ring up" votes during primary elections in 2014, 2015 and 2016.
Former Judge of Elections Domenick J. Demuro, who served the 39th Ward, 36th Division in South Philly, pleaded guilty in May to accepting bribes to stuff ballot boxes for select candidates.
Demuro admitted that he accepted bribes ranging from $300 to $5,000 per election during the 2014, 2015 and 2016 primaries.
Myers allegedly was a political consultant hired by specific Democratic candidates running for judicial and various state, federal and local elected offices. After the candidates paid Myers, Demuro would receive a cut of his fee to add votes for these candidates, prosecutors say.
At his polling station, Judge Demuro admitted he would "ring up" extras votes on machines, add them to the totals and later falsely certify that the results receipts from voting machines were accurate, prosecutors said.
Myers allegedly directed Demuro to lie to investigators about the circumstances of the bribes and the ballot-stuffing scheme.
"Voting is the cornerstone of our democracy. If only one vote has been illegally rung up or fraudulently stuffed into a ballot box, the integrity of that entire election is undermined," U.S. Attorney William M. McSwain said. "Votes are not things to be purchased and democracy is not for sale."
Read more at phillyvoice.com.
Daily "Answers" emails are provided for Daily News Articles, Tuesday's World Events and Friday's News Quiz.