redo Jump to...
print Print...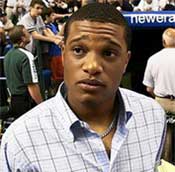 (by Daniel Barbarisi, The Wall Street Journal, WSJ.com) – Like a teacher with his students, Robinson Canom (see photo on left) stood at the front of a room full of young Yankees this spring and told them about the way he once dealt with the media. In his early seasons, before his polish caught up with his talent, he didn't quite grasp that being a New York Yankee was a round-the-clock job.
There were times when he would act aloof, reading newspapers while absentmindedly answering reporters' questions, or ignoring the media while at offseason functions. He just wasn't prepared for the way the media pervades every aspect of life on the Yankees.
"In the minors, you see a guy, two guys. Then you come here, you see 25, 30 guys every single day, and it's like-wow. And you can't do anything wrong. You make a bad play, you have to talk," Cano said.
The Yankees believe there's a way for other young players to avoid Cano's mistakes. The team has come to believe that media relations is a skill that can and should be taught through extensive media training.
It's no secret that being a Yankee is unlike being a member of any other major league team. With 12 beat writers-the Mets have eight, the Red Sox seven-the media crush is unrivaled and can eat players up. The unprepared can react badly and become villains-as happened with pitcher Randy Johnson when he first signed with New York and shoved away a cameraman seeking a picture.
To reporters, players generally fall in the categories of good media guys, and bad media guys. The "good" guys are accessible, responsive, and accountable, seeing media interactions as opportunities to mold their own image and communicate with fans. The "bad" guys are the opposite, viewing the media as a threat or a distraction. The Yankees believe they can build good media guys from the ground up.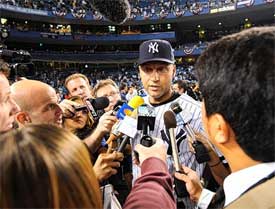 Cano is seen as something of a model student. After making mistakes of his own, he's now teaching others the right way to deal with the media.
"We are the largest media market in the world. We will control the back pages on a yearly basis, without a doubt, whether we want to or not, and we'd rather limit the damage and get ourselves on the back pages for the right reasons, not the wrong reasons," general manager Brian Cashman said.
Still, it was not until 2007 that the Yankees did any serious media training. They were largely reactive, dealing with each crisis as it came up.
After one too many problems, Cashman said he had had enough. He sat down with media relations director Jason Zillo, and the two began work on a media training strategy.
"We wanted to go on offense, and not be playing defense all the time," Zillo said.
Five years later, media training is given top billing in Yankee camp. When pitchers and catchers report each spring, the first thing they do-almost quite literally the first thing, on the first day-is sit down and undergo media training. Manager Joe Girardi grumbles, wanting to get workouts started. Cashman puts his foot down.
"One of the reasons we're in there forever on day one is because I mandate, and insist, that the media training video we put together is going on day one," Cashman said.
The media training has evolved from a short video to a multi-day effort that involves guest speakers, role playing, mock interviews and a printed media training guide. Pitchers and catchers undergo two full sessions, and catchers then have another specialized training session. All players with less than three years of major league service time sit for their own special training.
Through a training video and in-guest speaking sessions, media-savvy players like Derek Jeter (see top photo on right) and Mariano Rivera (see middle photo at right) give tips, beginning with the standard stuff: don't lie, own up to your mistakes, recognize that you're on the clock even when you take off the uniform.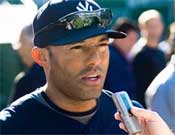 Then they move to finer points: Don't take a picture with a fan without looking at what's written on their shirt; don't address outside topics like politics; and never, ever, take a naked picture of yourself and send it to someone.
The younger players listen, Jeter said, but they don't always fully understand until they experience it.
"You still have to go through it. You still have to experience it, but I don't think it's just beneficial to the young guys, it's also beneficial to guys coming from other teams," Jeter said. "New York's so different from other places."
Brett Gardner is one of those young players who has been through the training, sometimes role playing a reporter, sometimes acting as an interviewee, and it has helped to shape his perception of the media.
"I think you can use it as a way to help you mentally and emotionally," Gardner said. "In baseball, you have good days and you have some really bad days. Bad days, unfortunately, you have to face up to it…whether it be four people, 15 people, or three our four cameras after the game, you say what you need to say and get it off your chest," Gardner said.
In players like Cano, Gardner, and Phil Hughes (see bottom photo at right)-winner of the Good Guy award from the New York Baseball Writer's Association in 2010- the Yankees believe there's evidence that younger players can be brought up to work well in even the most demanding media environment.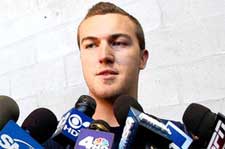 But this is the Yankees, and they will always thrive by bringing in the best talent money can buy-veterans who are not as likely to listen to what the organization wants to tell them.
When they are judging free agents or trade acquisitions, the Yankees look at the on-field numbers, but also must account for how they will handle the media scrutiny-and to what extent each veteran can be taught.
"I think you can help, yes," Cashman said. "I think you can teach, I think you can help, but it does factor in, no doubt about it. There are some players I don't think can handle it here."
Jeter is often employed as the liaison, talking to prospective free agents to offer advice on how they might find New York-and also to gauge whether they could handle it.
Few players have arrived in New York with as much fanfare as Alex Rodriguez, and few have had such rocky, varied and ever-evolving interactions with the media. "It's part of playing in a market like ours. It's the gift and the curse," Rodriguez said.
Is it possible to adapt to it? Or for mid-career veterans, are you who you are when it comes to the media?
"I probably wouldn't be the ideal guy to ask about that," Rodriguez grinned. "There's many better options in this clubhouse. But the one thing I can say is to be honest."
But Rodriguez is perhaps the ideal "guy to ask." After he was seen on television eating popcorn from the hand of his movie-star girlfriend Cameron Diaz at the Super Bowl last month, Rodriguez deftly defused the situation with a little easy humor-readily acknowledging that five years ago, he would have handled it by making some off-key canned statement instead.
When it comes to the media, the Yankees have learned that it's just like a little extra time in the batting cage: Practice makes perfect.
Copyright 2011 Dow Jones & Company, Inc. All Rights Reserved. Reprinted here for educational purposes only. Visit the website at wsj.com.
Questions
1. How has New York Yankee infielder Robinson Cano changed the way he responds to the media from when he was first hired by the Yankees?
2. What is the difference between the media Yankee players encounter in the minor league vs. the major league?
3. How many regular reporters are assigned to the Yankees vs. their rivals the Mets and the Boston Red Sox?
4. How do you think a reporter's view of a player affects the type of press the player gets?
5. How does Yankees management prepare players for the media environment they will encounter in New York? Be specific.
6. What do you think of the Yankee management practice of considering how a prospective player will deal with the media scrutiny they will face as a Yankee? (Do you think it is good for the player/good for the team to consider that question when deciding on whether to hire a player?) Explain your answer.
7. a) What do you think about the idea of giving professional athletes training on how to deal with the media? Explain your answer.
b) Ask a parent the same question.
8. The Yankees management want their players to present a certain image to fans. Aside from the financial benefits to the team, why should a team want to portray a positive image to the public through the media?
Daily "Answers" emails are provided for Daily News Articles, Tuesday's World Events and Friday's News Quiz.