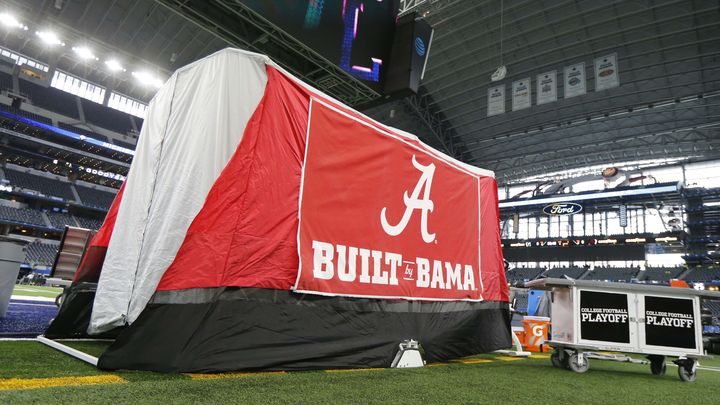 redo Jump to...
print Print...
(USA Today) – When a player gets injured in a football game, they are typically brought to a trainer's table on the sideline where a medical evaluation is done in front of 100,000 people and a television camera capturing every moment of pain and emotion. Short of taking a player back to the locker room, which presents its own logistical challenges, holding up towels is the only way to shield something from view.
Jeff Allen, who oversees the sports medicine training staff for The University of Alabama's athletic department, had long believed there was a better way.
"I think everybody recognizes it's a difficult space to do a medical evaluation," Allen said. "The first 10 minutes or so after an injury are critical in terms of getting an accurate diagnosis, and that type of environment presents some challenges, plus there's a component of just medical privacy for the athlete."
If you've watched an Alabama football game this season, you may have noticed a small collapsible tent at times on the sideline, where Allen and his team evaluate injured players. It will be there Monday night in Glendale, Ariz., when Alabama plays Clemson for the College Football Playoff title. Nobody else has anything like it.
…With four senior-level mechanical engineering students at Alabama bringing Allen's idea to life, they have invented something that will likely be on just about every sideline in college football and perhaps the NFL in the next few years.
…Jared Cassity, one of the co-inventors who graduated from Alabama in December with a mechanical engineering degree said, "It almost seems too simple. You look at it and think, 'Why didn't we have this before?' "
It turned out so well, in fact, that Alabama helped them file for a patent on the design before they revealed it to the world on Sept. 12 in a game against Middle Tennessee. Now, after countless inquiries from training staffs at other schools, Cassity along with Allen and another recent graduate, Patrick Powell, have gone into business together with a plan to market and sell the product to every level of football, from high schools and junior colleges all the way to the NFL.
It could be to Alabama football what Gatorade was to Florida.
"It's really important we do our due diligence to capitalize on the opportunity," Powell said. "There's still a tremendous amount of work to be done. We've only made one. It's just a prototype. It's hard to say you're hitting home runs every time when you've only made one. But it does have potential, and that's exciting."
In some ways, it's a story that could only be possible at a school like Alabama where football is so central to the campus experience that the the College of Engineering frequently works with Allen to come up with student-driven projects that could benefit the athletic department.
This particular project was hatched last June when Allen and Dr. Charles Karr, dean of the engineering school, were kicking around ideas and discussed the need for a private area on the sideline where a medical evaluation could take place. Allen drew a rough sketch of a tent that could be erected around a training table and then folded back down in a matter of seconds.
Karr said he thought it would be a good opportunity for some senior-level students to work on a project that would take them from the design and engineering phase to building a prototype and eventually production.
"In engineering, it's always a plus when we can associate ourselves with a world-class organization like Alabama football," Karr said.
"It's a really really fertile ground to come up with neat projects the kids can work on and see them implement it, to go through the process of developing intellectual property, applying for a patent on it and do real, live design of something that is sitting in front of millions of people."
Cassity said the opportunity was presented to students in his senior-level design course to work on a secret project that would allow them to get two credits in one semester, but it would also be at least double the amount of work. Only after he signed up did Cassity — whose parents gave him the middle name "Bryant" after a certain Alabama football coach — find out it would be for the football team.
"We took that concept and fooled around with different ideas, and once we kind of had that base idea we realized, man, we're really onto something," he said. "A month later we had our first PVC pipe mock-up strung with cord from Home Depot. We got more and more good feedback, learned lessons, made some design changes. Then it hit us: We've got something special here, and there's nothing else like it. When it got out there on the sideline on the practice field and had it locked onto the training table and saw it go up, I think everybody was kind of speechless how well it turned out."
Cassity said they were still working on pricing models for production, but the word has already gotten out among training staffs nationwide. It's certainly possible it will be available to the masses by next season. Like everything else in college football, Alabama is once again the home of something everybody wants to copy.
"Honestly, it's been better than we really thought it was going to be when we first started the whole process," Allen said. "I feel very confident it's something that will find its way onto just about every sideline."
Reprinted here for educational purposes only. May not be reproduced on other websites without permission from USA Today. Visit the website at usatoday .com.
Questions
NOTE: Today's Daily News Article is a human interest news story. Human interest stories differ from the regular news – they are sometimes referred to as "the story behind the story."
The major news articles of the day tell of important happenings. Human interest stories tell of how those happenings have impacted the people or places around the story. These stories take a break from the more serious news material to highlight something light or funny, something unusual and often something inspiring.
1. a) Who had the idea for the collapsible tent that will be used by medical trainers in tonight's Alabama vs. Clemson game?
b) What problem were they addressing? Be specific.
2. Who actually developed the tent?
3. a) What is a prototype?
b) What potential does this prototype have for the future?
4. What assistance did the University give the students and Mr. Allen regarding eventually selling their product?
5. Read the "Background" and watch the videos in "Resources" below the questions. How does this story inspire you?
Optional: Do an internet search to learn who/how/why Gatorade was developed.
Background
There are several design components that make the tent unique and so practical for football, starting with the fact the frame is actually anchored to and connected with the base of the trainer's table.
The covering expands and collapses like an accordion within 10 seconds and basically is just pulled over the top to erect the tent.
It weighs about 70 pounds, making it easy to transport.
The synthetic material covering it keeps out rain or other elements but also allows in enough light for doctors and trainers to see.
It was designed to be sturdy and stable enough to go on any kind of surface that might be on a sideline — grass, artificial turf, concrete, asphalt, etc. — without needing to be staked or anchored into the ground with heavy weights like your typical tailgate tent.
They also tested the height to make sure it doesn't obstruct the view of fans.
There's also an added bonus for schools: More advertising space to sell, which Alabama has utilized to display the logos of a local hospital and sports medicine center (for the College Football Playoff, it is using an Alabama-branded look).
Even Alabama players are impressed with it.  "I like it personally, because when someone gets hurt, no matter if it's serious or not, you can go in there and have them evaluate you without everyone looking or having a bunch of attention on you," Alabama receiver Richard Mullaney said. "It can be behind the scenes." (from the USA Today article above)
Resources
Watch a news report:
---
Watch two of the engineering studetns demonstrate opening and closing the tent:
Daily "Answers" emails are provided for Daily News Articles, Tuesday's World Events and Friday's News Quiz.