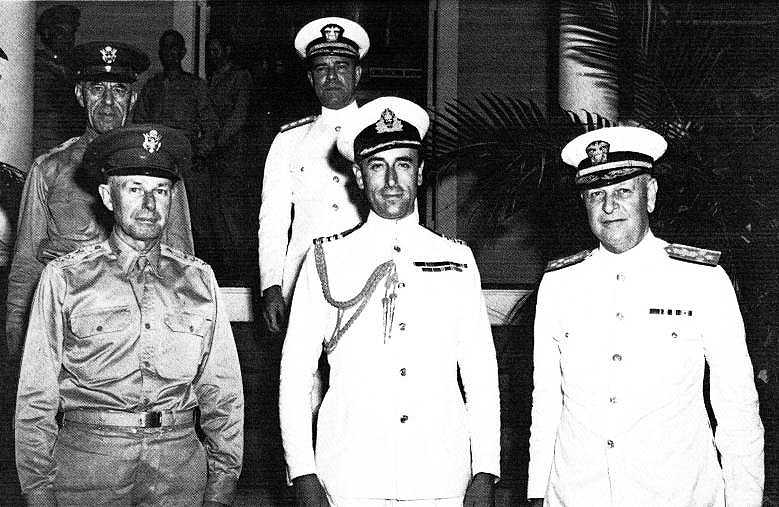 redo Jump to...
print Print...
(by Anthony Summers and Robbyn Swan, The Wall Street Journal) – On Wednesday, the 75th anniversary of Japan's surprise attack on Pearl Harbor, many Americans bow[ed] their heads to remember. But for one American family, the date will be one more mournful milestone in a largely forgotten personal drama stemming from the event that brought the U.S. into World War II.
They are the grandchildren and relatives of Adm. Husband Kimmel, who commanded the U.S. Pacific Fleet at the time. After Japan's attack, Kimmel was singled out for blame and disgrace, along with Lt. Gen. Walter Short, who commanded the U.S. Army's forces in Hawaii. Kimmel was relieved of his command, costing him two of his four stars, and pressured into retirement. Following a brief investigation, a presidential commission found Kimmel and Short guilty of "dereliction of duty."
There were widespread calls for the admiral and the general to be court-martialed, and the former commanders were deluged with hate mail and attacked by public figures. The chairman of the House Military Affairs Committee as much as demanded their execution. A retired circuit judge wrote to Kimmel that he was of "no use to yourself or the American people" and should kill himself.
It was a stunning fall for Kimmel, whom President Franklin Roosevelt had praised earlier in 1941 as "one of the greatest naval strategists of our time." Kimmel asked in vain for a court-martial at which he could defend himself. He would fight to clear his name, through eight further investigations, until his death in 1968.
The initial commission concluded that Kimmel had failed to confer and cooperate with Short before the attack and hadn't properly evaluated the gravity of the situation. But Kimmel had liaised responsibly with Short and had prepared conscientiously in light of the information available to him. In 1944, a Naval Court of Inquiry virtually cleared Kimmel of any failure, let alone dereliction of duty—but once made, the allegations stuck.
(In 1944, a parallel Army inquiry gave Short a more mixed verdict: He hadn't maintained sufficient war readiness, but the Army hadn't kept him adequately briefed or given him critical information just before the attack. The Army board proposed no disciplinary action.)
In fact, officers in Washington, not the commanders in Hawaii, should have borne the lion's share of the blame for the surprise at Pearl Harbor. Throughout 1941, Navy headquarters had failed to meet Kimmel's repeated requests for more reconnaissance planes and crew, which might have made it possible to spot the Japanese strike force as it approached Hawaii.
Worse, Washington had failed to pass along intelligence pointing to Pearl Harbor as a likely target—denying Kimmel key data that could have alerted him to Tokyo's plans. Hesitation and incompetence in the final hours before the attack—not least by Adm. Harold Stark, the chief of naval operations—meant that a last-minute warning didn't reach Kimmel until eight hours after the attack began.
From the start, Adm. Chester Nimitz, Kimmel's replacement as commander in the Pacific, thought it wrong to heap blame on his predecessor. In the late 1940s, other admirals began speaking out. Adm. William "Bull" Halsey, winner of several major victories in the Pacific, wrote in his memoirs that none of his peers felt that Kimmel deserved the odium: Instead of besmirching the admiral, the Navy and the U.S. government "should be big enough to acknowledge our mistakes."
A congressional investigation after the war leveled no new charges against Kimmel, but the stain of disgrace endured. At the war's end, Kimmel and Short were the only two senior officers from the conflict not to be retired at their highest wartime rank.
In the 1950s, a push to restore Kimmel's four-star status by the head of the Bureau of Naval Personnel, Vice Adm. James Holloway, went nowhere. When Kimmel died, he was buried at the Naval Academy Cemetery in Annapolis, Md. His headstone bears not two stars but four—but only because his sons so instructed the stonemasons, and the cemetery's administrators turned a blind eye.
Thomas and Edward Kimmel, both Navy veterans, devoted their later years to trying to persuade the Navy to rehabilitate their father's reputation. "The military in them said, 'You cannot leave a wronged man out there high and dry.' You do things right. You do things with honor," said Ginger Herrick,Thomas Kimmel's daughter.
The first breakthrough came in 1986, when the Pearl Harbor Survivors Association—which then had some 10,000 members—voted for a tribute to Kimmel and Short. In 1990, the group voted in favor of posthumously elevating the commanders to the ranks they had in Dec. 1941.
In 1991, 36 admirals—including four former chiefs of naval operations and 10 former commanders of the Pacific Fleet—signed a petition to President George H.W. Bush urging him to restore Kimmel and Short's ranks. That year, a bipartisan group of U.S. senators backed the request, but Mr. Bush's military assistant wrote Kimmel's sons that doing so "would do no honor to the Admiral and might very well tear the tapestry that time and history have so thoughtfully woven."
In fact, time had woven a durable tapestry of misinformation around the case. A 1995 Pentagon study concluded that the blame for U.S. lapses at Pearl Harbor should be "broadly shared." The senators, meanwhile, continued to press the issue. In 1999, Sen. Joe Biden helped to sponsor a resolution to restore Kimmel and Short to their 1941 ranks. Sen. John Kerry of Massachusetts, now the secretary of state, voted for it. The Kimmel and Short matter, Mr. Biden said later, "is the most tragic injustice in American military history."
In 2000, the rank-restoration measure was included in the National Defense Authorization Act, which passed both the House and the Senate. President Bill Clinton signed the act but left office without taking action on Kimmel and Short.
The admiral's sons are now dead, but his grandsons Manning Kimmel and Thomas Kimmel Jr. and their families are still fighting. Letters to the Navy Department and the secretary of defense during President Barack Obama's tenure have elicited two turndowns from the Pentagon. But the Kimmel family still hopes that Vice President Biden will push for action during the administration's final days.
In 1944, after the Navy inquiry virtually cleared Kimmel, the admiral's lawyer sent the secretary of the Navy a scathing telegram. "For nearly three years [Kimmel] has borne public blame" for Pearl Harbor, it read. "His treatment has been un-American." So it has. After 75 years, it is long past time to correct this wrong.
—Mr. Summers and Ms. Swan are the authors of "A Matter of Honor: Pearl Harbor—Betrayal, Blame, and a Family's Quest for Justice," just published by Harper.
Reprinted here for educational purposes only. May not be reproduced on other websites without permission from The Wall Street Journal. Visit the website at wsj .com.
Questions
1. Who were Husband Kimmel and Walter Short?
2. The two men were investigated after the Pearl Harbor attack. What did the commission conclude?
3. What was the general response to the ruling against Kimmel and Short?
4. What did a later Naval court of Inquiry and Army court of inquiry determine about each officer?
5. a) Define dereliction of duty. Why is this such a serious charge?
b) What do you think the Navy should have done after the 1944 court of inquiry conclusions?
6. According to the WSJ reporters, who should have been blamed for the surprise attack on Pearl Harbor? Why?
7. How did fellow admirals view Admiral Kimmel's responsibility for the U.S. being taken by surprise at Pearl Harbor?
8. Presidents George H.W. Bush, Bill Clinton and Barack Obama have declined to restore Kimmel and Short to their 1941 ranks. The WSJ reporters conclude: "In 1944, after the Navy inquiry virtually cleared Kimmel, the admiral's lawyer sent the secretary of the Navy a scathing telegram. 'For nearly three years [Kimmel] has borne public blame' for Pearl Harbor, it read. 'His treatment has been un-American.' So it has. After 75 years, it is long past time to correct this wrong."
Considering the facts, do you agree with their assertion? Explain your answer.
Daily "Answers" emails are provided for Daily News Articles, Tuesday's World Events and Friday's News Quiz.