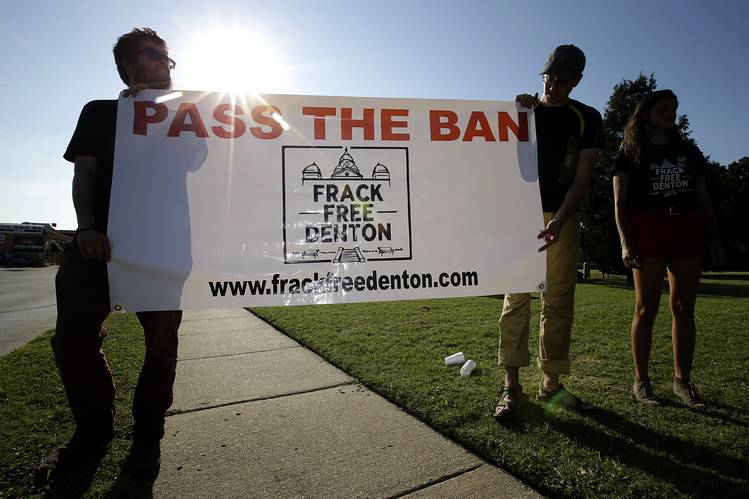 redo Jump to...
print Print...
(by Russell Gold, The Wall Street Journal) AUSTIN, Texas–Last year, a city in North Texas banned fracking. State lawmakers want to make sure that never happens again.

On Monday, Republican Gov. Greg Abbott signed a law that prohibits bans of hydraulic fracturing altogether and makes it much harder for municipal and county governments to control where oil and gas wells can be drilled. Similar efforts are cropping up in states including New Mexico, Ohio, Colorado and Oklahoma, where both chambers of the legislature have passed a bill that limits local governments to "reasonable" restrictions on oil and gas activities.

This is all part of a broader legislative and judicial effort, backed by the oil industry, to limit local governments' ability to regulate drilling. Backers say that both the Oklahoma and Texas bills were proposed in response to a voter-approved ban on fracking in Denton, Texas, in November.

One of the authors of the Texas bill said his motivation was to protect an economically important industry. "Oil is a huge job driver for the state of Texas," said state Sen. Troy Fraser, a Republican from the central part of the state.

The new law eliminates a "patchwork of local ordinances [law or regulation made by a city or town government] creating more and more regulation, some of which is intentionally onerous [having legal obligations that outweigh the advantages] and intended to stop or limit oil and gas development," said Ed Longanecker, president of the Texas Independent Producers and Royalty Owners Association.

The law has angered officials in Denton, about 50 miles northwest of Dallas, where residents approved the first ban in the state. Officials there said they supported it only after failed efforts to resolve quality-of-life problems including a well explosion and noisy drilling near homes and schools.

"It's a bad situation when city leaders' hands are tied," said Denton Councilman Kevin Roden. "There seems to be an attitude that big state government knows better than the citizens of a city. I just think – conservative or liberal – that is something you don't do in Texas."

Other critics of the bill said the balance of power between cities and the energy industry had been tilted toward drillers.

"The bill guts 100 years of traditional municipal authority to regulate oil and gas operations," said A. Scott Anderson, a senior policy director for the liberal Environmental Defense Fund, which advocates robustly regulating fracking. Other environmental groups say fracking, which involves injecting water and chemicals deep into shale rock formations, should be banned.

In the past decade, new technologies launched an energy boom in the U.S., sending oil and gas production soaring. But intense drilling and fracking activity triggered a backlash in some communities, which by zoning and ballot initiatives have tried to keep the drilling rigs either outside the city limits or far from housing.

Supporters of drilling say that local limits are driven by environmental ideology, not practical problems, and deprive landowners of their rights.

Across the country, the issue of the role of cities in deciding where drilling can occur "is still very much up in the air," said Hannah Wiseman, a law professor at Florida State University. "There is plenty of work for legislators and lawyers."

[In addition to passing laws], state governments are also taking the local bans to court, and winning. Earlier this year, the Ohio Supreme Court ruled that state rules regulating energy development trump local laws. In January, a federal judge overruled a ban on oil and gas drilling in Mora County, N.M., northeast of Santa Fe.

One of the few places where local governments have prevailed is Pennsylvania. Lawmakers attempted to rein in cities' ability to limit oil and gas activity, but the state Supreme Court overturned that law in late 2013.

In Colorado, after voters in several cities approved fracking bans and were sued by industry groups, the governor convened a task force to find middle ground. The group wrapped up its work earlier this year but failed to resolve the thorny issue of the appropriate role for cities. …

Copyright 2015 Dow Jones & Company, Inc. All Rights Reserved. Reprinted here for educational purposes only. May not be reproduced on other websites without permission from The Wall Street Journal. Visit the website at wsj .com.
Questions
PLEASE NOTE: Daily posting and "Answers" emails will end for the school year on Friday, May 29th.
1. What caused Texas (and Oklahoma) lawmakers to propose bills prohibiting local fracking bans?
2. What does the Texas law do? Be specific.
3. In what other states have similar efforts appeared?
4. For what reason did state senator Troy Fraser author the Texas bill?
5. Who opposes the Texas law? For what reasons do they oppose it?
6. What other actions are state governments taking to keep fracking legal?
7. Supporters of drilling say that local limits are driven by environmental ideology, not practical problems, and deprive landowners of their rights.
a) Do you think state law should override local ordinances in deciding this issue? Explain your answer.
b) How should local/state officials balance addressing homeowners' complaints/concerns over noise/disturbance from fracking with other landowners rights to their land? Explain your answer.
PLEASE NOTE: Daily posting and "Answers" emails will end for the school year on Friday, May 29th.
Background
HYDRAULIC FRACTURING (FRACKING): (from instituteforenergyresearch.org/2011/05/03/hydraulic-fracturing-is-it-safe)

Less than a decade ago, natural gas prices in the U.S. were among the highest in the world.
However, in the last five years, domestic natural gas reserves have grown 30% due to technological advances in the use of hydraulic fracturing, a drilling method that is coupled with directional drilling to access underground reservoirs of oil and gas.
This technological breakthrough had an immediate impact on natural gas prices, causing them to plummet and remain low to the present time.
Hydraulic fracturing has come under attack.  It was featured in the 2010 movie Gasland, which dramatized the allegation that hydraulic fracturing had been the cause of groundwater contamination.
Understandably, these reports have caused much public consternation, and have prompted both regulators and legislators to contemplate whether hydraulic fracturing should be subject to additional federal regulation. But are they accurate?
While the controversy over hydraulic fracturing is new, hydraulic fracturing itself is not. First used in 1947, hydraulic fracturing has been employed in more than a million wells to extract more than 7 billion barrels of oil and 600 trillion feet of natural gas from deep underground shale formations.
Geologists have long known that shale rock formations contain large amounts of natural gas and oil, but the fossil fuel resources were trapped in layers of rock and could not easily be extracted.
Two studies conducted by the Environmental Protection Agency (EPA) and the Ground Water Protection Council (GWPC) – the national association of state ground water and underground injection agencies whose mission is to promote the protection and conservation of ground water – found that there have been no confirmed incidents of groundwater contamination from hydraulic fracturing.
This is particularly noteworthy in consideration of the fact that approximately one million wells have been hydraulically fractured in the United States.
Furthermore, according to the Interstate Oil and Gas Compact Commission (IOGCC) – the multi-state governmental agency representing states' oil and gas interests – each IOGCC member state has confirmed that there has not been a case of groundwater contamination where hydraulic fracturing was attributed to be the cause.
(read more at instituteforenergyresearch.org/2011/05/03/hydraulic-fracturing-is-it-safe)
Daily "Answers" emails are provided for Daily News Articles, Tuesday's World Events and Friday's News Quiz.