redo Jump to...
print Print...
Note: This article is from the British newspaper The Daily Telegraph.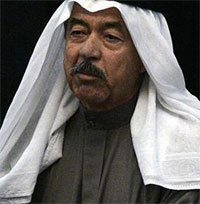 (from Telegraph.co.uk) – Ali Hassan al-Majid, Saddam Hussein's notorious henchman known as 'Chemical Ali', has been executed after receiving four death sentences for his crimes.
A government spokesman in Baghdad said the sentence had been carried out on Monday.
He was expected to have been hanged, like Saddam.
He received his fourth death sentence last week for his most [infamous] crime when he ordered a gas attack on northern Iraq's Kurdish population.
He was convicted of ordering the single biggest atrocity of Saddam's rule, the gassing of 5,600 people in the town of Halabja.
The attack in 1988 is believed to be the worst use of poison gas against civilians in history.
Majid had already received three death sentences – one for genocide, for directing the campaign against the Kurds; one for a massacre of Shia civilians in southern Iraq in 1991; and one for the killing of more Shia in Baghdad and Najaf in 1999.
Majid was Saddam's cousin and was at his side from his coming to power in 1979 to the end. In a celebrated film of Saddam haranguing officials after becoming president and then looking on as those he names are taken away to be killed, Majid is seen standing at his shoulder.
At one point, he says: "What you have done in the past was good. What you will do in the future is good. But there's this one small point. You have been too gentle, too merciful."
He was appointed governor of northern Iraq in 1987, towards the end of the war with Iran. He set about the destruction of the Kurds, who had used the conflict to press for autonomy.
He did so at a cost of an estimated 100,000 civilian deaths. Gas attacks grew in intensity, culminating in the bombing of Halabja on March 16, 1988, with shells containing mustard gas and the nerve agents Tabun, Sarin and VX.
Majid was thought to have been killed by US forces in Basra soon after the 2003 invasion of Iraq but it later emerged he had escaped.
Information appearing on telegraph.co.uk is the copyright of Telegraph Media Group Limited and must not be reproduced in any medium without licence. Reprinted here for educational purposes only. May not be reproduced on other websites without permission from the Telegraph. Visit the website at telegraph.co.uk.
Questions
1. Who was Ali Hassan al-Majid?
2. For what crimes did he receive a death sentences?
3. What method of execution did the Iraqi government use on al-Majid?
4. For how many civilian deaths is al-Majid responsible?
5. How did al-Majid react to Saddam's order (when he became president of Iraq) that government officials be executed?
6. Do you think justice was served for the victims of Halabja (and all of al-Majid's victims)? Explain your answer.
Background
During the Halabja poison gas attack in 1988, chemical weapons were used by the Iraqi government against the Kurdish town of Halabja in Iraqi Kurdistan. The attack instantly killed thousands of people (3,200-5,000 dead instantly) and injured 7,000-10,000, most of them civilians; thousands more died of complications, diseases, and birth defects in the years after the attack. The incident, which … was an act of genocide…, was the largest-scale chemical weapons attack directed against a civilian-populated area in history. (from wikipedia.org)
Daily "Answers" emails are provided for Daily News Articles, Tuesday's World Events and Friday's News Quiz.