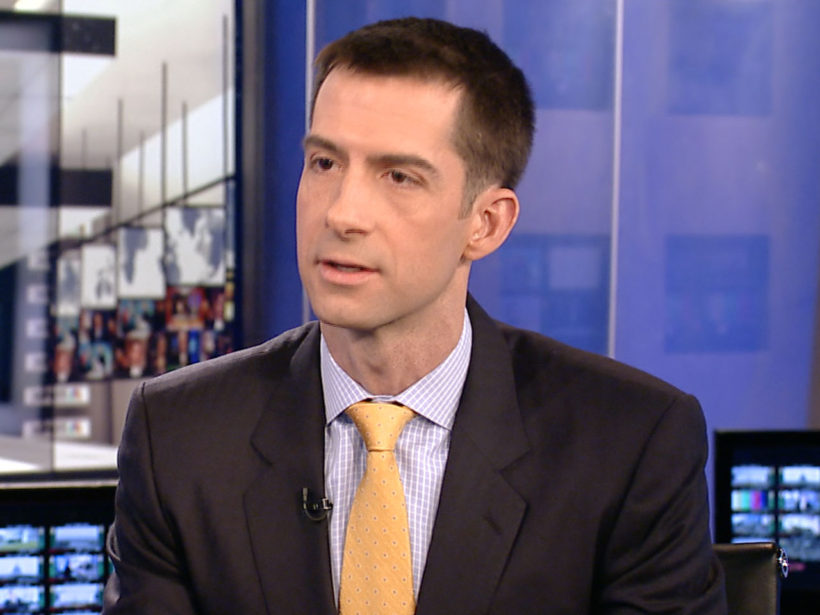 redo Jump to...
print Print...
(by Bradley Klapper And Deb Riechmann, The Associated Press) WASHINGTON — Republican lawmakers warned the leaders of Iran on Monday that any nuclear deal they cut with President Barack Obama could expire the day he leaves office. The White House denounced the GOP's latest effort to undercut the international negotiations as a "rush to war."
Monday's open letter from 47 GOP senators marked an unusually public and aggressive attempt to undermine Obama and five world powers as negotiators try to strike an initial deal by the end of March to limit Iran's nuclear programs.
Republicans say a deal would be insufficient and unenforceable, and they have made a series of proposals to undercut or block it – from requiring Senate say-so on any agreement to ordering new…sanctions against Iran….
Obama, noting that some in Iran also want no part of any deal, said "I think it's somewhat ironic that some members of Congress want to make common cause with the hardliners in Iran. It's an unusual coalition."
The letter was written by freshman Senator Tom Cotton of Arkansas, who opposes negotiations with Iran. It's addressed to the "Leaders of the Islamic Republic of Iran."… Several prospective presidential candidates [signed the letter].
Explaining the difference between a Senate-ratified treaty and an [executive] agreement between Obama and Iran's Ayatollah Ali Khamenei, the senators warned: "The next president could revoke such an executive agreement with the stroke of a pen, and future Congresses could modify the terms of the agreement at any time."
Iranian Foreign Minister Mohammad Javad Zarif responded via state media, dismissing the letter as a "propaganda ploy" and noting that many international deals are "mere executive agreements." He suggested the senators were undermining not only the prospective deal with Iran but other international agreements as well.
With Cotton presiding over the Senate on Monday, Democratic leader Harry Reid spoke out, saying Republicans were driven by animosity toward Obama and unwilling to recognize that American voters had twice elected him president.
"Let's be very clear: Republicans are undermining our commander-in-chief while empowering the ayatollahs," Reid said. "Republicans don't know how to do anything other than juvenile political attacks against the president," the 75-year-old Reid said with the 37-year-old Cotton listening.
The Republicans' move to stop a nuclear deal with Iran comes just days after Israeli Prime Minister Benjamin Netanyahu spoke to a joint meeting of Congress at Republican House Speaker John Boehner's invitation. In his address, Netanyahu bluntly warned the United States that a deal would pave Iran's path to a nuclear bomb.
The White House denounced Cotton's letter, saying it was part of an ongoing partisan strategy to undermine the president's ability to conduct foreign policy.
Press secretary Josh Earnest said that "the rush to war, or at least the rush to the military option, that many Republicans are advocating is not at all in the best interest of the United States."
Not all Republican senators are united. One significant signature missing from Monday's letter was Bob Corker of Tennessee, the Senate Foreign Relations Committee chairman. Action on any new legislation challenging the administration's strategy would be likely to begin with him.
Still, even if all parties to the international talks reject the letter as a stunt, the mounting opposition to an accord could have repercussions. Negotiating alongside the U.S. are Britain, China, France, Germany and Russia.
The Obama administration believes it has authority to lift most trade, oil and financial sanctions that would be pertinent to the nuclear deal in exchange for an Iranian promise to limit its nuclear programs. For the rest, it needs Congress' approval. And lawmakers could approve new Iran sanctions to complicate matters.
Nuclear negotiations resume next week in Switzerland. Officials say the parties have been speaking about a multi-step agreement that would freeze Iran's uranium enrichment program for at least a decade before gradually lifting restrictions. Sanctions relief would similarly be phased in. …The deadline for the whole agreement is July. …
The deal taking shape is not a treaty. Under international law, the provisions of treaties are far more binding than other agreements.
But by themselves, congressional Republicans won't be able to block an international agreement.
McConnell has spoken of action later this month authorizing Congress to take a yes-or-no vote on a deal. But that vote would be symbolic.
Associated Press writers Alan Fram, Steve Peoples and Jim Kuhnhenn in Washington and Cara Anna at the United Nations contributed to this report.
Reprinted here for educational purposes only. May not be reproduced on other websites without permission from the AP.
Questions
1. The first paragraph of a news article should answer the questions who, what, where and when. List the who, what, where and when of this news item. (NOTE: The remainder of a news article provides details on the why and/or how.)
2. Why did Republican Senator Tom Cotton and 46 other Senators send a letter to Iran?
3. How did the White House / President Obama respond to the letter?
4. Read the letter the Senators sent to Iran's leader included under "Background" below the questions. What is the tone of the letter?
5. a) List all of the people quoted in this article, which was written by two AP reporters, plus another four reporters who contributed to the story (see the bottom of the article).
b) Which person, key to this news story, is not quoted in this article?
c) Why do you think the reporters chose not to include any quote from this person?
6. From the U.S. State Department website: A treaty is a formal, written agreement between sovereign states or between states and international organizations. In the United States, treaties are negotiated through the executive branch, which includes the Department of State. Once the negotiators have accepted the terms of the treaty, the president sends the treaty to the U.S. Senate for its "advice and consent" on ratification, or endorsement. If [two-thirds of] the Senate agrees that the president should ratify the treaty, it goes back to him and he ratifies the treaty with his signature. (Article II, Section 2, Clause 2 of the U.S. Constitution states: [The president] shall have power, by and with the advice and consent of the Senate, to make treaties, provided two thirds of the Senators present concur)
The State Department also explains the difference between treaties and executive agreements.
The following are three kinds of executive agreements that are not treaties:

(1) Agreements Pursuant to Treaty – The President may conclude an international agreement pursuant to a treaty brought into force with the advice and consent of the Senate, the provisions of which constitute authorization for the agreement by the Executive without subsequent action by the Congress;

(2) Agreements Pursuant to Legislation – The President may conclude an international agreement on the basis of existing legislation or subject to legislation to be enacted by the Congress; and

(3) Agreements Pursuant to the Constitutional Authority of the President – The President may conclude an international agreement on any subject within his constitutional authority so long as the agreement is not inconsistent with legislation enacted by the Congress in the exercise of its constitutional authority. The constitutional sources of authority for the President to conclude international agreements include:

(a) The President's authority as Chief Executive to represent the nation in foreign affairs;
(b) The President's authority to receive ambassadors and other public ministers;
(c) The President's authority as "Commander-in-Chief"; and
(d) The President's authority to "take care that the laws be faithfully executed."

Essentially, the President can enter an executive agreement without the "consent and advice" of two thirds of the senate if a previous treaty or legislation gives him the power to do so, or if he is doing so according to another constitutional duty. (state.gov/e/oes/rls/rpts/175/1319.htm)
Watch the video under "Resources" below. The White House said Sen. Cotton's letter was part of an ongoing partisan strategy to undermine the president's ability to conduct foreign policy. What do you think: are the Republican Senators undermining the president's ability to conduct foreign policy, or is President Obama undermining Congress by choosing to negotiate with our enemy Iran by executive agreement instead of by treaty? Explain your answer.
Background
An Open Letter to the Leaders of the Islamic Republic of Iran (pdf format here):
It has come to our attention while observing your nuclear negotiations with our government that you may not fully understand our constitutional system. Thus, we are writing to bring to your attention two features of our Constitution – the power to make binding international agreements and the different character of federal offices – which you should seriously consider as negotiations progress.
First, under our Constitution, while the president negotiates international agreements, Congress plays the significant role of ratifying them. In the case of a treaty, the Senate must ratify it by a two-thirds vote. A so-called congressional-executive agreement requires a majority vote in both the House and the Senate (which, because of procedural rules, effectively means a three-fifths vote in the Senate). Anything not approved by Congress is a mere executive agreement.
Second, the offices of our Constitution have different characteristics. For example, the president may serve only two 4-year terms, whereas senators may serve an unlimited number of 6-year terms. As applied today, for instance, President Obama will leave office in January 2017, while most of us will remain in office well beyond then – perhaps decades.
What these two constitutional provisions mean is that we will consider any agreement regarding your nuclear-weapons program that is not approved by the Congress as nothing more than an executive agreement between President Obama and Ayatollah Khamenei. The next president could revoke such an executive agreement with the stroke of a pen and future Congresses could modify the terms of the agreement at any time.
We hope this letter enriches your knowledge of our constitutional system and promotes mutual understanding and clarity as nuclear negotiations progress.
Sincerely,
Senator Tom Cotton, R-AR
Senator Orrin Hatch, R-UT
Senator Charles Grassley, R-IA
Senator Mitch McConnell, R-KY
Senator Richard Shelby, R-AL
Senator John McCain, R-AZ
Senator James Inhofe, R-OK
Senator Pat Roberts, R-KS
Senator Jeff Sessions, R-AL
Senator Michael Enzi, R-WY
Senator Michael Crapo, R-ID
Senator Lindsey Graham, R-SC
Senator John Cornyn, R-TX
Senator Richard Burr, R-NC
Senator John Thune, R-SD
Senator Johnny Isakson, R-GA
Senator David Vitter, R-LA
Senator John A. Barrasso, R-WY
Senator Roger Wicker, R-MS
Senator Jim Risch, R-ID
Senator Mark Kirk, R-IL
Senator Roy Blunt, R-MO
Senator Jerry Moran, R-KS
Senator Rob Portman, R-OH
Senator John Boozman, R-AR
Senator Pat Toomey, R-PA
Senator John Hoeven, R-ND
Senator Marco Rubio, R-FL
Senator Ron Johnson, R-WI
Senator Rand Paul, R-KY
Senator Mike Lee, R-UT
Senator Kelly Ayotte, R-NH
Senator Dean Heller, R-NV
Senator Tim Scott, R-SC
Senator Ted Cruz, R-TX
Senator Deb Fischer, R-NE
Senator Shelley Moore Capito, R-WV
Senator Bill Cassidy, R-LA
Senator Cory Gardner, R-CO
Senator James Lankford, R-OK
Senator Steve Daines, R-MT
Senator Mike Rounds, R-SD
Senator David Perdue, R-GA
Senator Thom Tillis, R-NC
Senator Joni Ernst, R-IA
Senator Ben Sasse, R-NE
Senator Dan Sullivan, R-AK
Governor Bobby Jindal (R-LA)
---
The results of a new Wall Street Journal/NBC News poll:
Americans are very doubtful that the multinational negotiations with Iran to limit its ability to produce nuclear material will make any impact on the production of nuclear weapons.
The poll found that 71% said the negotiations between Tehran and the Obama administration and other world powers will not make a real difference in preventing Iran from producing nuclear weapons; 24% said it will make a difference.
The skeptical finding comes at a time of great political controversy over the emerging deal between Tehran and the so-called P5+1 group of nations, which are aimed not at halting Iran's nuclear program but at delaying its ability to produce enough materials to make weapons. In return, the U.S. and its allies would ease economic sanctions on Iran.
And from a WSJ article: "Treaties vs. Executive Agreements: When Does Congress Get a Vote?":
"The GOP's case rests on choices, not requirements: 'Their argument isn't that the president can't make executive agreements. But, rather, that the president can't make an executive agreement on an issue of this importance.'"
Resources
Senator Tom Cotton of Arkansas on the letter:
Daily "Answers" emails are provided for Daily News Articles, Tuesday's World Events and Friday's News Quiz.