(by Anthony Esposito and Sergio Abarca, The Wall Street Journal, WSJ.com) – Chile scrambled to dig out survivors and contain looting as the death toll from one of history's most powerful earthquakes mounted to more than 700 people.
Chilean President Michelle Bachelet dispatched 10,000 troops to restore order and help rescue efforts in hard-hit southern towns. Ms. Bachelet predicted the number of dead would grow. Two million people were displaced, she said.
"We're facing an unthinkable catastrophe that will require an enormous effort in resources," Ms. Bachelet said in a nationally televised address.
The magnitude 8.8 quake, the fifth-biggest ever measured, struck off Chile's coast around 3:30 a.m. local time Saturday, toppling buildings, twisting roadways and driving deadly waves into seaside towns. Damage to power and communications systems further hindered rescue efforts.
An 8.8-magnitude earthquake in Chile damaged at least 1.5 million homes and destroyed an untold amount of the country's infrastructure. Video courtesy of Reuters.
Most of the confirmed deaths so far are in the Maule region on the Chilean coast, which was closest to the epicenter. As much as 80% of some towns in the region was destroyed, officials said.
"Unfortunately, we found whole families buried in the rubble," said Alejandro Boettiger, a firefighter from the southern city of Talca. An exhausted Mr. Boettiger spoke as he carried an elderly woman out of her badly damaged apartment building.
In tiny Pelluhue, a southern coastal village of 1,000, waves harpooned 70-foot cypress trees into beachfront homes, while washing other houses up onto the slopes above town. Plywood and other debris littered the coast and floated offshore.
"The earth started shaking so violently that we couldn't stand," said Maria Julia Aguilar, who was vacationing with her husband in Pelluhue. As they struggled to their feet and fled, the sound of waves crushing houses cracked along the shoreline. Returning later, she said, she saw four bodies half-buried in the sand.
Clara Lepe was asleep in her beachfront home when the quake jarred her awake. She fled with her husband and two daughters in their four-wheel-drive vehicle. In the panic, Ms. Lepe said, two cars crashed head-on as residents tried to get away from the shore.
"It was utter chaos," she said, with tears in her eyes.
Across the country, stark scenes of damage underscored the quake's unusual power. Outside Chile's capital Santiago, 200 miles northeast of the epicenter, automobiles were flung about a severed highway overpass.
In the southern city of Concepción, closer to the epicenter, scores of residents were feared trapped in an apartment building that had toppled over.
A massive wave of looting in Concepción, the country's second-largest city, raged during the day, as hundreds of men and women ransacked stores of everything from food and diapers to clothing and appliances. Concepción's mayor, Jacqueline Van Rysselberghe, made a desperate plea for help on local television. Later Sunday, Ms. Bachelet put the military in control of the two worse-off southern regions, Maule and Bíobío, where Concepción is the capital. Broadcasts showed police cracking down with teargas, arrests, and at least one armored vehicle blasting looters with a water cannon. Additional troops arrived, and by nightfall Concepción was under curfew.
In a bid to head off looting and provide faster relief, government officials reached a deal with supermarket companies in Chile to start giving away inventories of basic goods in an organized fashion.
Looting wasn't the only unrest provoked by the quake. At least 200 prisoners escaped from a jail damaged by the quake in the southern city of Chillan, while the women's section of a prison in Concepción was ablaze, with gunshots heard inside, the local press reported.
While Chilean officials scrambled to restore order in the south, other parts of the country, including the capital city Santiago, appeared to be returning to normalcy. Planes resumed landings on a limited basis at the international airport.
Some bus lines were running, and officials had begun the task of removing debris. Some newspapers had gone to print in time for Sunday morning readers. In Santiago's Providencia neighborhood, a commercial and tourist area, two or three shops were open on each block, mostly drugstores or sundries shops.
At least 100 aftershocks with a magnitude of 5.0 or more have hit since the initial quake, according to the U.S. Geological Survey. That prompted many wary survivors to sleep outside, or camp out in building lobbies to be near exits.
Gabriel Matuck, a Brazilian engineer who was in Chile on business, spent most of Sunday outside. The night before, he had been shaken awake in his sixth-floor hotel room. He stumbled around in the darkness looking for his pants, he said.
"It dawned on me that I might die because I am too modest to go out on the street without my pants," he said. He found them. But on the street he saw people covering themselves in blankets, a few in only underwear.
Pavel Gonzalez, a waiter at a sushi restaurant, said he was relaxing on a park bench after work when the quake hit. A motorcycle rider, he put on his helmet and held on to the bench for dear life, he said. The restaurant where he works was back open Sunday. …
In Constitución, a southern seaside town where at least 80 died, a policeman, who asked not to be named, said his orders were to hand out food and rescue people-not to stop looters.
"What the earthquake didn't take away, the sea took away, and what the sea didn't take, the looters did," said Karen Espinoza, owner of a bakery that was looted. "My dreams here have died, Constitución has died."
In a televised speech, Ms. Bachelet sought to reassure Chileans that the government had resources to restore order and rebuild. She said mobile dining halls in public schools would soon deliver up to two million meals a day in the most damaged regions.
Chile may also seek international aid for field hospitals, mobile bridges, telecommunications equipment, power generators, water-purification equipment and rescue workers to replace exhausted local crews, she said.
Government officials said restoring electricity is a top priority, especially to hospitals. "In general, we are going to be able to restore electricity in the next 24 hours in most of the country," Rodrigo Castillo, head of the electric power companies association said Sunday.
Repairing twisted roads, collapsed bridges, communications systems and other infrastructure will take more time. One of the two bridges that connect the main north-south highway along this long, thin Andean country collapsed during the earthquake. Workers were preparing to erect a pontoon bridge. "Road damage was worse than what I expected," Sergio Bitar, Chile's public-works minister, said at a news conference.
Outside Santiago, Rafael Galleguillos, on the verge of tears, said he had no idea how he survived a plunge off the side of an overpass that had collapsed on a highway that linked the country's international airport with the capital. Seven cars fell off the edge of the overpass, Mr. Galleguillos said.
Mr. Galleguillos complained that the overpass hadn't weathered the quake. "You pay tolls and taxes and you expect safety," he said.
Economists sought to gauge damage to the infrastructure of Chile, the world's biggest copper exporter. The temblor shut several copper mines and refineries-at least temporarily-and will hurt commerce. State-run copper concern Corporación Nacional del Cobre, however, reopened El Teniente, the world's biggest underground mine, late Sunday, though its Andina mine remained closed. Analysts expected copper prices to open higher on Monday because of supply disruption. "Chile is to copper what the Middle East is to oil," says ANZ senior commodity strategist Mark Pervan.
While Chile's death toll is expected to rise, earthquake experts said it remains relatively low considering the quake's size. The quake's deep, offshore epicenter muffled its impact on a sparsely populated nation.
But preparation by quake-conscious Chilean governments also played an important role. Chile has enforced strict building codes since the late 1970s to limit earthquake damage.
Chile's earthquake released 500 times more energy than the quake that ravaged Haiti in January, said Paul Caruso, a geophysicist at the National Earthquake Center in Golden, Colo. Though much smaller, Haiti's quake has claimed at least 220,000 lives because its epicenter was shallow and near a capital where many structures were built with virtually no oversight. …
Earthquakes are not uncommon in Chile, a mountainous country between the towering Andes and the Pacific Ocean. A 9.5 quake that hit in 1960 is the biggest ever recorded.
The deep-water quake sent a surge of tsunami waves across the Pacific, prompting evacuations from Hawaii to Japan. Waves that swamped a remote island village off Chile left at least four people dead and 11 missing. But tsunami alerts notched down around the globe as waves proved smaller than forecast.
Long lines formed Saturday at the few gas stations open around the country. Some reports said a loaf of bread was selling for 10 times the usual price at bakeries.
On Sunday, frustration started to build in the historic sections of Santiago, where many homes built of adobe suffered extensive damage.
Marcelo Obreque's family of seven patched together a rough-hewn tent over five mattresses on a street corner. Mr. Obreque's leg was injured when a wall in his third-story apartment collapsed. "We cannot stay outside any longer," he said.
-Jeff Fick, Carolina Pica, Matthew Cowley and George Seal contributed to this article.
Copyright 2010 Dow Jones & Company, Inc. All Rights Reserved. Reprinted here for educational purposes only. Visit the website at wsj.com.
Questions
NOTE TO STUDENTS: This is a long article, but gives a good overview of the earthquake in Chile. Read through the article two times, circle names of people, underline names of places and highlight facts provided as you read.
1. How many facts were provided in this article? Answer the following questions:
a) What is the capital of Chile?
b) Who is the president of Chile?
c) Approximately how many people are known to have died as a result of the earthquake?
d) How many people were displaced by the earthquake?
e) What region was closest to the epicenter of the earthquake?
f) What time did the earthquake happen?
g) What was the magnitude of the earthquake?
2. What damage did the earthquake cause, as described in the article?
3. Why are many survivors sleeping outside?
4. What types of assistance might the Chilean government seek from the international community?
5. a) What is a top priority for the government in Chile?
b) What recovery efforts will take more time?
6. a) How strong was the earthquake compared to the recent Haiti earthquake?
b) For what reasons was there a much lower death toll in Chile than Haiti?
Resources
For background facts on Chile, go to the U.S. State Department website at state.gov/r/pa/ei/bgn/1981.htm, and at the CIA World FactBook website.
Visit worldatlas.com for a map of Chile.
Go to wsj.com for photos from Chile.
Also from the Wall Street Journal: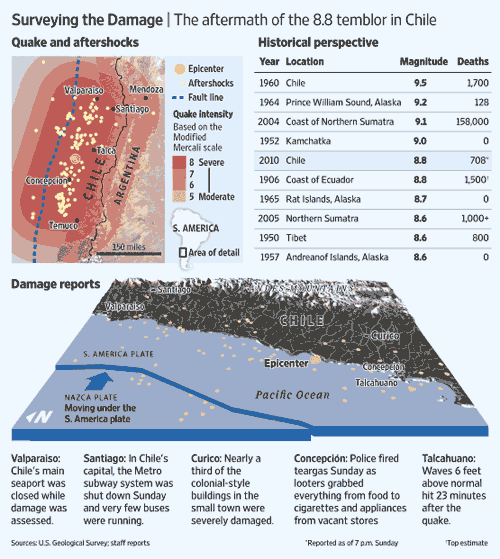 Daily "Answers" emails are provided for Daily News Articles, Tuesday's World Events and Friday's News Quiz.