redo Jump to...
print Print...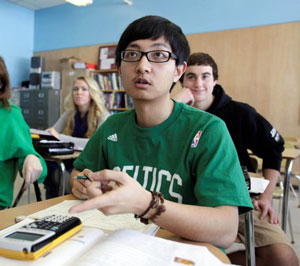 (from WashingtonTimes.com) [AP] MILLINOCKET, Maine – Northern Maine is 7,000 miles and a world away from China, but that's not stopping a school superintendent from recruiting Chinese students to attend public high school in this remote mill town.
Faced with declining enrollments and shrinking revenue, public school districts from Maine to California are seeking out students from overseas, particularly China, to attend their high schools. At least two public schools in Maine have 10 tuition-paying Chinese students in classes this year, and the superintendent in Millinocket is the latest to set his sights on China.
Next fall, Millinocket Superintendent Ken Smith hopes to have at least 60 Chinese students – each paying $13,000 in tuition and another $11,000 for room and board – at Stearns High School. Stearns at one time had close to 700 high school students, but enrollment has fallen over the years to less than 200 this year.
The first [group] is now being signed up, Mr. Smith said, with plans for more international students in the years ahead. Local students will benefit by being exposed to those from abroad, and Chinese students will gain from being immersed in the local culture, he said.
When Mr. Smith went on a recruiting trip to the cities of Shanghai, Beijing and Fuzhou last fall, students there had never heard of Maine. But they knew they wanted to come to America to learn English and enhance their chances of going to a U.S. college or university.
"They didn't know where Maine was, but they knew where Harvard was," Mr. Smith said. "They all want to go to Harvard."
As Maine's overall population has aged, the student population has shrunk. That's particularly true in remote areas where jobs have disappeared, forcing young people to leave.
Millinocket's population has fallen 30 percent in the past 20 years. Two paper mills that used to be the lifeblood of the regional economy, employing more than 4,000 workers at their peak in the 1980s, are skeletons of their past selves – one is idle and the other employs about 450 workers.
With a fiscal crunch and projections for a continued slide in enrollment, Mr. Smith last fall joined the heads of three private schools in Maine on a recruiting trip to China.
As for education, Mr. Smith acknowledges the school's poor test scores. The percentage of juniors at Stearns meeting state standards for writing, reading, science and math stood between 36 and 41 percent in the latest round of testing. The Chinese families are aware of the scores, but are more interested in how many advanced placement classes the school has and how many students are accepted to college, he said.
In Maine, seven Chinese students are attending Orono High School, paying $13,000 each in tuition and $8,000 for room and board while staying with local families. [Above photo: Chinese student Minzhe Zou answers a question in statistics class at Orono High School in Orono, Maine.] Three Chinese students this year have attended Camden Hills Regional High School in Rockport, paying $15,000 in tuition and $5,000 for room and board to stay with local families.
Lei Huang, 16, from Shanghai, is attending Camden Hills High School this year. The school aims to have 10 foreign students next year, from China and Vietnam.
Schools in China, he said, demand long days in the classroom and long nights doing homework, with an emphasis on memorization and testing. In Camden, he appreciates the emphasis on creativity and tapping into students' interests.
Outside of school, he likes being able to drink water out of the tap, the abundance of trees and time to participate on the high school ski team. But he misses buying live fish at seafood markets in China, authentic Chinese food and public transportation so that he's not dependent on others with cars to get around.
"Everything is different. Even eating pancakes is different," he said. "I put ketchup on my pancakes the first time because I didn't know how to eat them."
Copyright 2011 The Washington Times, LLC. Associated Press. Reprinted from the Washington Times for educational purposes only. Visit the website at washingtontimes.com.
Questions
1. For what reasons are some public school superintendents in Maine (and other states) actively recruiting foreign students to attend their high schools?
2. How does Superintendent Ken Smith say all students will benefit from enrolling foreign students?
3. How much will the students pay to attend the American public high schools?
4. a) Why do Chinese students want to attend U.S. high schools even in remote areas they've never heard of before?
b) Why do you think it will be hard for Chinese students to learn English at Stearns High School next fall?
5. Why aren't the Chinese parents too concerned with Stearns High School's low test scores?
6. What does Lei Huang from Shanghai like about attending school in Maine?
7. a) List some of the positives and negatives you see of having foreign students pay to attend U.S. high schools.
b) Do you think it is a good idea? Explain your answer.
Daily "Answers" emails are provided for Daily News Articles, Tuesday's World Events and Friday's News Quiz.