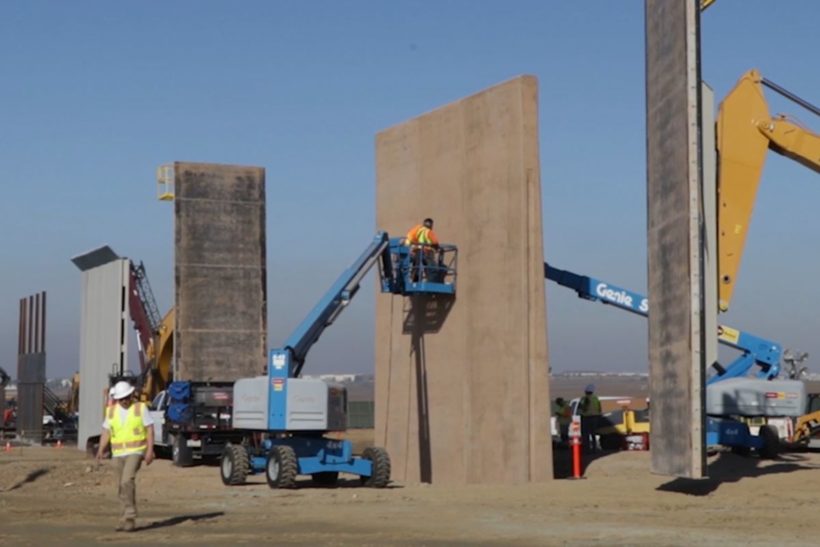 redo Jump to...
print Print...
(Compiled from articles at WREG News Channel 3 and San Antonio Express-News at Chron .com) SAN DIEGO — Construction on eight border wall prototypes began Sept. 26 in San Diego, California, U.S. Customs and Border Protection officials announced.
Customs and Border Protection officials tweeted photos of completed or nearly finished, prototypes on Wednesday (October 10).
"Several border wall prototypes are taking form or are near completion," they tweeted.
In a January executive order, President Trump called for a wall be built along the United States' border with Mexico to "prevent illegal immigration, drug and human trafficking and acts of terrorism."
Six companies were selected to build eight prototypes. Construction began last month, with crews given 30 days to complete their models.
Each prototype will be between 18 and 30 feet tall and are designed to "deter illegal crossings in the area," officials said.
Four models are made of concrete and four are made from other materials.
The construction site is located near the Otay Mesa Port of Entry*.  (*The Otay Mesa Port of Entry is one of three ports of entry (POE) in the San Diego–Tijuana metropolitan region, connecting Otay Mesa in the City of San Diego with the Otay Centenario borough of Tijuana.)
Once complete, the government will run a series of tests on each prototype, checking for anti-climbing, anti-breaching, and anti-digging capabilities, among other things.
"We are committed to securing our border and that includes constructing border walls. Our multi-pronged strategy to ensure the safety and security of the American people includes barriers, infrastructure, technology and people," Ron Vitiello, acting U.S. Customs and Border Protection deputy commissioner, said in a release. "Moving forward with the prototypes enables us to continue to incorporate all the tools necessary to secure our border."
On Thursday News 8 got a chance to see five of the prototypes up close. Border Patrol agents took News 8's Steve Price to a fenced-off area in Otay Mesa where crews are halfway into the 30 days they have to build their prototype for what will eventually be a 2,000-mile long wall along our southern border.
One wall has razor wire across the top; another bollard-style fencing that's friendlier to wildlife; all are designed to be tough to climb or penetrate.
"It's very interesting to see all the different types of ideas and wall prototypes," said U.S. Border Patrol Agent Tekae Michael. "In a wall, what we would want is anything that's going to protect us and protect the United States."
Three more wall prototypes are coming and once completed they'll be put to the test.
"There will be a testing and an evaluation process and we're going to look to see if the wall prototypes meet the anti-scaling, anti-climbing, anti-digging and safety of border patrol agents," said Agent Michael.
San Diego's southern border spans 60 miles right now with 46 miles protected by an 8 – 10-foot primary fence that's over 25 years old. A 20-year-old secondary fence overlaps the primary fence for 13 miles, in areas more popular with [those attempting to enter the U.S. illegally].
"What we do have with our primary and secondary fencing has proven to be effective but like anything, in age, everything needs an upgrade," said Agent Michael.
Bids for the prototypes range from $300,000 to $500,000. As of now, the building of an actual wall lacks congressional funding.
Both the state of California and San Diego County have voiced opposition to the construction of a wall along the border.
Last month, California Attorney General Xavier Becerra filed a lawsuit against the Trump administration over its border wall plan, citing legal and constitutional violations.
San Diego City Council voted 5-3 in September to pass a resolution opposing the border wall, saying it would be detrimental to San Diego's environment and tourism and accomplishes nothing.
The many Americans who want a wall constructed to prevent people from entering the country illegally support the construction that is going forward as promised.
Compiled from articles at WREG News Channel 3 and San Antonio Express-News at Chron.com. Reprinted here for educational purposes only. May not be reproduced on other websites without permission.
Questions
1. The first paragraph of a news article should answer the questions who, what, where and when. List the who, what, where and when of this news item. (NOTE: The remainder of a news article provides details on the why and/or how.)
2. a) Define prototype as used in this article.
3. Answer the following regarding the prototypes:
a) How many prototypes are being built?
b) Where are the prototypes being built? Be specific.
c) What is the deadline for completion of the prototypes?
d) How many companies were selected to build prototypes?
e) What types of materials are being used?
f) What will Border Patrol look for when testing and evaluating the prototypes?
4. How did President Trump explain the purpose of the wall in his Executive Order?
5. How did Ron Vitiello, acting U.S. Customs and Border Protection deputy commissioner explain the procedure for securing the border?
6. For what reasons do the California Attorney General and the San Diego City Council oppose the construction of a wall on the border?
7. Read the excerpt from President's Executive Order (under "Background" below) explaining the federal law and his responsibility as president to secure the border.
a) Why is securing the border important? Be specific.
b) What responsibility does the president have for the border under federal law?
8. a) What is the role of the U.S. President as head of the Executive Branch of the government?
b) In authorizing the construction of a wall, the president noted in his Executive Order that he is enforcing the following laws:
Secure Fence Act of 2006, which passed the House 283–138 and the Senate 80–19 and was signed into law by President George W. Bush and
Illegal Immigration Reform and Immigrant Responsibility Act of 1996 (IIRIRA), which passed the House 278–126 and the Senate 72–27 and was signed into law by President Bill Clinton
Consider this: A president's job is to enforce the law. The U.S. is, as John Adams said, "a nation of laws, not a nation of men."
"A nation of laws" means that laws, not people, rule. Everyone is to be governed by the same laws. No one is, or can be allowed to be, above the law.
Why do you think people opposed to enforcing immigration law don't just work to change the laws with which they disagree?
Background
Securing our southern border with the construction of a wall was one of the key promises Donald Trump made when campaigning for president. The following is from the Executive Order he signed in January soon after being inaugurated:
Executive Order: Border Security and Immigration Enforcement Improvements
Purpose.  Border security is critically important to the national security of the United States.  Aliens who illegally enter the United States without inspection or admission present a significant threat to national security and public safety.  Such aliens have not been identified or inspected by Federal immigration officers to determine their admissibility to the United States.  The recent surge of illegal immigration at the southern border with Mexico has placed a significant strain on Federal resources and overwhelmed agencies charged with border security and immigration enforcement, as well as the local communities into which many of the aliens are placed.
Transnational criminal organizations operate sophisticated drug- and human-trafficking networks and smuggling operations on both sides of the southern border, contributing to a significant increase in violent crime and United States deaths from dangerous drugs.  Among those who illegally enter are those who seek to harm Americans through acts of terror or criminal conduct.  Continued illegal immigration presents a clear and present danger to the interests of the United States.
Federal immigration law both imposes the responsibility and provides the means for the Federal Government, in cooperation with border States, to secure the Nation's southern border.  Although Federal immigration law provides a robust framework for Federal-State partnership in enforcing our immigration laws – and the Congress has authorized and provided appropriations [funding; money] to secure our borders – the Federal Government has failed to discharge this basic sovereign responsibility.  The purpose of this order is to direct executive departments and agencies (agencies) to deploy all lawful means to secure the Nation's southern border, to prevent further illegal immigration into the United States, and to repatriate illegal aliens swiftly, consistently, and humanely.
Read the full text of the order at whitehouse.gov.
Resources
Watch 3 news reports:
An October 11 local ABC News report:
---
An October 12 New York Post report:
---
A September 27 USA Today report when construction began:
Daily "Answers" emails are provided for Daily News Articles, Tuesday's World Events and Friday's News Quiz.