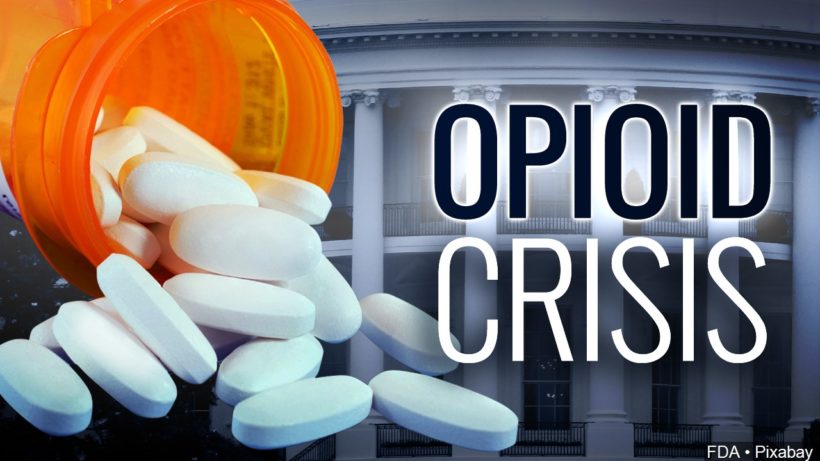 redo Jump to...
print Print...
(compiled from reports at CBS, National Review and Fox59) – President Trump visited Manchester Community College in New Hampshire on Monday to discuss measures his administration will take to combat the opioid crisis – including a call for drug traffickers to face the death penalty in cases of fatal opioid overdoses.
"If we don't get tough on the drug dealers we're wasting our time, and that toughness includes the death penalty," Trump said. "Some of these drug dealers will kill thousands of people during their lifetime…and they'll get caught and they'll get 30 days in jail or they'll go away for a year or they'll be fined," he told the crowd, pointing out that a murderer who shoots only one person can get life in prison or the death penalty.
"This isn't about 'nice' anymore. This isn't about committees. This isn't about let's get everybody and have dinners and let's have everybody go to a blue-ribbon committee and everybody gets a medal for frankly talking and doing nothing," Trump said.
"We can have all the blue-ribbon committees we want, but if we don't get tough on the drug dealers we're wasting our time. Just remember that. We're wasting our time."
President Trump's message to drug dealers was, "If you break the law and illegally peddle these deadly poisons, we wilsidentPl find you, we will arrest you, and we will hold you accountable."
Attorney General Jeff Sessions issued a statement on the president's directive that the Justice Department will "use federal law to seek the death penalty wherever appropriate."
Mr. Trump's plan to combat the opioid crisis will focus on three areas:
law enforcement and interdiction
prevention and education through a sizable advertising campaign
improving the ability to fund treatment through the federal government and help those impacted by the epidemic find jobs while fighting the addiction
The White House's newly announced plan focuses on stiffening penalties for drug dealers as well taking steps to prevent people from getting addicted in the first place and increasing federal funding to help addicts get a second chance. The president said he wants to see solutions to the "general drug crisis" as well as the problems caused by opioids.
Some of the concrete steps the administration said it will take include increasing federal funding for non-addictive painkillers as well as shutting down illegal online marketplaces. The Department of Justice will also look into suing drug companies that may be guilty of misleading buyers about the risks of addiction.
The president has urged prosecutors to impose "really, really powerful penalties for the really bad pushers and abusers."
Sessions announced a new DOJ task force last month to investigate opioid-related lawsuits involving deceptive marketing practices. "Our Department of Justice is looking very seriously into bringing major litigation against some of these drug companies," President Trump said.
The least expensive measure is a "large-scale rollout of commercials" showing the deadly effects of opioids and other drugs, the president said. A new website, crisisnextdoor.gov, will provide a way for the public to share stories about addiction.
The president also addressed the lack of access to treatment across the country by promising to change a "restrictive 1970s law" that prevents Medicaid from paying for care in facilities that have more than 16 beds by providing waivers to states "to help people who need treatment now."
In addition, the federal government will help those who have been in prison on drug charges find jobs and get back on their feet.
The president said that his administration was "pouring a lot of money" into the crisis. Congress allocated $6 billion towards the epidemic for 2018 and 2019, but it is not clear how that money will be spent yet.
The Centers for Disease Control and Prevention reported that more than 64,000 people died from drug overdoses in 2016 [of this number, 42,000 were specifically from opioid overdoses].
Compiled from news reports at CBS, National Review and Fox59.
Questions
1. The first paragraph of a news article should answer the questions who, what, where and when. List the who, what, where and when of this news item. (NOTE: The remainder of a news article provides details on the why and/or how.)
2. In which instances does the President think convicted drug traffickers should face the death penalty?
3. What argument did President Trump make for why some drug dealers should get the death penalty?
4. List the three areas of President Trump's plan to combat the opioid crisis in the U.S.
5. List some of the concrete steps the administration has said it will take.
6. For what reason will the Department of Justice be looking into suing some of the drug manufacturers?
7. Read the "Background" below and check out the two links. Then, watch the clip from President Trump's speech under "Resources." He says, "This is about winning a very, very tough problem. …I don't want to leave at the end of 7 years and have this problem."
In October, the president directed the HHS Secretary to declare the crisis a Public Health Emergency. Consider the administration's multi-faceted approach to combating the opioid crisis. How successful do you think it will be? Explain your answer.
Background
Read about the Trump plan for "Confronting the opioid crisis in the U.S." at opioids.gov.
For stories from people affected by the opioid crisis, visit crisisnextdoor.gov.
---
As a young man, Donald Trump witnessed the pain of addiction in his family. Now as President, he is fighting back:
"How We Will Win the War on Opioids" from whitehouse.gov:
In 2016 alone, drug overdose deaths exceeded the number of Americans killed during the entire Vietnam War. And the majority of these drug overdose deaths—roughly two-thirds—now involve an opioid.

Opioids are a class of drugs that includes everything from heroin to legal prescription pain relievers such as oxycodone, hydrocodone, codeine, and morphine. The increase in deaths involving opioids is so large that it now affects average U.S. life expectancy.

One major driver of the increase in opioid overdose deaths is the growing black market trade of illicit fentanyl and fentanyl analogues, powerful synthetic drugs far more potent than morphine. Another driver is the widespread availability of prescribed opioids. As the number of prescription opioids in America quadrupled from 1999 to present day, overdoses involving these drugs have jumped virtually in lockstep.

On October 26, 2017, President Trump issued a Presidential Memorandum for the Heads of Executive Departments and Agencies to use all lawful means to combat the drug demand and opioid crisis. He also directed the Secretary of the Department of Health and Human Services to declare the crisis a Public Health Emergency.

The Trump Administration's plan to address opioid addiction includes three categories: demand, supply, and treatment.

1. Preventing drug use initiation and reducing demand: The Administration is promoting prevention efforts and enhanced overdose tracking, helping first responders handle opioid-related incidents, and encouraging safer prescribing practices to lower misuse.

2. Cracking down on the bad actors fueling drug supply: The Administration is bringing its tough law-and-order approach to the drug trade by shutting down criminal websites that sell opioids, cracking down on fraudulent prescribers, stopping the production and sale of illicit fentanyl, and preventing illegal drugs from coming into the country in the first place.

3. Expanding access to evidence-based, world-class care and treatment: The Trump Administration is supporting state and industry innovation to increase access to high-quality treatment, expand the availability of treatment and recovery services, and facilitate life-saving communication between healthcare providers and family members.
Resources
A clip from President Trump's speech on Monday, March 19 in Manchester, NH:
Daily "Answers" emails are provided for Daily News Articles, Tuesday's World Events and Friday's News Quiz.