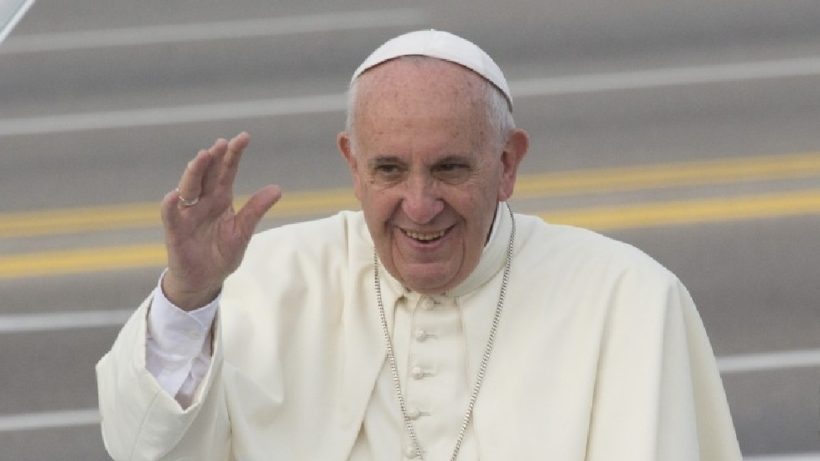 (CBS News) LOUISVILLE, Ky. — The Kentucky clerk who went to jail for defying a federal court's orders to issue same-sex marriage licenses says she met briefly with the pope during his historic visit to the United States.
The Vatican spokesman, the Rev. Federico Lombardi, didn't deny the encounter took place but said Wednesday in Rome that he had no comment on the topic and that there would be no further statement. [This was unusual for the Vatican, which normally issues either denials or confirmations.]
Rowan County clerk Kim Davis and her husband Joe met privately with Pope Francis on Thursday afternoon at the Vatican Embassy in Washington, D.C., for less than 15 minutes, said her lawyer, Mat Staver.
"It was really very humbling to even think that he would want to meet me or know me," Davis said in an interview with ABC.
Davis, an Apostolic Christian, spent five days in jail earlier this month for defying a federal court order to issue marriage licenses to same-sex couples.
Staver told CBS News the pope asked Davis to see him in Washington last week.
"The pope reached out his hands," Staver said. "He asked Kim Davis to pray for him … She also asked that he pray for her."
Davis did not mention the meeting when she spoke to CBS News the next day. [According to Staver, she did not want to disclose the meeting until now to avoid interfering with the pope's broader message during his visit.]
In a telephone interview with The Associated Press late Tuesday, Staver would not say who initiated the meeting with the pope or how it came to be, though he did say that Vatican officials had inquired about Davis' situation while she was in jail. He declined to name them.
"He told me before he left, he said 'stay strong.' That was a great encouragement," Davis said of the pope during the ABC interview. "Just knowing that the pope is on track with what we're doing and agreeing, you know, it kind of validates everything."
Davis was in Washington for the Values Voter Summit, where the Family Research Council, which opposes same-sex marriage, presented her with an award for defying the federal judge. While in Washington, the longtime Democrat said she was switching to the Republican party because she felt abandoned by Democrats in her fight against same-sex marriage.
Pope Francis did not focus on the divisive debate over same-sex marriage during his visit last week. As he left the country, he told reporters who inquired that he did not know Davis' case in detail, but he defended conscientious objection as a human right.
"It is a right. And if a person does not allow others to be a conscientious objector, he denies a right," Francis said.
Reprinted here for educational purposes only. May not be reproduced on other websites without permission from CBSNews. Visit the website at cbsnews .com.
Questions
1. The first paragraph of a news article should answer the questions who, what, where and when. In this article, find more details in paragraph 3. List the who, what, where and when of this news item. (NOTE: The remainder of a news article provides details on the why and/or how.)
2. a) Why did the Pope want to meet Kim Davis? What did he tell her?
b) What did Kim Davis say about her meeting with the Pope?
3. When was Mrs. Davis first aware that the Pope was concerned with her case?
4. According to Davis' attorney Mat Staver, why didn't they reveal Kim Davis' meeting with Pope Francis until now?
5. What did the Pope tell reporters who asked about his view on Mrs. Davis' case?
6. a) Why do you think the Pope met with Mrs. Davis secretly? (If he agreed with her, why do you think he did not publicly say so?)
b) Do you agree with Pope Francis' decision to avoid the topic of same-sex marriage, although the Catholic church teaches that marriage is between one man and one woman?
QUESTIONS FOR DISCUSSION:
a) Should the Pope have spoken out in support of traditional marriage?
b) As the head of the Catholic church with 1.2 billion followers, what responsibility did Pope Francis have to make clear the church's teaching on such an important issue?
c) Was the Pope right to focus his message mainly on climate change and the plight of immigrants?
d) In his speech to Congress, Pope Francis called on lawmakers to take action on climate change, immigration, poverty and capital punishment. He did not focus on religious freedom while in Washington D.C. or New York City, but did mention it in Philadelphia on the last leg of his trip. Many had hoped Pope Francis would speak strongly, not diplomatically, on these issues. (His message supporting religious freedom was much more subtle than his messages on climate change and undocumented immigrants.)  What do you think?
e) Should the law make accommodations for religious freedom?
f) Legally, part of Mrs. Davis' job is to issue marriage licenses, which now include same-sex marriage licenses after the Supreme Court ruled it so. In this case, do you agree with the Pope who says it her right to go against this law that violates her conscience?
Resources
Watch a CBSNews report (Wednesday 9/30):
Daily "Answers" emails are provided for Daily News Articles, Tuesday's World Events and Friday's News Quiz.