redo Jump to...
print Print...
(by Jason Straziuso and Malkhadir M. Muhumed, SeattleTimes.com) AP, NAIROBI, Kenya – Pirates in Somalia said Wednesday they are ferrying ammunition and men to the 30 hijacked vessels still under their control, and they threatened to kill more captives following the violent end to a hostage standoff that left four Americans dead.
The U.S. military said that 15 pirates detained after the Americans were slain Tuesday could face trial in the United States.
The military, FBI and Justice Department are working on the next steps for those pirates, said Bob Prucha, a spokesman for U.S. Central Command in Florida. The Somalis are currently being held on the aircraft carrier USS Enterprise, which is in the waters off East Africa.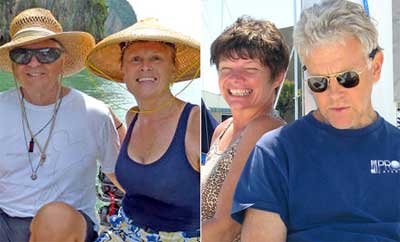 A pirate aboard the hijacked yacht Quest on Tuesday fired a rocket-propelled grenade at a U.S. warship that had responded to last Friday's hijacking. Then gunfire broke out aboard the vessel. When Navy special forces reached the Quest, they found the four American hostages had been shot and killed.
The FBI is investigating the killings of Phyllis Macay and Bob Riggle (see photo–right side of photo) of Seattle, and Jean and Scott Adam (see photo–left side of photo), of Marina del Rey, Calif., near Los Angeles, who had made their home aboard their 58-foot yacht Quest since December 2004.
The Adams handed out Bibles around the world, but a pirate who gave his name only as Hassan told The Associated Press on Wednesday that played no factor. He said the pirates reacted violently after the U.S. forces blocked the yacht's path.
"We had plans to either take the hostages to the inland mountains or to move onto other hijacked ships because we knew that the U.S. Navy was serious about carrying out a rescue operation," Hassan said. "The hostages pleaded with us not to harm them or take them to dangerous places. They cried when we captured them … and asked us to release them because they were too old and couldn't endure captivity."
The killings came less than a week after a Somali pirate was sentenced to more than 33 years in prison by a New York court for the 2009 hijacking of the Maersk Alabama. That hijacking ended when Navy sharpshooters killed two pirates holding the ship's American captain.
Pirates reacted angrily to the sentencing and have since vowed that they will kill hostages before being captured during military raids and being sent to face trial.
……………..
A pirate in Somalia who gave his name as Adowe Osman Ali said fellow "soldiers" had ferried the reinforcements to hijacked ships in their hands on Wednesday in a bid to deter more hostage rescue attempts. He said after Tuesday's incident that captains of hijacked ships have been ordered to tell navies not to approach or hostages would be killed.
"In the past, 20 or so soldiers used to guard every ship but now the numbers are ranging between 60 and 70 soldiers," said Ali, a pirate in the coastal village of Gara'ad.
"We are more alert than anytime before," he said. "In the past, we allowed the foreign navies to approach us but now we have warned them to not get nearer to us."
Piracy has plagued the shipping industry off East Africa for years, but the violence used during the attacks – and the money demanded in ransoms – have increased in recent months. Pirates now hold some 30 ships and more than 660 hostages.
The average ransom now paid to pirates is in the $5 million range, a huge leap from only three or four years ago when it was in the hundreds of thousands of dollars, said Roger Middleton, a piracy expert at the London-based think tank Chatham House. One ransom paid last year was just shy of $10 million.
"It's really gone up, really an enormous amount," Middleton said. "If you think you can get a $9.5 million ransom, I suppose the logic is that you try any means possible to get there, and if that means scaring some crews and owners more, I guess that's what you do," he said, alluding to the recent reports of torture.
Industry experts warned Wednesday it's too soon to say whether the Americans' deaths will require a wholesale change in the way the shipping industry operates along with the militaries patrolling the Gulf of Aden and Indian Ocean.
It's still not known publicly what prompted a pirate to fire a rocket-propelled grenade at a Navy war ship, and it's unclear whether there was an internal pirate fight or if there had been a hostage escape attempt.
"We don't know what happened yesterday, so we're not going to make any knee-jerk decisions," Paddy O'Kennedy [spokesman for the European Union's anti-piracy force] said. "But our policy remains the same. Nothing is off the table. All options are open to us as a military force."
Pirates blamed the deaths of the American hostages on the U.S. Navy, saying the pirates felt under attack.
"We warned them before that if we are attacked, there would be only dead bodies," said a man who gave his name as Abdirahman Abdullahi Qabowsade. "We have been killed and arrested illegally before, so we can't bear with such attacks anymore. We will respond to any future attacks aggressively."
Associated Press writer Abdi Guled in Mogadishu, Somalia, contributed to this report.
Associated Press. Reprinted here for educational purposes only. May not be reproduced on other websites without permission from The Seattle Times. Visit the website at seattletimes.com.
Questions
1. What actions are Somali pirates taking after fellow pirates murdered their 4 American captives and were arrested (some killed) by the U.S. Navy?
2. How did the Americans react when they were hijacked by the pirates, according to pirate Hassan?
3. Why did the Somali pirates kill the four Americans, according to pirate Hassan?
4. What announcement did pirates make in response to the 33 year prison sentence given to the pirate who was captured after the hijacking of the U.S. cargo ship Maersk Alabama?
5. a) How many ships and hostages are Somali pirates currently holding?
b) What are pirates doing to prevent their captives from being rescued?
6. The Obama administration made the decision to bring Somali pirates, who are not U.S. citizens, here to the United States to be tried in U.S. courts, giving them the same rights as American citizens. Others argue that pirates should be tried abroad as enemy combatants, just as terrorists should be. Which method do you believe is in the best interest of United States citizens? Why?
7. Somali pirates hijack ships and hold them for ransom, torturing some of their captives. They appear to be outraged and feel put upon that anyone would try to prevent their criminal atrocities. Pirate Abdirahman Abdullahi Qabowsade said "We have been killed and arrested illegally before, so we can't bear with such attacks anymore. We will respond to any future attacks aggressively."
Read a commentary from StudentNewsDaily about how the world's governments should respond to the pirates. Do you agree with the commentator's recommendations? Explain your answer. Be specific.
Background
In December 2008, pirates tried to attack a U.S. cruise ship, the MS Nautica, with over 1,000 people on board. The Nautica was able to outrun the pirates, but other ships have not been so lucky. (Read about the problem of piracy here.)
Somali pirates attacked about 100 ships in 2008 and captured about half, including a Saudi supertanker loaded with $100 million worth of oil.
The pirates, estimated to number about 1,500, are thought to have received more than $30 million in ransom payments, according to an estimate by the Associated Press.
From wikipedia:
Piracy off the Somali coast has been a threat to international shipping since the second phase of the Somali Civil War in the early 21st century. Since 2005, many international organizations, including the International Maritime Organization and the World Food Program, have expressed concern over the rise in acts of piracy. Piracy has contributed to an increase in shipping costs and impeded the delivery of food aid shipments. Ninety percent of the World Food Programme's shipments arrive by sea, and ships have required a military escort.
In August 2008, Combined Task Force 150, a multinational coalition task force, took on the role of fighting Somali piracy by establishing a Maritime Security Patrol Area (MSPA) within the Gulf of Aden. The increasing threat posed by piracy also caused significant concerns in India since most of its shipping trade routes pass through the Gulf of Aden. The Indian Navy responded to these concerns by deploying a warship in the region in October 2008. The regional Puntland government in northeastern Somalia has also committed itself to eradicating piracy, and begun construction on a naval base to facilitate the task.
By the first half of 2010, these increased policing efforts by Somali government authorities on land along with international naval vessels at sea reportedly contributed to a drop in pirate attacks in the Gulf of Aden from 86 a year prior to 33, forcing pirates to shift attention to other areas such as the Somali Basin and the wider Indian Ocean.
As of December 11, 2010, Somali pirates are holding at least 35 ships with more than 650 hostages.
Daily "Answers" emails are provided for Daily News Articles, Tuesday's World Events and Friday's News Quiz.