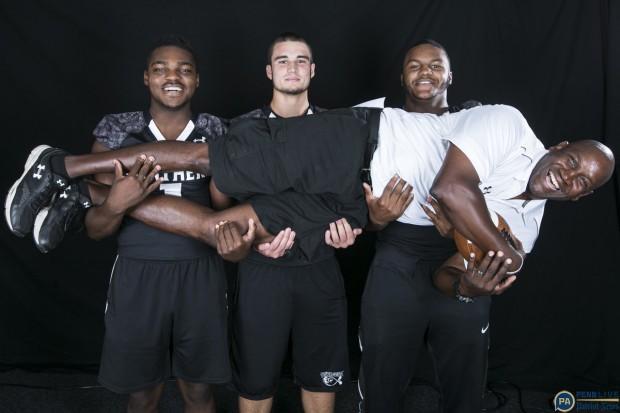 NOTE: Per Wikipedia: Central Dauphin East High School is a large public high school located in Harrisburg, Dauphin County, Pennsylvania. In 2015, enrollment was reported as 1,357 students in 9th through 12th grades.
(by Mike Parker, ABC27 News) HARRISBURG, Pa. (WHTM) — Hard hits and hard lessons are part of high school football. Explaining to young men why a professional athlete is using the field to launch a political protest is just hard.
"I respect and admire what he's trying to say, I just don't agree with the way he's doing it," says Aaron Blanding, head football coach for Central Dauphin East High School in Harrisburg, Pennsylvania.
Blanding is referring to recent actions by San Francisco 49ers Quarterback Colin Kaepernick, who has been refusing to stand during the playing of the national anthem prior to his team's NFL preseason games. According to Kaepernick, his intention is to shed light on alleged police brutality aimed at African-Americans.
"I'll continue to sit," Kaepernick told reporters this week. "When there's significant change and I feel like that flag represents what it's supposed to represent, I'll stand."
Blanding, who says he doesn't expect to address the protest with his players, says while he supports every Americans' right to protest, he thinks Kaepernick has made a mistake in his symbolism.
"I think if you're going about it a different way, you might have more support," he added. "People have fought and died (for the flag). If you want to speak out on some things, that's fine, but now you're protesting the flag that gives all of us freedom to do the things that we're doing right now."
CD East players say they've heard about Kaepernick's protest, but don't see any reason to imitate it. The players, who also wear American flag decals on their helmets, say they plan to stand as normal during the playing of the national anthem this season.
"We're always going to do it," says Brandon Hickerson-Rooks, a senior defensive player. "I kind of feel the same way (about the police brutality issue), but then again, it's like at the end of the day, we're America, and we have to stand together. Like a football team, America is a team, too."
Other players say they worried that young athletes might imitate Kaeperinck, while not fully understanding the issue, or thinking about the consequences of their actions. Concerns included offending police and military who serve and protect their communities.
"I find it disrespectful for an NFL player because so many people look up to them as role models," said Tyler Boger, a CD East senior linebacker. "If you have someone sitting there during the national anthem, a younger guy that looks up to someone who is doing it is most likely going to follow in their footsteps, and that's not what we want to happen."
Reprinted here for educational purposes only from ABC27 News. May not be reproduced on other websites without permission from ABC27 .com.
Questions
NOTE TO STUDENTS: This is a controversial issue for many Americans. Be polite to those with whom you disagree when discussing these types of issues and always give the other person a chance to explain his/her point of view. Also, learn how to recognize when it is no longer productive to discuss an issue on which you strongly disagree.
1. a) What does Pennsylvania high school football coach Aaron Blanding say about Colin Kaepernick's protest? (How does he view it? What does he say about it?)
b) Do you agree with Coach Blanding? Explain your answer.
2. What do CD East players say they plan on doing during the national anthem this season? Why?
3. a) How did senior defensive player Brandon Hickerson-Rooks explain why he thinks players should stand?
b) Do you agree with Hickerson-Rooks? Explain your answer.
4. How does CD East senior linebacker Tyler Boger view Kaepernick's decision to sit during the National Anthem?
5. SB Nations reports:
Kaepernick began sitting during the national anthem this preseason as a silent protest to show support for people of color who he says are being oppressed in the United States, and to take a stand against police brutality. It's an effort to use his voice and his position as a NFL player to effect change for the people who are suffering, and don't have the same ability to create significant change.

"I am not going to stand up to show pride in a flag for a country that oppresses black people and people of color," Kaepernick said, via NFL.com. 

"I'm going to continue to stand with the people that are being oppressed. To me, this is something that has to change. When there's significant change and I feel that flag represents what it's supposed to represent, and this country is representing people the way that it's supposed to, I'll stand."

Kaepernick's actions have led others in the NFL and other sports to sit or later take a knee – after meeting with former Green Beret and brief NFL long snapper Nate Boyer, Kaepernick decided to shift from sitting to taking a knee during the anthem.
Consider the following:
Some high school coaches, players and/or teams across the country have begun not standing for the National Anthem.
Eight New York City Council members now refuse to stand for the Pledge of Allegiance, joining a protest started by City Councilman Jumaane Williams.
Terry Cunningham, chief of the Wellesley, Mass., police and president of the International Association of Chiefs of Police said, "American soldiers laid down their lives to protect their right to protest, which I understand. But find a respectful way to do it, don't do it during the national anthem."
a) Do you think Colin Kaepernick right about racial injustice? Is the U.S. a "country that oppresses black people and people of color"?  Is there systemic racism in this country? Explain your answer.
b) Ask a parent and ask a grandparent – have we made progress over the past 50 years?
Daily "Answers" emails are provided for Daily News Articles, Tuesday's World Events and Friday's News Quiz.