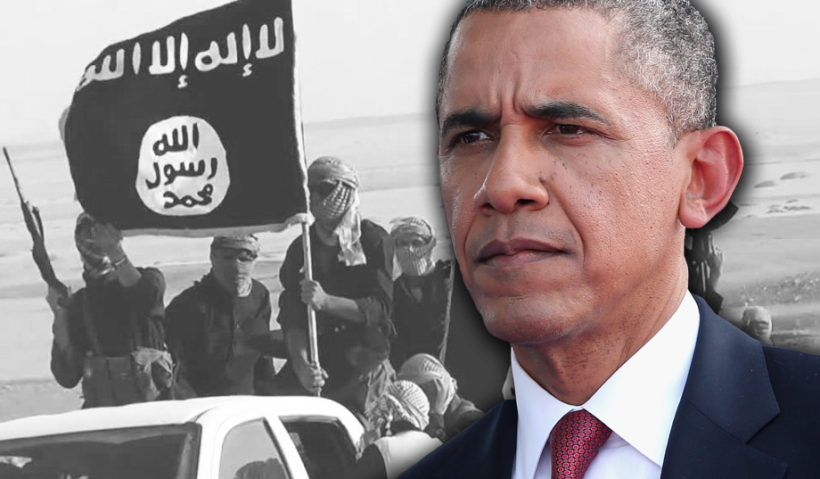 redo Jump to...
print Print...
(by Carol E. Lee, The Wall Street Journal) WASHINGTON–President Barack Obama's strategy against Islamic State is under increasing scrutiny after setbacks this week in Iraq and Syria, and the White House acknowledges the problem will be inherited by his successor.
The administration scaled back its near-term ambitions by dropping plans for an offensive to retake the northern Iraqi city of Mosul, and agreed to expand and speed shipments of military equipment to Iraqi security forces and step up training for fighters from Sunni tribes.
Administration officials now suggest the fight against Islamic State in Iraq and Syria could last longer than three years, a pessimistic projection which would push the conflict well into the first term of the next president.
"Two years from now, the situation on the ground may have changed and it may require some change in the way that strategy is carried out," said Josh Earnest, the White House press secretary. "But that's something that we'll leave to the next president."
The terrorists captured the key Iraqi city of Ramadi this week while also expanding their reach in Syria. Iraqi security forces showed continued weaknesses despite months of U.S. military training and assistance.
Islamic State also claimed responsibility on Friday for a suicide bombing of a Shiite mosque in eastern Saudi Arabia. The attack, killing 21, was the first one claimed by the group on Saudi soil….
In Iraq, momentum still appeared to be solidly with the Sunni radical group by the end of the week. It marked gains east of Ramadi – the capital of Anbar province – after federal police withdrew from two districts, according to local leaders. In western Anbar province, where Iraq abuts Syria, [terrorist fighters] seized the last border crossing not under their control. The Syrian border is a gateway for Islamic State fighters and supplies into Iraq.

President Obama's response was to adjust his strategy, rather than make the sweeping changes his critics demanded. The White House also shifted its emphasis in its description of the fight, casting it as a long and difficult battle, shelving the optimism voiced in recent weeks.
But the debate over how to steer a new and expanding conflict in the Middle East is to figure prominently Mr. Obama's remaining 18 months in office and the 2016 presidential campaigns. It is also reigniting old differences over Iraq war. …
Many of President Obama's critics, including some who are campaigning to succeed him, are pushing for a more robust U.S. troop involvement.
Administration officials, however, argue the only long-term solution is for Iraqis and Syrians to fight their own fights, while conceding Mr. Obama's refusal to deploy American combat troops means this will be a longer campaign.
"When we put this together, it was a three-year campaign to degrade the organization," Brett McGurk, the State Department's deputy special envoy to the coalition fighting Islamic State, told NPR. "That was based upon recognizing how strong it was and also recognizing, as the president said, we don't want to put American troops in combat again in Iraq."
U.S. officials previously have spoken of a three-year commitment in Islamic State fight since it began in August, but more in terms of a limit on U.S. involvement.
Mr. Obama, in submitting an authorization for the use of military force against Islamic State last February, presented a resolution that "will give our armed forces and our coalition the continuity we need for the next three years."
Now, officials are describing the time frame more as a sign of the fight's difficulty.
"This is going to be a long fight. This is going to be at least three years, [as] we've said from the very beginning," said Col. Steve Warren, the Pentagon spokesman.
The White House has cast critics of the president's strategy as advocates of another U.S. invasion of Iraq although no lawmaker or presidential candidate has suggested that option.
…[Some] lawmakers have argued the fight, given its scope and duration, simply requires Mr. Obama to outline a more detailed strategy that has buy-in from Congress and the public.   …..
–Nour Malas in Baghdad and Gordon Lubold and Rebecca Ballhaus in Washington contributed to this article.
Copyright 2015 Dow Jones & Company, Inc. All Rights Reserved. Reprinted here for educational purposes only. May not be reproduced on other websites without permission from The Wall Street Journal. Visit the website at wsj .com.
Questions
PLEASE NOTE: Daily posting and "Answers" emails will end for the school year on Friday, May 29th.
1. What changes has the Obama administration made to its strategy to fight ISIS after the terrorists captured Ramadi in Iraq and expanded its reach in Syria?
2. How has the administration changed its prediction about the time needed to defeat ISIS in Iraq and Syria?
3. What is the significance of the border crossing between Iraq and Syria that ISIS seized last week?
4. How has the Obama administration changed its description of the fight against ISIS after the group's latest successes?
5. How do critics and administration officials differ in their view of how ISIS should be defeated?
6. Read the "Background" and watch the video under "Resources" below. Ask a parent to do the same. Then ask the following:
a) Do you agree with former ambassador John Bolton's assertions?
b) What do you think the U.S. should do going forward to defeat ISIS?
c) What type of policies do you think our next president should have on this issue?
Background
Islamic State (ISIS):
An estimated 20,000 fighters from almost 80 countries have travelled to Syria and Iraq to fight with terrorist groups.
The figures suggest that while about a quarter of the foreign fighters are from the West, the majority are from nearby Arab countries, such as Tunisia, Saudi Arabia and Jordan and Morocco.
ISIS fighters targeted a number of Iraqi dams during their advance, capturing the facility at Fallujah in April 2014. They went on to take Mosul dam in August, before US air strikes helped force them out later that month.
IS fighters also attacked the country's second largest dam at Haditha, but the area was secured by Iraqi forces In September.
In the course of its offensives in Iraq and Syria in June 2014, ISIS gained control of much of the oil infrastructure.
These refineries and the fields supplying them with oil have played a vital role in fueling ISIS military units and in generating revenue for the group.
The U.S. formed coalition has targeted these locations in an attempt to damage ISIS capabilities. (from a May 18 BBC News report "Battle for Iraq and Syria in maps")
---
Defense Secretary Ash Carter said Sunday that the city of Ramadi fell to the Islamic State of Iraq and Syria (ISIS) because Iraqi troops "just showed no will to fight."
"They were not outnumbered, but in fact they vastly outnumbered the opposing force, and yet they failed to fight. They withdrew from the site. And that says to me, and I think to most of us, that we have an issue with the will of the Iraqis to fight ISIL and defend themselves," Carter said on CNN's "State of the Union," referring to an alternate acronym for the terrorist group.
The defense secretary said the U.S. can give Iraqi forces training and equipment but not the will to fight. "I hope they will develop the will to fight, because only if they fight can ISIL remain defeated," he said.
Hakim al-Zamili, the head of Iraq's parliamentary defense and security committee, took issue with Carter's comments, calling them "unrealistic and baseless" in an interview with the Associated Press.
Al-Zamili said it was a U.S. failure to provide "good equipment, weapons and aerial support" to Iraqi soldiers that was responsible for the fall of Ramadi, but that the U.S. military wants to "throw the blame on somebody else."
Former U.S. ambassador to the United Nations John Bolton suggests that the modern-day Iraq should be separated into three states:

an independent Kurdish territory, since the Kurds are "de facto independent" and "not going back into Iraq under any circumstances voluntarily," as he said;
a Sunni state in Western Iraq and
a Shia state that the U.S. abandons entirely
"I think the Sunni Arabs are never going to agree to be in a state where the Shia outnumber them three to one. That's what ISIS has been able to take advantage of," Bolton said on "Fox News Sunday." "I think our objective should be a new Sunni state out of the western part of Iraq, the eastern part of Syria run by moderates or at least authoritarians who are not radical Islamists. What's left of the state of Iraq, as of right now, is simply a satellite of the Ayatollahs in Tehran. It's not anything we should try to aid."
Bolton has also called for a sizable influx of U.S. troops to help Turkey and Gulf Arab states to defeat ISIS. "Those Arab forces and the Turks can't do it alone. They need American leadership. They need us there with them. It's wrong to say it's their problem, let them handle it. Are we really saying we're going to put American security in the hands of the Saudi defense ministry? I don't think so," he said. (from a May 24 CBSNews report)
Daily "Answers" emails are provided for Daily News Articles, Tuesday's World Events and Friday's News Quiz.