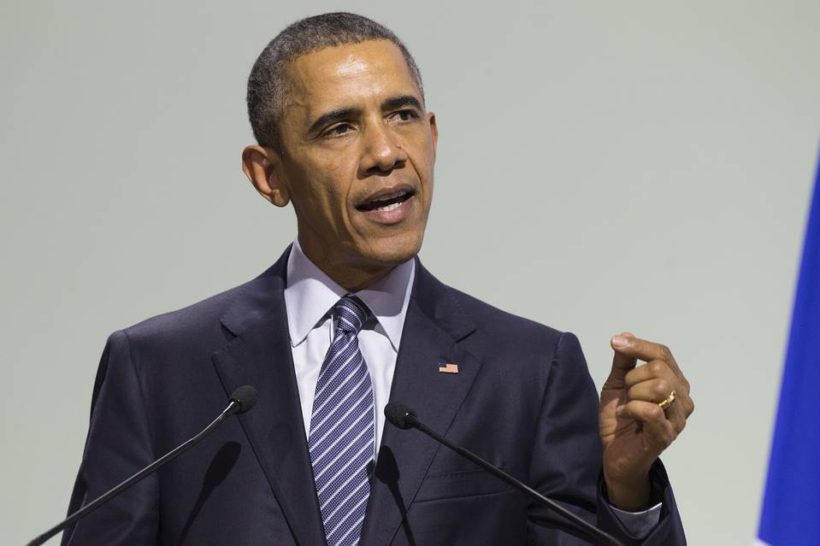 redo Jump to...
print Print...
Notes on COP 21: COP stands for Conference of the Parties, referring to the countries that have signed up to the 1992 United Nations Framework Convention on Climate Change.
The COP, held in Paris from November 30 to December 11, is the 21st such conference.
The conference objective is to achieve a legally binding and universal agreement on climate, from all the nations of the world.
The overarching goal of the Convention is to reduce greenhouse gas emissions to limit the global temperature increase to 2 °C above pre-industrial levels.
During previous climate negotiations, countries agreed to outline actions they intend to take within a global agreement by October 1, 2015.
---
(by Alexander Smith, NBC News) – President Barack Obama was met with what appeared to be the U.N.'s version of the Oscars' "wrap-it-up" music Monday after he significantly overran his allotted time to speak at a global climate change summit.

Obama was one of 147 world leaders given a three-minute slot at the COP21 conference to outline their vision for the future of the planet. [Under U.N., rules, the leader of each nation present for the conference was given three minutes to speak.]

More than eight and a half minutes into Obama's address — and with no sign he was stopping soon — three beeps sounded across the auditorium, clearly audible to everyone present and watching on TV.

Organizers did not respond to NBC News' requests for comment on the beeps, but the punctuating sounds appeared to be the conference's not-so-subtle attempt to get Obama to wrap it up.

"I've come here personally, as the leader of the world's largest economy and the second-largest emitter, to say that the United States of America not only recognizes our responsibility in creating this problem, we embrace our responsibility to do something about it," Obama told the summit.

The beeps continued every 30 seconds, but the president plowed on.

["#BarackObama runs significantly overtime in speech at #COP21, unaffected by beeps that sounded 5 times," China's Xinhua News tweeted.]

"One of the enemies that we'll be fighting at this conference is cynicism, the notion we can't do anything about climate change," he continued, seemingly undeterred by the regular interruptions over his speech.

He called for the talks to work toward "a world that is worthy of our children" and also took time to pay tribute to the victims of this month's Paris attacks.

After 11 minutes, whoever was manning the "beep" button had clearly given up, and no more prompts were heard until Obama ended his epic discourse just shy of 14 minutes.

By the time he was done, he had spoken for nearly the length of time set aside for four world leaders. If all 147 speakers had taken as long as Obama, their combined addresses would have lasted more than 33 hours.

And it was not as if he went off on a tangent in the heat of the moment; his prepared remarks released by the White House ran to more than 1,700 words.

[With more than 150 leaders present for the summit, all other leaders kept their remarks within the time limit, according to journalists present at the event.]

Reprinted here for educational purposes only. May not be reproduced on other websites without permission from NBC News. Visit the website at nbcnews .com.
Questions
1. What is the COP21? (its purpose, where and when meeting)
2. How many world leaders spoke on the opening day of the COP21?
3. How much time was allotted to each leader?
4. For how many minutes did President Obama speak?
5. How many other world leaders went over their allotted time?
6. How do we know President Obama knew he would go over his time limit?
7. a) What do you think of President Obama's decision to ignore the guidelines that the other countries followed?
b) Watch the video clip below showing 2 minutes of the President's remarks. Read the full text of the President's address at: whitehouse.gov. Do you think it was imperative for President Obama to take this time to get his message across? Explain your answer.
c) Ask a parent the same question. Discuss your answers.
8. What do you think of the system set up to notify speakers who went over their allotted time?
9. Several readers commented that it should be more important for world leaders, led by President Obama, to address the crisis of ISIS terrorists around the world than to spend this gathering focused on climate change. Do you agree or disagree? Explain your answer.
CHALLENGE: Look for Thursday's Editorial "Your Complete Guide to the Climate Debate" postedon Dec. 3 at studentnewsdaily.com homepage. Read the article and answer the questions.
Background
From President Obama's Tuesday remarks:
"This one trend — climate change — affects all trends. If we let the world keep warming as fast as it is, and sea levels rising as fast as they are … then before long we're going to have to devote more and more of our economic and military resources … to adapting to the various consequences of a changing planet," Obama said. "This is an economic and security imperative that we have to tackle now."
Speaking at the COP21 Climate Change Summit in Paris, Obama urged other countries to agree on lower greenhouse gas emissions.
"Now, all of this will be hard. Getting 200 nations to agree on anything is hard," he said. "But I'm convinced we're going to get big things done here." (from CNBC)
---
The global climate accord will not be called a treaty:
France has offered a key concession to the US on the eve of historic climate talks in Paris, saying a new global climate accord will not be called a "treaty" and might not contain legally binding emissions reduction targets.
In a significant climbdown, French foreign minister Laurent Fabius said signatories to the planned deal would still be legally required to meet many of its terms but most likely not the carbon-cutting goals underpinning the agreement.
"The accord needs to be legally binding. It's not just literature," Mr. Fabius said. "But it will probably have a dual nature. Some of the clauses will be legally binding."
Mr. Fabius, who is to chair the UN climate conference, added:
"Another question is whether the Paris accord as a whole will be called a treaty. If that's the case, then it poses a big problem for President Barack Obama because a treaty has to pass through Congress."
The comments are among the first by a senior official to signal a willingness to accommodate the world's second largest carbon emitter to achieve a successful deal.
John Kerry, US secretary of state, warned in an FT interview this month that the Paris climate change summit could not deliver a treaty that legally requires countries to cut their emissions.
Secretary Kerry stressed that there were "not going to be legally binding reduction targets like Kyoto," a reference to the 1997 Kyoto protocol, a UN climate treaty which had targets for cutting emissions that countries ratifying it were legally obliged to meet. The Kyoto protocol was not ratified by the US.
At the time, François Hollande, ​the French president, reacted angrily to Mr. Kerry's comments, saying making the accord legally binding was the whole point.
If it were not binding "there won't be an agreement because that would mean it would be impossible to verify or control the undertakings that are made," he said.
Many countries are comfortable with both the term "treaty" and legally binding emissions targets. But this would increase the likelihood that the agreement would have to go to a hostile US Congress for approval, an outcome the Obama administration is keen to avoid.
Veteran observers have long expected that a final deal would need to be worded in a way that satisfied the US, as well as China and other large emerging economies reluctant to take on onerous legal obligations to cut emissions.
The EU and other countries have long said the Paris deal should be an "international treaty" with binding measures to cut emissions.
But Mr. Fabius said: "It would be pointless to come up with an accord that would be eventually rejected by either China or the US." (from a Nov. 27 Financial Times report)
---
Even though electricity generation accounts for the single-largest source of carbon dioxide emissions in the United States, the estimated reduction is extremely small compared to global greenhouse gas emissions. Therefore, even if you do believe the earth is heading to catastrophic warming, the warming reduced by the president's plan would be barely measurable – unlike the economic consequences. (read more at dailysignal.com)
Resources
Watch as President Obama ignores the notifications indicating that his time is up:
Daily "Answers" emails are provided for Daily News Articles, Tuesday's World Events and Friday's News Quiz.