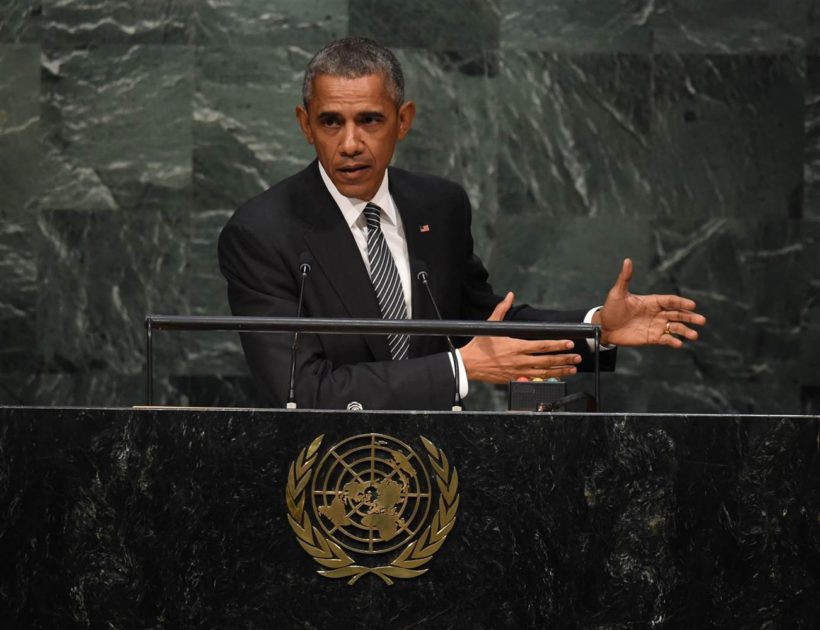 redo Jump to...
print Print...
(CBS New York/AP) — …At the United Nations General Assembly this week, President Obama will address issues includes the threat from ISIS, as well as the Syrian civil war and the ensuing refugee crisis, and Russia's moves in Ukraine and in Syria.
The president arrived Sunday morning for three days in New York, and perhaps the most anticipated moment was to come Monday evening — a meeting with Russian President Vladimir Putin on the sidelines of the annual gathering of world leaders.
It will be their first face-to-face meeting in nearly a year. Both leaders also were to address the opening of the assembly's annual meeting Monday.
The U.S. and Russia have quibbled over who requested the meeting and what the focus will be. Putin wants to talk about Syria; Obama wants to concentrate on Ukraine.
Despite administration efforts to turn Putin into an international pariah [outcast] after Russia annexed [took over] the Crimean Peninsula from Ukraine in March 2014, Obama believes not engaging with the Russian leader "would be wrong" given the pressing issues in Ukraine and Syria, Obama deputy national security adviser Ben Rhodes said.
Putin has begun a military buildup in ally Syria for reasons that U.S. officials have said remain unclear.
In preparation for Obama's meeting with Putin, Secretary of State John Kerry and Russian Foreign Minister Sergei Lavrov on Sunday discussed Russia's military involvement in Syria, including the possibility of a political transition in the war-torn country, according to a senior U.S. official. Kerry and Lavrov also talked about Ukraine.
The White House also announced that Obama would meet with Cuban President Raul Castro on Tuesday. It will be their second meeting since the U.S. and Cuba restored diplomatic ties late last year, and will follow Pope Francis' visit to both countries. …..
Despite what he hails as progress on the Iran nuclear front, Obama remains challenged elsewhere in the Middle East.  He will also speak of the challenge posed by ISIS during his address.  A campaign against IS militants who have claimed broad sections of Iraq and Syria remains far from achieving Obama's goal to "degrade and ultimately destroy" the group, despite more than a year of military airstrikes against IS targets by a U.S.-led coalition of more than 60 countries.
A separate U.S. effort to train thousands of moderate Syrian rebels to fight IS has turned out to be a costly failure, with fewer rebels than originally anticipated involved.
Obama's first stop in New York was at a U.N. summit on steps to eradicate extreme poverty around the world. In the evening Sunday, the president headlined a Democratic Party LGBT fundraiser.
Besides the address to the General Assembly and meeting with Putin, Obama also was to meet Monday with Indian Prime Minister Narendra Modi and lead a summit on international peacekeeping.
Obama likely will use the speech to argue the merits of diplomacy and engagement. Rhodes said diplomacy was most notably instrumental in the Iran deal (although opposed by the majority of Americans) and U.S. overtures to Cuba. Rhodes said diplomacy is also needed, sometimes "backed by teeth," to reach a political resolution in Syria and Ukraine.
"The case the president will be making to the world is we need to remain invested in an international order that can solve problems and hold people accountable when they break the rules," he said.
Obama plans to lead a summit on countering the Islamic State and violent extremism, and meet with President Nursultan Nazarbayev of Kazakhstan on Tuesday before returning to Washington.
Reprinted here for educational purposes only. May not be reproduced on other websites without permission from teh Associated Press. Visit the website at AP .com.
Questions
1. What topics is President Obama expected to tackle during the UN General Assembly this week?
2. How do President Obama and Russian President Vladimir Putin differ on what the focus of their meeting will be?
3. In addition to Putin, what leader will President Obama meet with on Tuesday that is considered a significant meeting?
4. What strategy led by the Obama administration has not worked with ISIS?
5. Wikipedia defines a summit as "a meeting of heads of state or government, usually with considerable media exposure, tight security, and a prearranged agenda."
a) What summit will President Obama lead on Monday?
b) What summit will President Obama lead on Tuesday?
6. What strategy is President Obama expected to lay out during his address to the UN General Assembly on Monday?
7. The UN is celebrating their 70th anniversary today. The United Nations wrote the following in a page titled "Overview" on www.un.org (accessed Aug. 19, 2009):
"The United Nations is an international organization founded in 1945 after the Second World War by 51 countries committed to maintaining international peace and security, developing friendly relations among nations and promoting social progress, better living standards and human rights. Due to its unique international character, and the powers vested in its founding Charter, the Organization can take action on a wide range of issues, and provide a forum for its 192 Member States to express their views, through the General Assembly, the Security Council, the Economic and Social Council and other bodies and committees.
The work of the United Nations reaches every corner of the globe. Although best known for peacekeeping, peacebuilding, conflict prevention and humanitarian assistance, there are many other ways the United Nations and its System (specialized agencies, funds and programs) affect our lives and make the world a better place. The Organization works on a broad range of fundamental issues, from sustainable development, environment and refugees protection, disaster relief, counter terrorism, disarmament and non-proliferation, to promoting democracy, human rights, governance, economic and social development and international health, clearing landmines, expanding food production, and more, in order to achieve its goals and coordinate efforts for a safer world for this and future generations."
a) Considering the many crises around the world currently (ISIS takeover of huge areas of 3 countries, the hundreds of thousands of refugees risking death to escape to Europe, etc.), how effective do you think the UN has been in carrying out their purpose? Explain your answer.
b) Ask a parent the same question.
OPTIONAL: Read or watch the President's entire speech at WhiteHouse.gov.
a) List the major issues the President addressed.
b) For each one, what solution did he propose?
c) Were you encouraged or discouraged by the President's speech? Explain your answer.
d) Ask a parent the same questions (c).
Background
According to WorldAtlas .com, there are 193 independent countries in the world today.
192 countries are UN members. The exceptions are Taiwan (in 1971, the UN ousted Taiwan and replaced it with the People's Republic of China) and Vatican City. Kosovo is not yet a member (it is not recognized as an independent country by all).
Each country gets one vote in the UN General Assembly.
The U.S. pays at least 22% of the overall yearly budget of the UN. In 2013 our contribution was $618,481,182.
(from http://www.un.org/ga/search/view_doc.asp?symbol=ST/ADM/SER.B/866)
ON THE U.N. SECURITY COUNCIL: (read more at the website un.org/Docs/sc/unsc_background.html)
The United Nations Security Council (UNSC) is charged with the maintenance of international peace and security.
Its powers, outlined in the United Nations Charter, include the establishment of peacekeeping operations, the establishment of international sanctions, and the authorization of military action. Its powers are exercised through United Nations Security Council Resolutions.
There are 15 members of the Security Council, consisting of five veto-wielding permanent members (China, France, Russia, United Kingdom, United States) and ten elected members with two-year terms [these are not eligible for immediate re-election]
The ten elected members are elected by the General Assembly for two-year terms starting on January 1st, with five replaced each year. The members are chosen by regional groups and confirmed by the United Nations General Assembly. The African bloc chooses three members; the Latin America and the Caribbean, Asian, and Western European and Others blocs choose two members each; and the Eastern European bloc chooses one member. Also, one of these members is an "Arab country," alternately from the Asian or African bloc.
Security Council members must always be present at UN headquarters in New York so that the Security Council can meet at any time. This requirement of the United Nations Charter was adopted to address a weakness of the League of Nations since that organization was often unable to respond quickly to a crisis.
Each Council member has one vote.
Decisions on procedural matters are made by an affirmative vote of at least nine of the 15 members.
Decisions on substantive matters (including imposing sanctions on a country) require nine votes, including the concurring votes of all five permanent members.
Under the UN Charter, all 191 Member States (countries) of the United Nations agree to accept and carry out the decisions of the Security Council.  While other organs of the United Nations make recommendations to Governments, the Council alone has the power to make decisions which Member States are obligated under the Charter to carry out.
Resources
Visit the U.N. General Assembly webpage at: gadebate.un.org
Watch President Obama's 2014 speech to the UN General Assembly live at approximately 10 am (Eastern) at: webtv.un.org (or visit c-span.org or whitehouse.gov)
Daily "Answers" emails are provided for Daily News Articles, Tuesday's World Events and Friday's News Quiz.