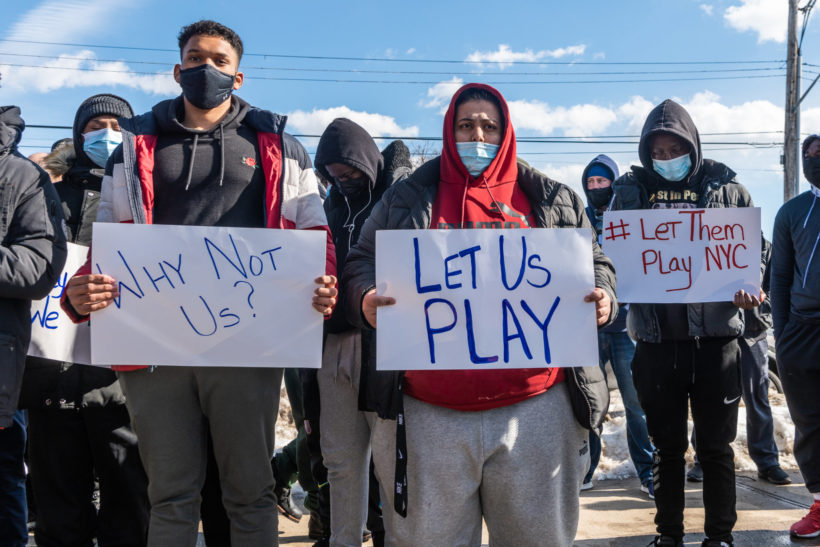 NOTE: NYC public high schools resumed in-class learning in October 2020, but closed again to go all virtual on November 19. Public high schools remain closed indefinitely. All students remote learning only.
---
NEW YORK (CBSNewYork) — Rallies were held on Saturday, February 6 calling for the reopening of New York City public schools and after-school sports and activities.
Thousands of people from the youth sports and athletic community gathered in Brooklyn, Staten Island, Queens and the Bronx.
Public middle and high schools in the city were shut down in November. Athletics and extracurricular activities were also banned.
Advocates say the shutdown is having a major impact on students.
"Sports serves as not just a coach-sport activity thing. It serves as a developmental tool," said rally organizer Alex Coombs, who runs About U NYC.
"These kids need these extracurricular activities. They need the sports to keep them going," one woman said.
"Student athletes have a limited window of opportunity to showcase their athletic skills as a ticket to greater academic opportunities," said George Lanese, also with About U NYC.
"I feel that students are being kept out on proceeding their future," one speaker said.
In January, the state issued new guidelines allowing school and sports to resume, but it's up to local officials [in NYC, Democratic Mayor Bill de Blasio] to give the green light.
A week after the rallies, student athletes in New York City are…calling on Mayor Bill de Blasio to bring back high school sports, which have been banned for nearly a year.
High school senior Devin McKnight, from Queens, hasn't touched a football since the fall of 2019. His dreams of playing in college are growing more and more out of reach. He says it's the city, not the pandemic that's to blame.
"It's like, do they care about us? That's what it seems like, do they really care about us? Do they care about people trying to go to college?" he asked.
Starting Feb. 1, high schools around New York State were allowed to return to interscholastic sports, as long as local officials gave the green light.
New York City hasn't, and when asked, the mayor said his priority is reopening schools.
"We want to put health and safety first. So, I'm a huge sports fan, I would love to see kids have more opportunity to play sports again as part of coming back. We gotta do it the right way," he said.
George Lanese, whose nonprofit coaches kids, organized a rally last week to change the city's mind. He claims every other county in the state has brought sports back to some degree except New York City.
"Schoolwork is dropping, grades are dropping, kids are dropping out of school," he said.
Some students have taken drastic measures to continue training.
Harlem sophomore Moussa Kane transferred to a private school in New Jersey last fall, so that he could play football. He knows most kids don't have that option.
"I was able to at least talk to my coaches, practice with them, learn from them. Intercity kids aren't even able to do that," he said.
Students and their families are planning another wave of demonstrations, hoping to convince the city to allow high school sports to return by spring, so those athletes won't miss two seasons.
CBS2's Christina Fan contributed to this report.
Questions
1. The first paragraph of a news article should answer the questions who, what, where and when. (In this article, 1st and 2nd paragraphs). List the who, what, where and when of this news item. (NOTE: The remainder of a news article provides details on the why and/or how.)
2. a) For how long this school year did New York City public high schools meet in-person?
b) When did they return to all remote learning?
c) When will NYC middle and high schools re-open for in-person classes?
3. a) Who decides when the NYC schools will resume?
b) How did Mayor de Blasio respond when asked about resuming live classes?
c) What do you think of de Blasio's response?
4. Besides missing out on playing sports with friends for the enjoyment of it, what negative impact will missing a season have on serious athletes?
5. On Febuary 3, CDC Director Dr. Rochelle Walensky told reporters during a White House news briefing on Covid-19 that teachers do not need to get vaccinated against Covid-19 before schools can safely reopen. She said, "There is increasing data to suggest that schools can safely reopen and that safe reopening does not suggest that teachers need to be vaccinated. Vaccinations of teachers is not a prerequisite for safely reopening schools."
Students, parents and others who support re-opening schools, as well as resuming school sports in those cities/districts/states that have so far not done so, assert that the mayors/governors will not give "permission" to resume in-person classes due to political reasons.
(Two days after Let Them Play Michigan filed suit against Democratic Gov. Gretchen Whitmer's administration for prohibiting winter sports, the Governor backed down and authorized winter school sports to begin. The parent/student coalition's attorney, Peter Ruddell, said, "Unfortunately, there is no other place for citizens to appeal a decision that restricts the parents' and student athletes' ability to pursue a key component of their public education.")
What do you think? With masks, social distancing, and other safety precautions put in place, as well as the distribution of vaccines and the newly developed therapeutics, should schools re-open? Should the districts that don't allow school sports continue to do so? Explain your answer.
Resources
February 13, 2021 – CBS WLNY:
---
February 6, 2021 – CBS NY:
---
February 11,2021 – NBC – KCRA, California:
Daily "Answers" emails are provided for Daily News Articles, Tuesday's World Events and Friday's News Quiz.