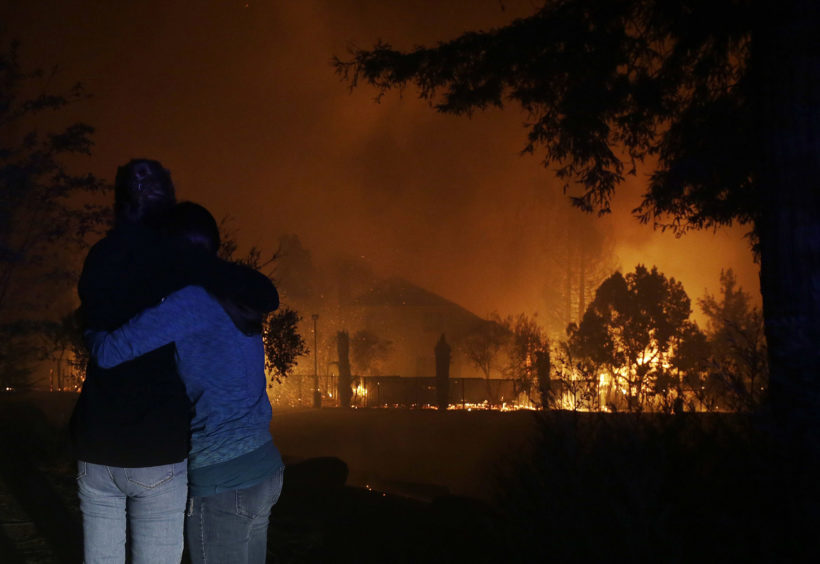 redo Jump to...
print Print...
From an October 9, 2017, 2:20 p.m. report:
The death was related to the Redwood Valley fire in Mendocino County, according to the Mendocino County coroner's office.
The vast devastation over just a few hours made this firestorm one of the worst in California history, with Gov. Jerry Brown declaring a state of emergency.
There have been injuries and people are unaccounted for, said Janet Upton, a spokeswoman for the California Department of Forestry and Fire Protection. She could not estimate the number of injuries. Officials said additional fatalities were possible as search efforts continued.
One of the raging fires had Santa Rosa under siege Monday morning, with a large swath of the city north of downtown under evacuation order.
The fast-moving fire jumped the 101 Freeway, forcing hospitals to be evacuated and, witnesses said, burning homes and businesses.
The area of Fountaingrove appeared to be particularly hard hit, with photos showing numerous homes on fire. The Fountaingrove Inn and a Hilton hotel also burned. Officials said homes were also lost in the community of Kenwood and at a mobile home park off the 101 Freeway.
While many evacuation centers were set up, some were filled to capacity due to the large number of people fleeing. …
Schools throughout the Napa and Sonoma valleys are closed for the day, and cellphone service has been affected in Napa County, where residents and businesses are experiencing power outages and trees have been knocked down by the wind, officials said.
More than 50 structures, including homes and barns, have burned in the Atlas Peak fire alone, Napa County Fire Chief Barry Biermann said during the press conference.
Residents described running from the approaching flames early in the morning. …
Smoke from the fires drifted into the Bay Area, into San Francisco and as far south as San Jose.
"The smell of smoke is everywhere throughout the county," Napa County spokeswoman Kristi Jourdan said.
In Santa Rosa, Kaiser Permanente Hospital and Sutter Hospital were evacuated.
"We have safely evacuated the Santa Rosa medical center due to fires burning in the area. Many patients were transported to Kaiser Permanente in San Rafael and other local hospitals," Kaiser spokeswoman Jenny Mack said in an email. "All scheduled appointments and surgeries have been canceled for the day in Santa Rosa and the Napa medical offices."
The Santa Rosa fire began around 10 p.m.
The cause of the fires is still under investigation.
Upward of 300 firefighters are battling the blazes in Napa County, she said. …
"We've had hospitals that have required evacuation…all of those take significant amount of coordination and assets to ensure… that special needs populations and others that require special assistance are taken care of. That will remain our priority," said Mark Ghilarducci, director of the California Governor's Office of Emergency Services.
There have been a number of injuries and "possibly some fatalities," Ghilarducci said.
About 45,000 are without power and/or cell service in Napa and Sonoma counties, he said. …
Weather conditions — strong winds and high temperatures — made conditions ripe for a major inferno.
"We also had really gusty winds and really warm temperatures," said National Weather Service meteorologist Matt Mehle. "This time of year it does happen quite a bit. For the San Francisco Bay Area, our summer is late September to early October; that's when we have our warmest and driest conditions."
The destructiveness of the fires shocked officials. The worst fire in recent California history was the Cedar blaze in San Diego County in 2003, which destroyed more than 2,800 homes. The 2007 Witch fire, also in San Diego County, destroyed more than 1,600. Both of those fires occurred in October.
"This time of year is when historically the state's largest, most damaging and most deadly fires have occurred," Upton said. "Critical fire conditions fanned by high wind" act as "a fuse for sparks," she said.
A key reason why the fires burning through Napa and Sonoma counties became so devastating was that the ignitions happened at the worst possible moment: extremely dry conditions combined with so-called Diablo winds that fanned flames on the ridgetops with gusts as high as 70 mph.
It's similar to the conditions that caused one of the most destructive fires in Northern California history, the October 1991 firestorm that struck the Oakland and Berkeley hills that killed 25 people and destroyed more than 3,300 single-family homes.
The wine country fires so far haven't approached that level of catastrophe, with officials reporting at least 1,500 structures lost, in part because the area burned isn't as densely populated as the area that was hit hard in 1991. …
Los Angeles Times staff writers Makeda Easter, Rong-Gong Lin II, Joy Resmovits amd Phil Willon contributed to this report.
Reprinted here for educational purposes only. May not be reproduced on other websites without permission from the Los Angeles Times. 
Questions
1. The first paragraph of a news article should answer the questions who, what, where and when. List the who, what, where and when of this news item. (NOTE: The remainder of a news article provides details on the why and/or how.)
2. What don't officials know yet?
3. Why are some evacuation centers already filled to capacity?
4. List other disruptions caused by the wildfires.
5. What was the initial cause of the fires?
6. What conditions made this fire one of the worst in California history? Be specific.
Background
The Tubbs fire near Santa Rosa has burned more than 35,000 acres as of 6:40 a.m., Napa County Supervisor Diane Dillon said during a televised press conference Monday morning. Officials said the other large fire in Napa County — Atlas Peak — has reached between 8,000 and 12,000 acres.
Late Sunday night, Ken Moholt-Siebert noticed the smell of the smoke from his Santa Rosa vineyard just off Highway 101.
It was not until midnight that he spotted the flames: a small red glow growing a couple of ridges to the east, off Fountaingrove Parkway.
He ran up the hill on his property to turn on a water pump to protect the ranch his family has been raising sheep and growing grapes on for four generations.
Before the pump could get the water fully flowing, a small ember from the Tubbs fire landed nearby. With the wind picking up, the ember sparked a spot fire about 50 feet in diameter. Then it was 100 feet in diameter.
"There was no wind, then there would be a rush of wind and it would stop. Then there would be another gust from a different direction," Moholt-Siebert, 51, said. "The flames wrapped around us."
He ran for cover.
"I was just being pelted with all this smoke and embers," he said. "It was just really fast."
Moholt-Siebert retreated through a 150-year-old redwood barn on his property — where his son's wedding reception had been held in June. He jumped a fence back toward his house and fell to the ground to catch gulps of less smoke-contaminated air before reaching his home.
As he fled with his wife Melissa in their Ford sedans, the flames reached their vineyard full of Pinot Noir grapes and crept toward a 200-year-old oak tree on the property — the namesake for the family winery, Ancient Oak Cellars.
As he drove through falling embers and smoke he thought about what he left behind. The sheep on his ranch, he thought, would be safe since they were on shortly cut wet grass. He left behind family mementos and furniture from his grandparents.
The property was dotted with old valley and black oak as well as some California ash trees.
"That is probably all gone," Moholt-Siebert said. "I have a feeling there is not going to be much left."
---
Those who evacuated described a chaotic scene.
Around 2 a.m., the Sonoma County Sheriff's Office ordered evacuations around Kay Drive and Mark West Station Road in Windsor. Jen Ancic, 31, fled with her two young sons and boyfriend.
As the family drove north on U.S. Highway 101, Ancic said she could see buildings and trees burning.
"The whole town was on fire," she said. "It was crazy."
A Santa Rosa native, Ancic said that fires in the mountains are not uncommon, but "nothing like has happened in Santa Rosa." …
(from the Los Angeles Times article above)
Resources
Watch an October 9 CBS NY report:
---
Watch an October 9 KTVU local news report:
Daily "Answers" emails are provided for Daily News Articles, Tuesday's World Events and Friday's News Quiz.