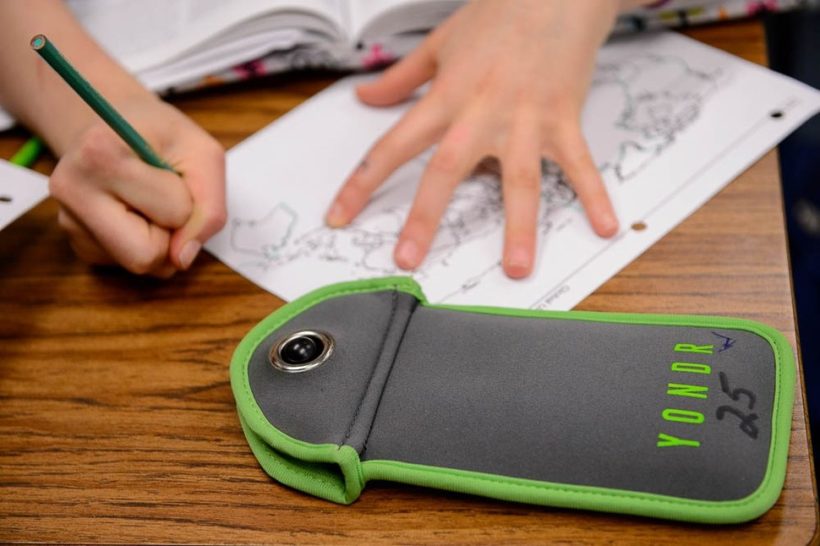 redo Jump to...
print Print...
(from News12 New Jersey) Plainfield, NJ — A middle school in Union County, NJ is forcing its students to stay disconnected in class, by prohibiting cellphones.
Maxson Middle School Principal Kevin Stansbury implemented the phone ban last week after he noticed some major issues inside of the school.
"Our test scores were down, suspensions were up, discipline was up," he says.
Stansbury says students were too distracted by their phones to focus on school. So he purchased Yondr pouches for the school. When students come in to class each morning, they place their phones in the pouch, which is then locked up tight. It can only be opened using a special device at the end of the day.
Eighth-graders who spoke with News 12 New Jersey say that they noticed a change in a matter of hours.
"It's just better for everyone because you'll understand how it feels to get more work done instead of paying attention to the phone," says student Charlene V.

"I'm usually listening to music, not listening to no one, but today I got to communicate with all my friends," says student Desiree D.
The program was originally met with some backlash from students and parents. But teachers and administrators say that the program will have a major impact.
"Students were talking and laughing and there were no cellphones other than being carried in the pouches," Stansbury says.
Teacher Nia Cummings says she even noticed students bouncing ideas off each other in class. She says students used to give up quickly and just look for answers on their phones. She says they now try to figure it out themselves.
Maxson Middle School is currently the only one in the district to use these pouches.
Yondr Pouches have been used at some concerts and comedy shows in venues that do not want their audiences to use their phones.
Published at newjersey .news12 .com on March 29. Reprinted here for educational purposes only. May not be reproduced on other websites without permission from News12.
Questions
1. The first paragraph of a news article should answer the questions who, what, where and when. (In this article, 1st and 2nd paragraphs). List the who, what, where and when of this news item. (NOTE: The remainder of a news article provides details on the why and/or how.)
2. For what reasons has the principal implemented this policy?
3. How does the school ensure students don't use their cellphones during the school day? Be specific.
4. How have students reacted to the use of the Yondr pouches in school?
5. What did the principal and teacher Nia Cummings notice about student interaction once the program began?
6. Most people – teens and adults – are addicted to their smartphones. It is too hard for individual students to turn their phones off for a whole school day if no one else is doing so. Yondr forces all to be in the same situation.  What are the positive benefits to experiencing the school day without smartphones – now, and then later as adults?
7. Watch the two videos under "Resources" below. The high school students don't seem as reconciled to the cellphone ban as the middle school students do. What do you think? In the long run, would the entire school being disconnected during the school day make students happier, less stressed, and more connected with friends and fellow students, or unhappy, depressed, and "unconnected"? Explain your answer.
Background
Yondr CEO Graham Dugoni was inspired to create the pouches after noticing that people at some concerts he was attending were more absorbed with their phones than with the music. Performers have flocked to the concept, with comedians such as Dave Chappelle, Jack White and Chris Rock using Yondr at their shows.
More educators are taking note, and Yondr says it has partnerships with thousands of schools in the United States, Canada and Europe. The pouches cost $15 to $30 per student annually depending on school size, and about $2 per head for large performances.
Resources
Watch the NJ12 News report:
---
CNBC reported in January, that San Lorenzo High School in California has banned cellphone use during the school day:
Daily "Answers" emails are provided for Daily News Articles, Tuesday's World Events and Friday's News Quiz.