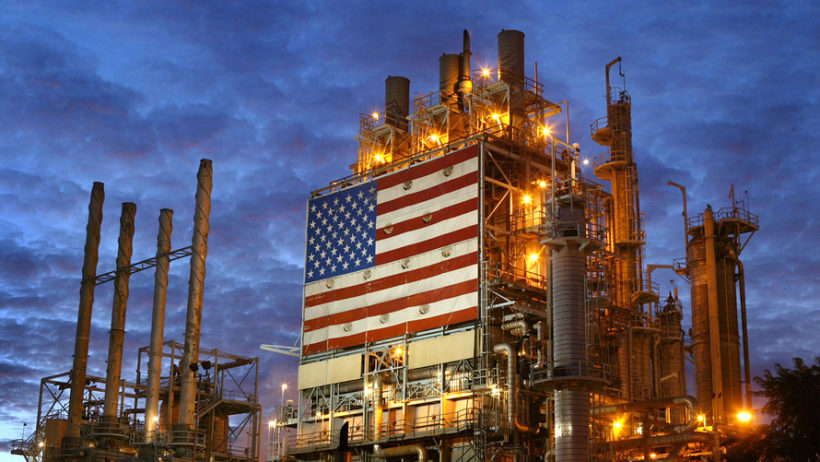 redo Jump to...
print Print...
(by Matt Egan, CNN Business) — The United States, long beholden to foreign oil, is poised to become a net energy exporter starting next year.
Thanks to the shale oil and natural gas boom, the United States will export more energy than it imports in 2020 for the first time since 1953, according to a forecast published Thursday by the Energy Department's statistics division. That's two years earlier than what was previously expected.
And it won't be a one-off achievement. The United States is likely to be a net energy exporter through at least 2050, the U.S. Energy Information Administration (EIA) said.
"It's a big deal. We're not as reliant on foreign oil as we were," said Michael Tran, managing director of global energy strategy at RBC Capital Markets.
The seeds for this milestone were planted by the shale revolution that began last decade. New technology unlocked vast amounts of natural gas and crude oil in the United States. Production of both skyrocketed, which reshaped the global energy landscape.
The end of the 40-year ban on oil exports in late 2015 really changed the game. [Republicans in congress championed the proposal. Reluctant Democrats supported it because in exchange they were able to negotiate an additional five years of tax credits for wind and solar power, which they are keen on.]  US shipments of crude have exploded since then.
According to the scenario the EIA thinks is mostly likely to happen, the United States should become a net exporter of petroleum liquids — oil and products like gasoline — after 2020. It's a milestone that was briefly achieved late last year. For one week in November, US exports of crude oil and petroleum products exceeded imports, the EIA said. It was the first time that happened on a weekly basis since the EIA began tracking in 1991.
"US crude exports are wildly disrupting the global oil trade. And US shale continues to grow at an unbridled pace," Tran said.
Fueled by shale hotbeds like the Permian Basin of Texas, the United States surpassed Russia and Saudi Arabia in terms of monthly oil production last year. US output spiked from about 5 million barrels per day in 2008 to a record 10.9 million barrels last year, the EIA said.
The International Energy Agency said the 2 million barrel-per-day jump in US production last year was the biggest jump ever recorded by any country.
The growth is likely to continue, albeit at a more moderate pace. According to the EIA's most likely scenario, US oil production is expected to keep setting annual records through 2027, and remain greater than 14 million barrels per day through 2040. …
Even though the United States is shrinking its reliance on foreign oil, it won't be able to credibly declare energy independence in 2020. "You're not going to be fully insulated from geopolitical risk or decisions that OPEC makes," RBC's Tran said.
That's in part because of the makeup of America's refinery complex, which requires a healthy dose of medium and heavy crudes found overseas. Refineries can't operate solely on the very light crude found in domestic shale oilfields.
While becoming a net energy exporter is a "tremendous development," the United States wouldn't be "completely self-sufficient," said Joe McMonigle, a former Energy Department official under President George W. Bush who is now senior energy policy analyst at Hedgeye Potomac Research.
"Until the US refining sector is able to process more lighter crudes, we're never going to have energy independence," McMonigle said.
CNN Business' Ivana Kottasova contributed to this report. Reprinted here for educational purposes only. May not be reproduced on other websites without permission from CNN Business.
Questions
1. For how many years is the U.S. now likely to be a net energy exporter?
2. What caused this milestone?
3. Which two huge oil producers did the U.S. surpass in terms of monthly oil production last year?
4. Why won't this milestone allow the U.S. energy independence yet?
5. Over the years, there have been various warnings about the U.S. running out of oil. The oil companies simply found new oil reserves, and new technologies to get it out of the ground. How long do you think it will take the oil refining sector to produce lighter crudes?
Background
From the U.S. Energy Information Administration (EIA) – Shale gas and oil plays, lower 48 states (6/30/16):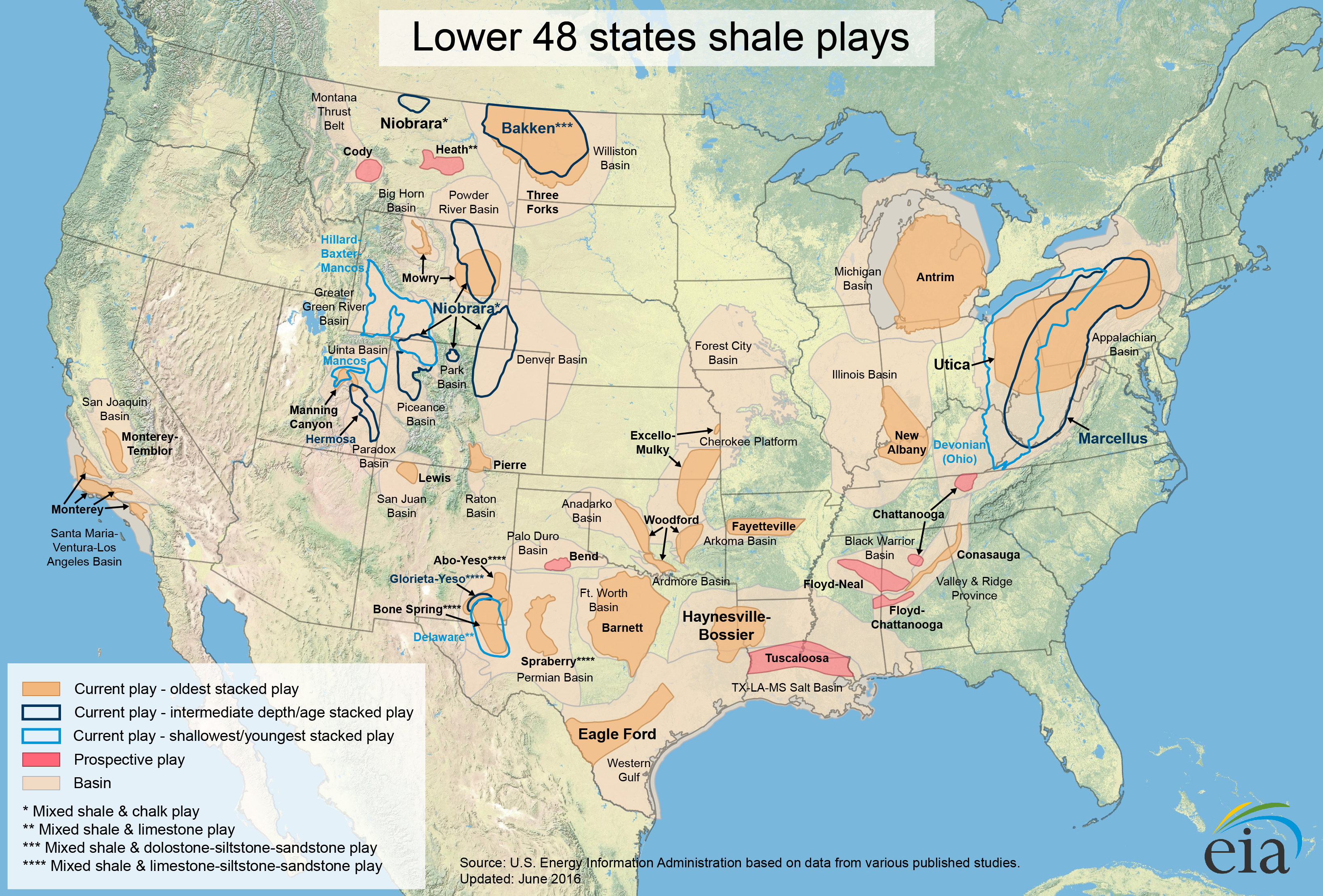 ---
From an October 2017 article by John Siciliano at The Washington Examiner:
[Republicans led congress to lift the oil ban in 2015.] But becoming a net exporter of crude is not the [only] point of lifting the oil ban, according to Rep. Joe Barton, R-Texas. Exporting has a geopolitical effect that is starting to take effect by displacing oil from OPEC, the international cartel that includes a number of the world's largest nationalized oil companies, such as Saudi Aramco.
"We've effectively taken price control away from OPEC and put it in the hands of the market, which means primarily private producers in the United States," Barton said.
"It's not just the oil production side of it, it's the market and finance side of it," he said. "We let the banks and the private equity market, private credit market, work with producers … to finance it." …
Barton said that and a number of other reasons are giving the U.S. an advantage over OPEC producers, especially in the Asian market.
"We're pushing OPEC players in Asia for a number of reasons," he said. First, the quality of U.S. shale oil is better. "Most of the oil we are exporting is the lighter, shale oil that is not the heavier oil like you get from Mexico and perhaps some parts of the Middle East," Barton said.
Second is "contract sanctity," where "people know if they have a contract with an American company, it is going to be honored," he said.
Third, the "nimbleness of our oil sector compared to OPEC," he continued. "OPEC is primarily government-run, or heavily government-influenced. And their oil ministers and oil companies have a political, a national interest component that our oil companies don't," Barton said.
"Our oil companies are about finding oil as efficiently as possible, producing it as efficiently as possible, and getting the best market for it that maximizes profit. And our system is better," he said.
The oil ban was instituted by former Democratic President Jimmy Carter to ensure U.S. supplies of oil would be in place in the wake of the Middle East oil embargo.
Now, with the ban gone, and the U.S. a major crude oil producer, one of the effects of shipping oil abroad is eliminating a country, or group of countries, from using energy commodities as a geopolitical weapon.
The Trump administration's energy dominance agenda touts the U.S.'s ability to use energy exports as a way to create a more secure supply chain to Europe, South America, Asia and most recently Africa, where the administration is looking to establish energy inroads.
…Chanis said Trump's energy dominance agenda presents an opportunity to affect the global market in a way that benefits U.S. energy security. Beyond the export-import imbalance, the geopolitical and market influence the U.S. has gained from ending the crude oil ban is one of its most significant results.
"Every barrel more that we can produce in the U.S., we potentially displace a foreign barrel overseas in the global market," Chanis said. "If we're a middle-cost producer, which is what we are, and we can push out high-cost producers, the world benefits and we benefit."
"We reap the economic benefits and the security benefits" from U.S. exports pushing down the price of oil globally, he said. And with increasing imports, Chanis said, increased domestic production of oil helps make the nation more secure. …
Daily "Answers" emails are provided for Daily News Articles, Tuesday's World Events and Friday's News Quiz.