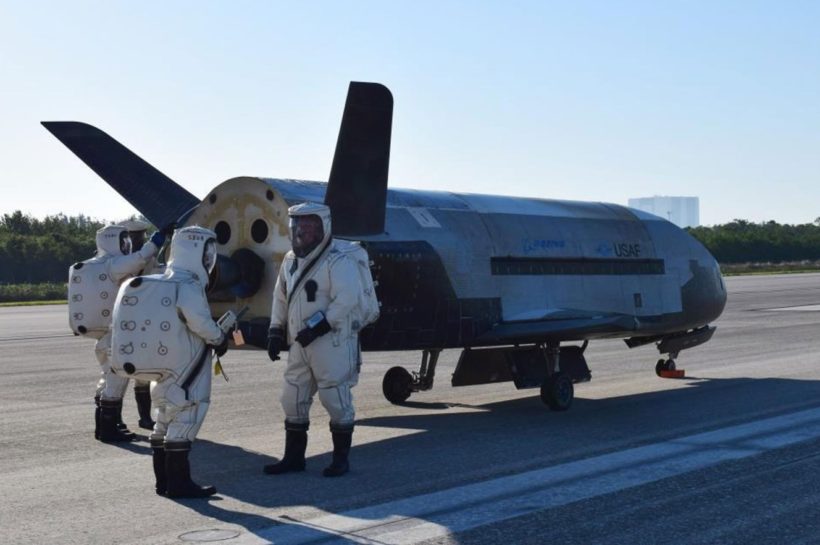 (Compiled from articles by Andrew Griffin at the UK Independent and by Jay Bennett at Popular Mechanics) – The US Air Force has landed its experimental unmanned X-37B plane in Florida, bringing to an end a two-year mission that is a complete secret.
The plane — which can fly itself and looks like a small space shuttle — landed over the weekend at Cape Canaveral, bringing to an end a flight that began in May 2015. But the US Air Force didn't reveal what it had been doing in the air or why it had come back down.
The X-37B, one of two in the Air Force fleet, conducted unspecified experiments for 718 days while in orbit. It was the fourth and lengthiest mission so far for the secretive program, managed by the Air Force Rapid Capabilities Office.
What exactly the Air Force uses the X-37B for is classified. The orbiters "perform risk reduction, experimentation and concept-of-operations development for reusable space vehicle technologies," the Air Force has said without providing details. The cost of the program is also classified.
The vehicles are 29 feet long and have a wingspan of 15 feet, making them about one quarter of the size of the NASA'€™s now-retired space shuttles.
The X-37B, also known as Orbital Test Vehicle, or OTV, first flew in April 2010 and returned after eight months. A second mission launched in March 2011 and lasted 15 months, while a third took flight in December 2012 and returned after 22 months.
It has been widely speculated that the craft is used for intelligence, surveillance, and reconnaissance (ISR) missions, spying on operations in places like Iran and North Korea. Because the craft can land and have its payload swapped out whenever the Air Force deems it necessary, the X-37B could potentially be used for a number of missions and testing platforms.
Experts have also guessed that the X-37B could be used for testing autonomous flight technologies, serve as a communications relay in orbit, or serve as a testing platform for systems that could ultimately be used on a manned spacecraft.
The operations of the X-37B might be classified, but there is no hiding it when it reenters the atmosphere and shakes the countryside with a sonic boom. This is the first time the craft has landed in Florida, having performed all three of its previous landings at Vandenberg Air Force Base in California.  The Air Force relocated the program in 2014, taking over two of NASA'€™s former shuttle-processing hangars. Another mission using the X-37B is scheduled to launch from Cape Canaveral Air Force Station, located just south of the Kennedy Space Center, later this year.
How long the X-37B will orbit this time, and what exactly it will be doing, is known only by a handful of people in the Department of Defense.
Compiled/adapted from news reports at the UK Independent (with Reuters) and Popular Mechanics. Reprinted here for educational purposes only. May not be reproduced on other websites without permission.
Questions
1. What is the X-37B?
2. This is the X-37B's fourth mission. How long was it in orbit?
3. List the facts about the classified X-37B aircraft that you learn from the article.
4. How is the Air Force's secretive X-37B most likely used, according to experts and others?
5. Watch the videos under "Resources" below.
a) What does the X in X-37B stand for, according to former NASA astronaut Mike Massimino?
b) What does Mr. Massimino say is the biggest difference between the X-37B and a space shuttle or a satellite?
c) What does Mr. Massimino say is the most exciting aspect of the X-37B?
6. How does this news report inspire you?
Resources
Watch a local Orlando news report:
---
Watch a Fox News report and interview with former NASA astronaut Mike Massimino:
---
Visit former astronaut Mike Massimino's website at mikemassimino.com
Daily "Answers" emails are provided for Daily News Articles, Tuesday's World Events and Friday's News Quiz.