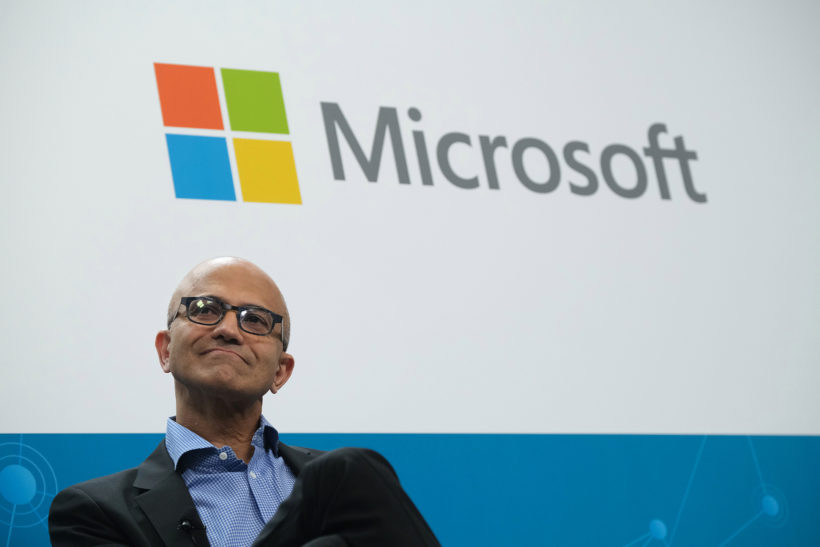 redo Jump to...
print Print...
(by Associated Press at New York Post) – The Pentagon awarded Microsoft a $10 billion cloud computing contract, snubbing early front-runner Amazon….
Bidding for the huge project, known as Joint Enterprise Defense Infrastructure, or JEDI, pitted leading tech titans Microsoft, Amazon, Oracle and IBM against one another.
The giant contract has attracted more attention than most, sparked by speculation early in the process that Amazon would be the sole winner of the deal. [Bloomberg explained, "Amazon was long seen to have the upper hand in the competition after it won a lucrative cloud contract with the Central Intelligence Agency."] Tech giants Oracle and IBM pushed back with their own bids and also formally protested the bidding process last year.
Oracle later challenged the process in federal court, but lost.
…In July, President Trump said that the administration would "take a very long look" at the process, saying he had heard complaints from other companies, who told him that the contract "wasn't competitively bid.". …[The president and] Amazon founder Jeff Bezos, who also owns the Washington Post, [have often clashed because the Washington Post displayes extreme bias against Trump.]
Defense Secretary Mark Esper recused himself from the controversial bidding process earlier this week, citing a conflict of interest because his son works for one of the companies that originally bid.
The JEDI system will store and process vast amounts of classified data, allowing the US military to use artificial intelligence to speed up its war planning and fighting capabilities.
A cloud strategy document unveiled by the Defense Department last year called for replacing the military's "disjointed and stove-piped information systems" with a commercial cloud service "that will empower the warfighter with data and is critical to maintaining our military's technological advantage."
The Pentagon emphasized in an announcement that the process was fair and followed procurement guidelines. It noted that over the past two years, it has awarded more than $11 billion in 10 separate cloud-computing contracts, and said the JEDI award "continues our strategy of a multi-vendor, multi-cloud environment."
The latter statement appeared designed to address previous criticism about awarding such a large deal to one company.
The deal is a major win for Microsoft's cloud business Azure, which has long been playing catch-up to Amazon's market-leading Amazon Web Services. Microsoft said it was preparing a statement.
Amazon said Friday it was surprised by the decision.
"AWS is the clear leader in cloud computing, and a detailed assessment purely on the comparative offerings clearly lead to a different conclusion," Amazon spokesman Drew Herdener said in a statement. "We remain deeply committed to continuing to innovate for the new digital battlefield where security, efficiency, resiliency, and scalability of resources can be the difference between success and failure."
According to a July report from the research firm Gartner, Amazon holds almost 48 percent of the market for public cloud computing, followed by Microsoft in second place with close to 16 percent.
Over the last year, Microsoft has positioned itself as a friend of the US military. President Brad Smith wrote last fall that Microsoft has long supplied technology to the military and would continue to do so, despite pushback from some employees.
Oracle and IBM were eliminated earlier in the process, leaving Microsoft and Amazon to battle it out at the end.
Google decided last year not to compete for the contract, saying it would conflict with its AI ethics principles. Google employees have been especially vocal in protesting the company's involvement with government contracts.
"It's a paradigm changer for Microsoft to win JEDI," said Dan Ives, managing director of Wedbush Securities. "And it's a huge black eye for Amazon and Bezos."
Microsoft, Amazon, Google and other tech giants have faced criticism from their employees about doing business with the government, especially on military and immigration-related projects [Google's employees refuse to work on them] .
From an Associated Press (AP) report published at NYPost .com. Reprinted here for educational purposes only. May not be reproduced on other websites without permission from the New York Post.
Questions
1. The first paragraph of a news article should answer the questions who, what, where and when. List the who, what, where and when of this news item. (NOTE: The remainder of a news article provides details on the why and/or how.)
2. Name the companies that were bidding for the Pentagon's JEDI contract.
3. What complaint did Oracle and IBM make about the bidding process?
4. What is the purpose of JEDI? What will it do?
5. a) What did the Pentagon's cloud strategy document released last year call for in a cloud service?
b) How has the Department of Defense addressed complaints that it was awarding such a large deal to one company?
6. Read the "Background" below. It is a commentary addressing the issue of one company managing the cloud vs. many companies. What do you think? Will one company managing a cloud service for the Pentagon be more efficient and effective? Will there be proper oversight to ensure the data is secure? Are there unintended consequences that might outweigh the benefits? Explain your answer.
Background
The following is an excerpt from a June 7 commentary by Dan Gouré "JEDI Will Be a Cloud Like No Other":
Some years ago, the Pentagon decided to take a decentralized approach to the acquisition of cloud computing services allowing the military, defense agencies, and even components to pursue cloud computing in whatever way they thought best fit their needs. Today the Pentagon operates over 500 clouds. Often, defense entities have access to multiple clouds.
In the absence of an overall cloud migration strategy at the time and desirous of taking advantage of the rapid advances being made in the field of cloud computing, the decentralized approach made sense. But it also resulted in many problems for users and limitations on how cloud computing could be employed as a warfighting tool. According to a May 2018 report by the Pentagon's Chief Management Officer, this decentralized approach "created numerous seams, incongruent baselines and additional layers of complexity for managing data and services at an enterprise level. Scattering DOD's data across a multitude of clouds further inhibits the ability to access and analyze critical data." In addition, there was no common approach to or set of top-level standards for securing these various clouds.
DoD is looking to use JEDI and other new, large, multi-year cloud computing contracts, such as Defense Enterprise Office Solution (DEOS) to address many of these problems. JEDI will establish a common operating baseline and set of interfaces to support the widest possible array of applications, both commercial and government purpose-built. It will reduce the total number of DoD clouds and data centers, which will reduce costs and speed access to and exploitation of data.
Exerpted from "JEDI Will Be a Cloud Like No Other" published at RealClearDefense.com on June 7, 2019. Mr. Gouré, is a vice president at the public-policy research think tank Lexington Institute.
Resources
Watch a report from from Seattle's Q13 News:
Daily "Answers" emails are provided for Daily News Articles, Tuesday's World Events and Friday's News Quiz.