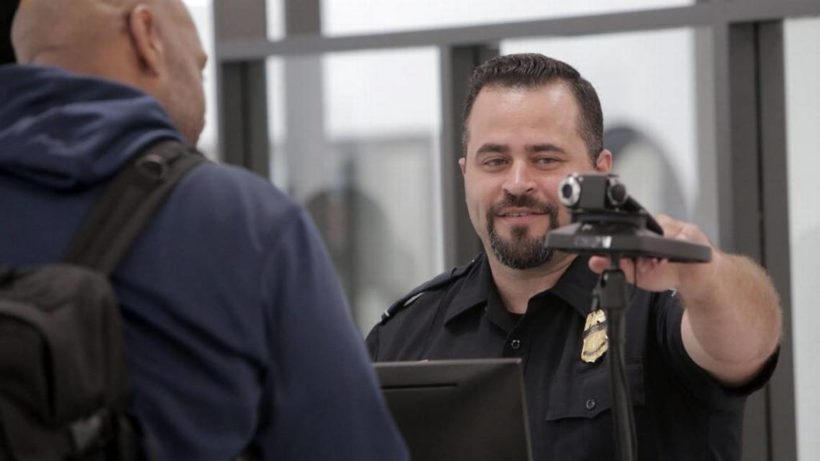 redo Jump to...
print Print...
(by Kelly Healey, WFTV9-ABC) – MIAMI – Miami International Airport has rolled out new technology to enhance the safety of passengers.

Facial recognition technology helps authorities verify travelers' identities.

When passengers approach security with their passports, they are asked to look into a small camera.

Customs and Border Protection agents then run the picture in order to compare it to the one they have on file.

Officials said this helps create a smoother process.

Travelers seem to agree.

"Usually, it's sometimes an hour wait. It was just very fast; just a few to-the-point questions. It was quite easy," a passenger said.

So far, the technology is only being used on passengers arriving from Spain, Portugal, the United Kingdom and Germany.

[The Miami Herald reported that Singapore's Changi Airport opened its new 21-gate Terminal 4 in October and it, too, uses the modern technology. In a November article in Travel Weekly, Sean Farrell, head of the biometrics team for the travel technology company SITA, said interest in the use of facial recognition at airports has grown globally.

"It just seems that in the last year or so it has really gotten a lot of traction. … I think by 2020 you're going to see major airports that have really shifted over to a biometric model."

MIA said its new technology-driven facility in Concourse E has been able to screen as many as 10 passengers per minute. The airport also offers passport clearance via Global Entry kiosks and is one of 24 airports and one cruise port (Port Everglades in Fort Lauderdale) that now accepts the Mobile Passport Control app.]

Reprinted here for educational purposes only. May not be reproduced on other websites without permission from WFTV9-ABC. Visit the website at wftv .com.
Questions
1. The first paragraph of a news article should answer the questions who, what, where and when. List the who, what, where and when of this news item. (NOTE: The remainder of a news article provides details on the why and/or how.)
2. For what reason has Miami begun using this biometric technology?
3. So far, travelers from which countries are required to use this technology?
4. How does it work?
5. What does biometrics expert Sean Farrell predict about the use of biometrics at airports?
6. What group of people are most likely opposed to the widespread use of biometrics in society?
7. What do you think: are saving time and enhancing security reasons that are important enough to use this technology? Why would someone be opposed? Why do you think most young people are likely not opposed to the use of biometrics – and most of the people who are opposed are probably older than 30?
Resources
Watch a local news report:
Daily "Answers" emails are provided for Daily News Articles, Tuesday's World Events and Friday's News Quiz.