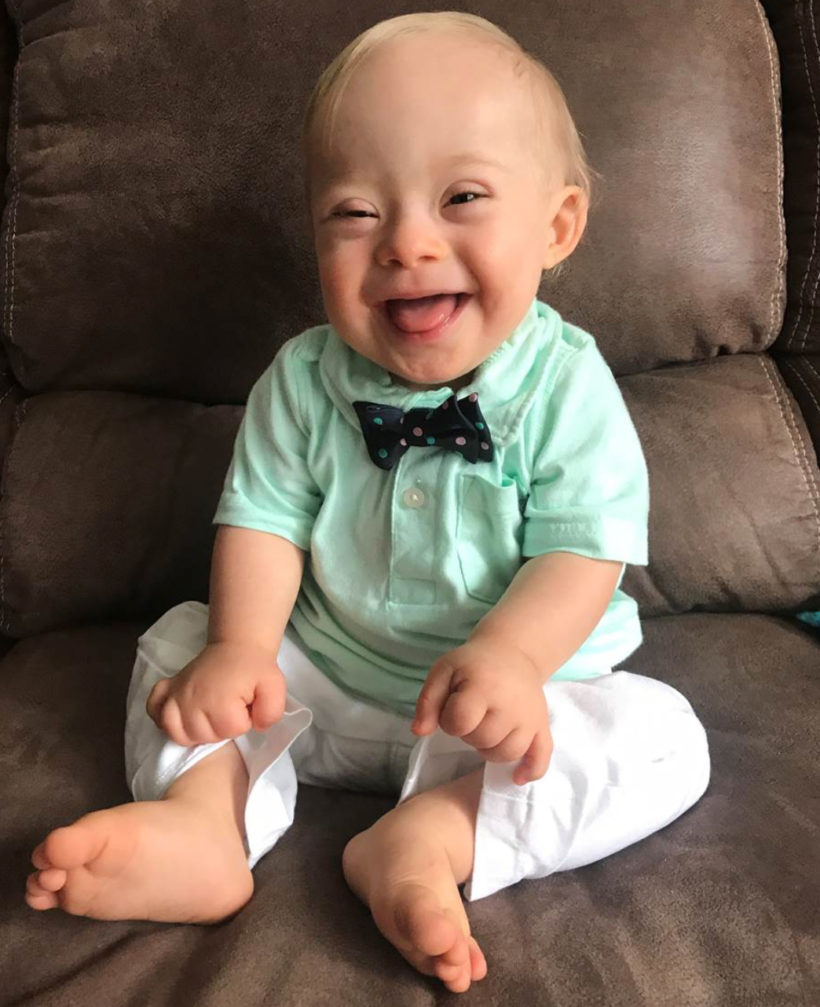 (by Josh Magness, McClatchy News) – For the first time ever, Gerber has chosen a baby with Down syndrome to be its "spokesbaby" of the year.
His name is Lucas, and he's from Dalton, Georgia.
Beginning in 2019, Gerber opened up an online photo contest where people can submit images of their babies with the hopes of being named the Gerber baby of the year. Lucas' mom, Cortney Warren, told Today that she submitted a smiling photo of Lucas after a relative suggested she should.
["This is such a proud moment for us as parents knowing that Lucas has a platform to spread joy, not only to those he interacts with every day, but to people all over the country," Cortney said in a press release.]
Out of more than 140,000 entries, that photo caught the attention of Gerber.
"Lucas' winning smile and joyful expression won our hearts this year, and we are all thrilled to name him our 2018 Spokesbaby," Gerber President and CEO Bill Partyka said in statement, according to Time. "Every year, we choose the baby who best exemplifies Gerber's longstanding heritage of recognizing that every baby is a Gerber baby, and this year, Lucas is the perfect fit."
The news was announced on the "Today" show on Wednesday morning, when Lucas was officially declared 2018's Gerber baby.
["He's very outgoing and never meets a stranger," Lucas's mom, Cortney said. "He loves to play, loves to laugh and loves to make other people laugh."

"We're hoping this will impact everyone — that it will shed a little bit of light on the special needs community and help more individuals with special needs be accepted and not limited," dad Jason Warren said. "They have the potential to change the world, just like everybody else."]
So what's next for Lucas? The "Today" show reported that along with receiving $50,000, he will also be promoted on Gerber's social media throughout the year.
Gerber already featured him on an Instagram post. …
Cortney says she hopes her son will be seen not only as a baby with Down syndrome, but also as a funny, energetic child who loves music and socializing.
"He may have Down syndrome, but he's always Lucas first," said Cortney. "He's got an awesome personality and he goes through the milestones of every child… we're hoping when he grows up and looks back on this, he'll be proud of himself and not ashamed of his disability."
Down syndrome is a genetic condition that causes delays in physical and intellectual development, according to the National Association for Down Syndrome.
Around 1 in 700 babies are born with Down syndrome in the U.S., according to the Centers for Disease Control and Prevention. That's about 6,000 each year.
From McClatchy News at NC's The Herald-Sun. Bracketed paragraphs from NBC's Today .com. Reprinted here for educational purposes only. May not be reproduced on other websites without permission from McClatchy and The Herald-Sun.
Questions
1. The first paragraph of a news article should answer the questions who, what, where and when. List the who, what, where and when of this news item. (NOTE: The remainder of a news article provides details on the why and/or how.)
2. How many babies were entered into the Gerber contest that Lucas won?
3. What does Lucas' father Jason hope will be a result of Lucas becoming this year's Gerber "spokesbaby"?
4. Today's Daily News Article is a human interest news story. Human interest stories differ from the regular news – they are sometimes referred to as "the story behind the story." The major news articles of the day tell of important happenings. Human interest stories tell of how those happenings have impacted the people or places around the story.
Do you think this human interest story is newsworthy? Why or why not?
5. What inspires you most about this story?
Daily "Answers" emails are provided for Daily News Articles, Tuesday's World Events and Friday's News Quiz.