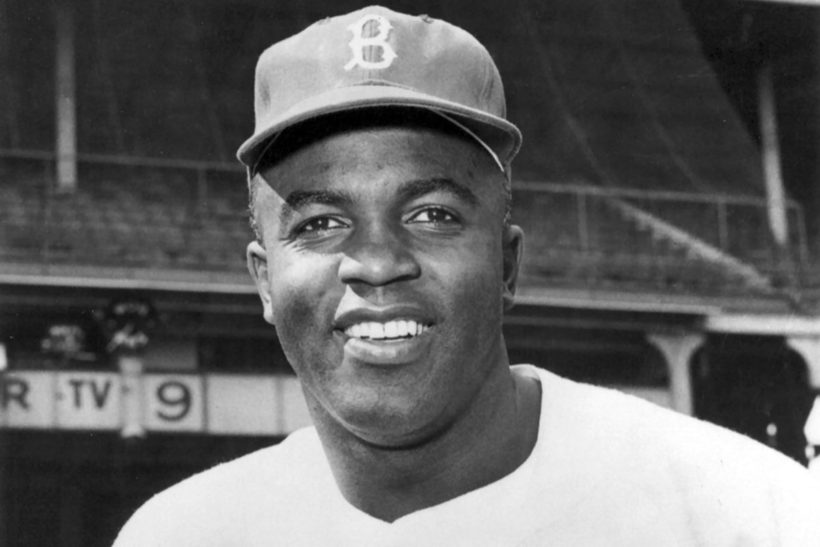 redo Jump to...
print Print...
On April 15, 1947, Jackie Robinson broke Baseball's color barrier when he made his historic MLB debut. Every year on April 15, Baseball honors Jackie's legacy by celebrating his life, values and accomplishments. Jackie's number was retired throughout the Majors in 1997; in 2004, April 15 was named Jackie Robinson Day; and since 2009, every player and all on-field personnel wear his No. 42 during games scheduled on Jackie Robinson Day.
---
FROM THE 2019 ARCHIVES:
(Associated Press at CBS News) Los Angeles, April 17, 2019 — The Los Angeles Dodgers and the rest of Major League Baseball celebrated Jackie Robinson Day on Monday, April 15, 2019, which commemorated what would have been the baseball legend's 100th birthday, noted CBS Los Angeles.
Iconic Dodgers announcer Vin Scully joined Robinson's widow at Dodger Stadium Monday night to honor the player who broke baseball's color barrier.
Scully greeted 96-year-old Rachel Robinson…after being introduced to the crowd, …drawing [loud] cheers in a rare public appearance. The Dodgers beat the Cincinnati Reds 4-3 in the game that followed the ceremony.
Scully stood [with] Rachel…during the national anthem. They were joined by Robinson's daughter, Sharon, and son, David, who linked arms with their mother as they walked on the field.
Robinson became the first black player in Major League Baseball with the Brooklyn Dodgers on April 15, 1947. Scully began calling the team's games three years later, and the now-retired Hall of Fame announcer was friendly off the field with the man he called "Jack." …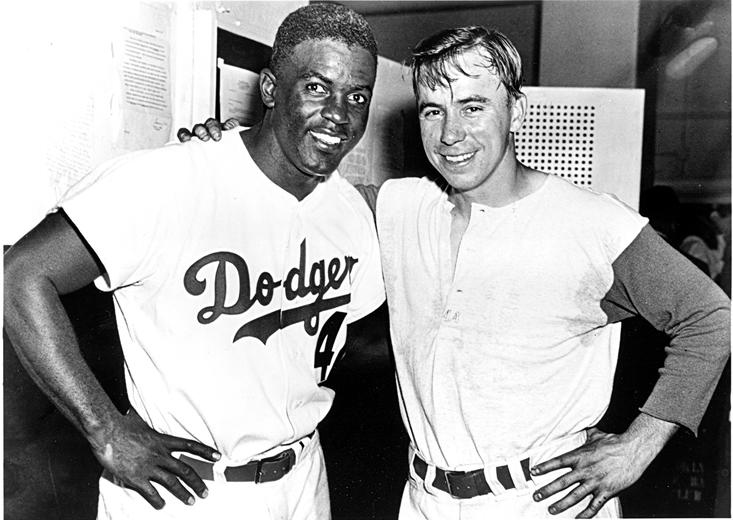 Robinson, who died at age 53 in 1972, would have turned 100 on Jan. 31, 2019.
His No. 42 was worn by every major leaguer Monday. The number was retired around the league in 1997.
The Dodger Stadium pregame ceremony included 42 current and former Jackie Robinson Foundation scholars. Students from Cleveland Elementary, Washington Middle School and John Muir High – all attended by Robinson while growing up in nearby Pasadena – were on hand.
Robinson's No. 42 was cut into the center field grass.
The Robinson siblings each tossed out first pitches. David's was a strike to Roberts, while Sharon's bounced on its way to catcher Russell Martin. …
The Dodgers hosted an invitation-only 100th birthday celebration in the Stadium Club featuring a sneak preview of the Jackie Robinson Museum, set to open in December in New York City. ….
Missing from this year's L.A. ceremonies was Don Newcombe, the third black pitcher in the major leagues when he was with the Brooklyn and later Los Angeles Dodgers. He and Robinson were among the first four black players named to an All-Star team. Newcombe died in February at age 92.
As CBS Sports' Kevin Skyver and Matt Snyder noted, many big leaguers took to social media to pay tribute to — and thank Robinson. … Others shared their thoughts on Robinson:
"For me, it's a big opportunity and responsibility that I hold very dear to my heart," Dodgers manager Dave Roberts said. "To put this uniform on today and wear that number today, 42, it's always special."
Colorado Rockies manager Bud Black recalled reading about Robinson as a youngster.
"To this day, I still read about him," Black said in San Diego. "What a pioneer. What a great example of a human being and what he meant to our country, and in the bigger picture, what he meant for all of us culturally, not only in baseball, but in society."
In Minnesota, Toronto Blue Jays manager Charlie Montoyo started his pregame media session at 3:42 p.m. CDT in honor of Robinson. "That's probably one of the people in baseball I wish I would've met," he said.
Chicago White Sox shortstop Tim Anderson hosted more than 75 kids for a screening of the Robinson biopic "42."
"It's tough to watch it," Anderson said. "But it's brave on his part, for him to be that guy to go through that and just be a leader and basically break the barrier. A guy that I look up to and a guy that motivates me."
The Seattle Mariners visited the Negro Leagues Baseball Museum in Kansas City on a recent road trip.
"It takes a special person, a special man to go about it, to take as much backlash as he did and still did that in a professional manner," Mariners infielder Tim Beckham said. "It speaks a lot about Jackie Robinson."
Major league players made a $100,000 grant to the Jackie Robinson Foundation in honor of his 100th birthday. It helps fund the college scholarship program run by the foundation, which was founded by Rachel Robinson.
From an Associated Press report at CBSNews .com on April 17, 2019. Reprinted here for educational purposes only. May not be reproduced on other websites without permission from CBS News.
Questions
1. The first paragraph of a news article should answer the questions who, what, where and when. List the who, what, where and when of this news item. (NOTE: The remainder of a news article provides details on the why and/or how.
2. a) Who was Jackie Robinson?
b) How good a player was he?
3. How does MLB commemorate Jackie Robinson Day?
4. How did the Dodgers commemorate Jackie Robinson Day in 2019 on what would have been his 100th birthday?
5. Today's Daily News Article is a human interest news story. Human interest stories differ from the regular news – they are sometimes referred to as "the story behind the story." The major news articles of the day tell of important happenings. Human interest stories tell of how those happenings have impacted the people or places around the story.
Why do you think this human interest story is newsworthy?
6. Read the "Background" below and check out some of the links and the video under "Resources." What inspires you most about Jackie Robinson?
CHALLENGE: Who was Branch Rickey? What part did he play in Jackie Robinson's debut on the Dodgers?
OPTIONAL:
Background
Jackie Robinson broke the color barrier when he became the first black athlete to play Major League Baseball in the 20th century. He joined the Brooklyn Dodgers in 1947 and was named Rookie of the Year that year, National League MVP in 1949 and a World Series champ in 1955. from biography .com)
On April 15, 1947, Jackie Robinson broke Baseball's color barrier when he made his historic MLB debut. Every year on April 15, Baseball honors Jackie's legacy by celebrating his life, values and accomplishments. The extensive and unified League-wide show of support has included retiring Jackie's number throughout the Majors in 1997; dedicating April 15 as Jackie Robinson Day each year since 2004; and requesting that every player and all on-field personnel wear his No. 42 during games scheduled on Jackie Robinson Day since 2009. (from MLB .com)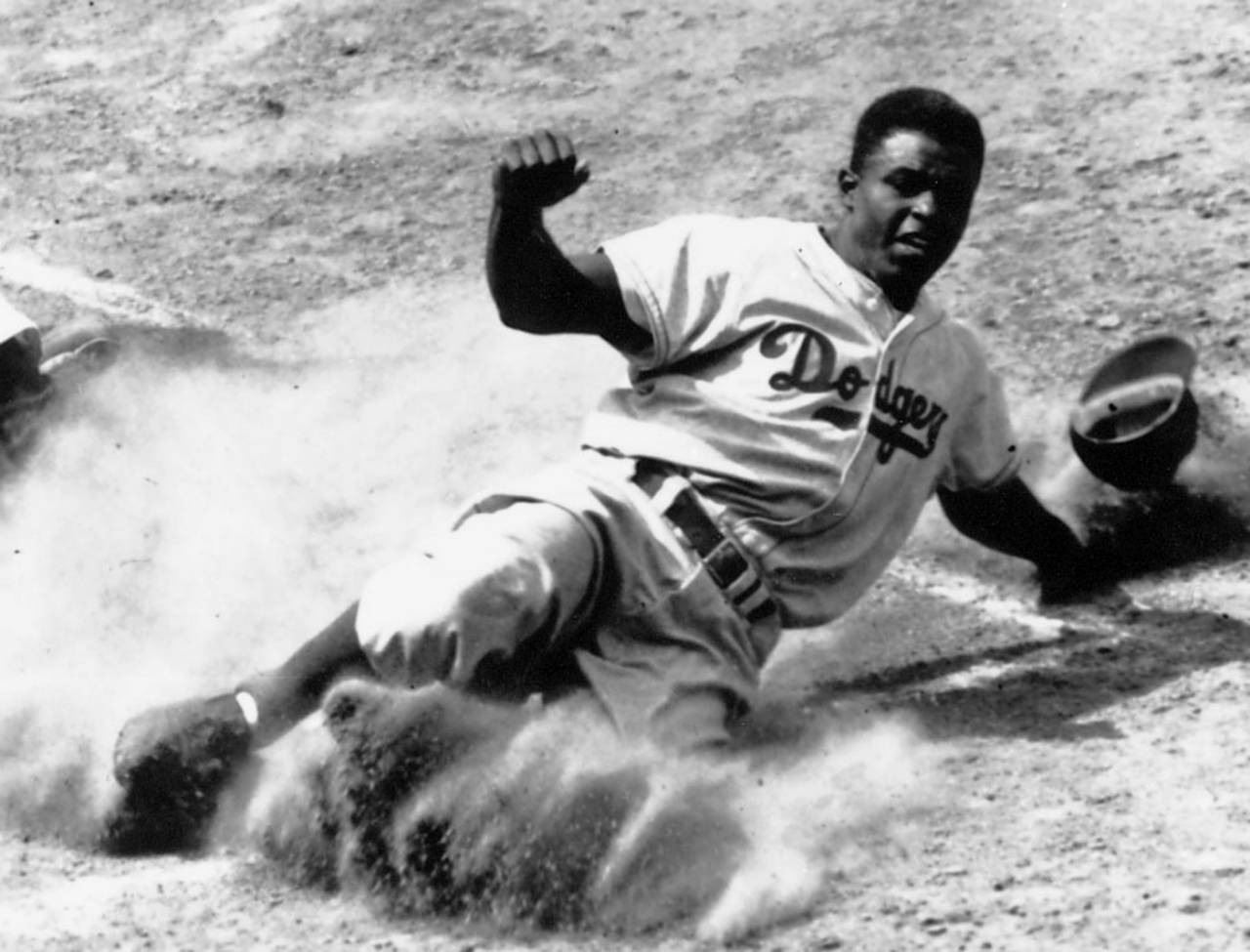 ---
Jack Roosevelt "Jackie" Robinson (January 31, 1919 – October 24, 1972) was an American baseball player who became the first African American to play in Major League Baseball (MLB) in the modern era. Robinson broke the baseball color line when the Brooklyn Dodgers started him at first base on April 15, 1947. As the first major league team to play a black man since the 1880s, the Dodgers ended racial segregation that had relegated black players to the Negro leagues for six decades. The example of Robinson's character and unquestionable talent challenged the traditional basis of segregation, which then marked many other aspects of American life, and contributed significantly to the Civil Rights Movement.

In addition to his cultural impact, Robinson had an exceptional baseball career. Over ten seasons, all but the first of which he played at second base, Robinson played in six World Series and contributed to the Dodgers' 1955 World Championship. He was selected for six consecutive All-Star Games, from 1949 to 1954, was the recipient of the inaugural MLB Rookie of the Year Award in 1947, and won the National League Most Valuable Player Award in 1949 – the first black player so honored. Robinson was inducted into the Baseball Hall of Fame in 1962. In 1997, Major League Baseball "universally" retired his uniform number, 42, across all major league teams; he was the first pro athlete in any sport to be so honored. Initiated for the first time on April 15, 2004, Major League Baseball has adopted a new annual tradition, "Jackie Robinson Day," on which every player on every team wears #42. (from wikipedia)
Resources
Watch a Baseball Hall of Fame tribute to Jackie Robinson:
---
Read more about Jackie Robinson at:
Daily "Answers" emails are provided for Daily News Articles, Tuesday's World Events and Friday's News Quiz.