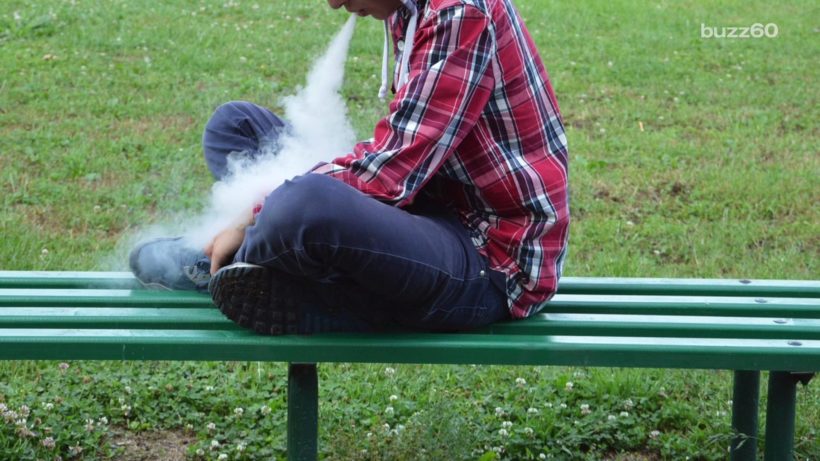 redo Jump to...
print Print...
(by Charlie Youngmann | Capital News Service at NBC News12) ANNAPOLIS, Maryland — What do cigarettes, Juul pods, rolling papers and nicotine-free vape juice all have in common? Starting Oct. 1 they will all be considered "tobacco products" in Maryland, and you will have to be at least 21 to buy them.
House bill 1169 and its corresponding Senate bill 895 will raise the smoking age in Maryland to 21 as well as reclassify all vape products and accessories as tobacco products regardless of their nicotine concentration.
Vendors will still be able to sell tobacco products to active duty service members who are at least 18 with military IDs.
Vapes have become a serious issue in schools, where their popularity has shot up in recent years. Usage of vapes by high school students nearly doubled last year, increasing from 11 percent in 2017 to almost 21 percent in 2018, according to the United States Surgeon General.
While vapes are popular among adults trying to quit smoking, they still present the risk of nicotine addiction. Though studies of their long-term effects are lacking, vapes have been deemed dangerous for children by the Centers for Disease Control and Prevention in Atlanta.
Under this bill, selling tobacco products without a license could result in fines up to $1,000 and/or 30 days imprisonment. Licensed retailers who sell to people younger than 21 could face a $300 fine for their first offense, $1,000 for the second offense within two years of the first and $3,000 for a third offense within two years of the second. …
The bill also authorizes the Maryland Department of Health to use people younger than 21 to conduct unannounced inspections of tobacco product retailers. Devin Farmer, a store supervisor at VAPE180 in Annapolis, Maryland, said he's experienced similar sting operations working at gas stations, but never at his vape shop.
Farmer said this practice could potentially work, "Maybe kind of as a scare tactic, maybe a once here and there kind of thing. I wouldn't make it a normal, everyday kind of occurrence," he said. …
In 11 other states including Virginia, as well as the District of Columbia, the age to purchase tobacco has been raised to 21, according to tobaccofreekids. Delaware and Pennsylvania are among other states considering this change.  …..
Julia Cen Chen-Sankey is a postdoctoral fellow with the National Institutes of Health. While researching her doctoral dissertation at the University of Maryland, Chen-Sankey said that she found sweet vape flavors can act as a gateway into other tobacco products for young users.
High school students make up the largest group of vape users in the United States, with sweet flavors like fruits and desserts being the most popular with young users, Chen-Sankey explained.
While this bill will likely reduce the number of vaping high school students, Chen-Sankey said, restrictions on sweet flavors and marketing could further aid in preventing underage usage.
Chen-Sankey explained that even in products labeled nicotine-free, some traces of the chemical may still be present, or the packaging could be mislabeled. She said that the broad tobacco product classifications put in place by this bill would ensure that consumers are aware of the health risks of vaping, regardless of what they are purchasing.
A pair of failed bills this session—House bill 1185 and Senate bill 708—would have restricted vape packaging to exclude cartoons, teen mascots and other imagery deemed appealing to children.
"I'd like to see (the vapor industry) keep growing as it has. There's honestly not a place in Maryland you can go without seeing a vape shop nowadays. They're everywhere," Farmer said.
Capital News Service is a program of Virginia Commonwealth University's Robertson School of Media and Culture. Students in the program provide state government coverage for a variety of media outlets in Virginia.
Published at NBC News12 from Capital News Service on April 18. Reprinted here for educational purposes only. May not be reproduced on other websites without permission.
Questions
1. What will Maryland's House bill 1169 and Senate bill 895 do?
2. Who will be exempt from this law?
3. What percent of high school students vape? (How did this number change from 2017 to 2018?)
4. What penalties do stores face for selling tobacco products without a license or for selling to those under 21?
5. a) What does the law authorize the Maryland Health Department to do?
b) Do you think this is a good idea? Explain your answer.
6. How many states currently have similar laws, or are considering it?
7. Also from the article:
"Annapolis resident and former vape store worker Ben Sloskey said he thinks this bill would not only be detrimental to the vapor industry, but also relatively ineffective at preventing teen vaping. When he worked as a vape retailer, Sloskey said, most of his customers were primarily 18-22 and new to nicotine, or former smokers well into their 30's. Recalling how easy it was for him to find cigarettes as a teenager, Sloskey said high school students will either go out-of-state or simply pay adults to purchase vape products for them."
What do you think: will the law have have a positive effect in reducing the number of teens vaping, or is Ben Sloskey correct? Explain your answer.
Daily "Answers" emails are provided for Daily News Articles, Tuesday's World Events and Friday's News Quiz.