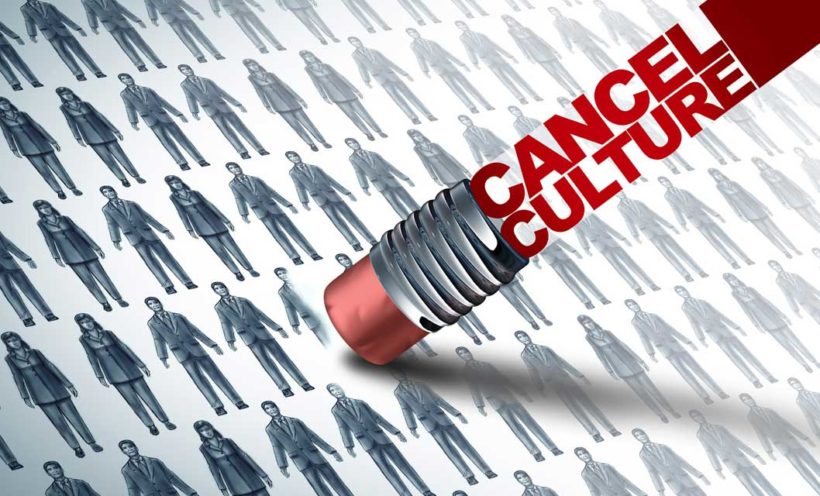 redo Jump to...
print Print...
Cancel culture is defined as a modern form of ostracism in which someone is thrust out of social or professional circles – either online on social media, in the real world, or both [for expressing opinions that are condemned by progressives]. Those who are subject to this ostracism are said to be "canceled."  (wikipedia)  – Generally those who have been cancelled are banished from the public square.  Harry Potter author JK Rowling was 'canceled' for expressing her opinion because it did not line up with progressive thinking.
---
(by Julia Manchester, The Hill) – A majority of Americans say they believe cancel culture is a threat to their freedom, according to a new Harvard CAPS-Harris poll released exclusively to The Hill on Monday.
Sixty-four percent of respondents said they thought cancel culture posed a threat to freedom in the U.S., while 36 percent said it was not a threat.
The term, which has been defined as a [a modern form of ostracism], has been frequently used in political discourse over the past year. Conservatives, in particular, have taken to using it widely. The theme of this year's Conservative Political Action Conference was "America Uncanceled."
The poll found that more Republicans than Democrats consider cancel culture a threat. Eighty percent of Republicans said cancel culture was a threat, while 20 percent said it was not. But among Democrats, 48 percent still label cancel culture a threat and 52 percent do not.
Many who use the term have pointed to decisions to review and take down historical statues or landmarks of historical figures. Conservatives have also used the term to describe big tech's role in quieting [banning/censoring/silencing/cancelling] some people [conservatives] on social media for not following their company's rules [by expressing ideas with which the progressive companies' employees disagree, such as saying the election was "stolen" or discussing covid numbers…].
Former President Trump was famously banned permanently from Twitter earlier this year, leading critics to question whether the social media giant should have the authority to do this.
"Americans are showing increased and substantial concern about the growth of cancel culture," said Mark Penn, the director of the Harvard CAPS-Harris Poll survey.

"Tech companies beware that the public sees them as acting out of bias tilted towards the Democrats – and voters are calling for new regulations to ensure fairness and openness. Amazon, in particular, still has a strong image compared to Facebook and Twitter, but that image may start to erode if they expand the banning of books on their platform."
Amazon recently pulled the book "When Harry Became Sally: Responding to the Transgender Moment" by Ryan T. Anderson from sale on its site.
The Harvard CAPS-Harris poll of 2,006 registered voters was conducted from Feb. 23 to 25. It is a collaboration of the Center for American Political Studies at Harvard University and The Harris Poll.
Full poll results will be posted online later this week. The survey is an online sample drawn from the Harris Panel and weighted to reflect known demographics. As a representative online sample, it does not report a probability confidence interval.
Published at thehill .com. Reprinted here for educational purposes only. May not be reproduced on other websites without permission from The Hill.
Questions
1. The first paragraph of a news article should answer the questions who, what, where and when. List the who, what, where and when of this news item. (NOTE: The remainder of a news article provides details on the why and/or how.)
2. Define the term cancel culture.
3. What percent of overall respondents to a Harvard poll released this week believe cancel culture is a threat to their freedom?
4. What percent of Republicans / Democrats see cancel culture as a threat to their freedom?
5. What response did Mark Penn, the director of the Harvard CAPS-Harris Poll survey have to the poll results?
6. President Trump, and anyone who agreed with him that election fraud existed in the 2020 presidential election have been temporarily and/or permanently banned from the public square (Twitter, Youtube, Facebook, Instagram…) -So too have individuals who questioned covid numbers, and/or the effectiveness of lockdowns and masks.
a) How does cancel culture stifle Americans' ability to exercise their Constitutional right to free speech?
b) What harm does/will cancel culture bring to our society? To the individual expressing his/her opinion? To the Constitutional right to free speech? Explain your answer.
c) Ask a parent the same questions.
Daily "Answers" emails are provided for Daily News Articles, Tuesday's World Events and Friday's News Quiz.