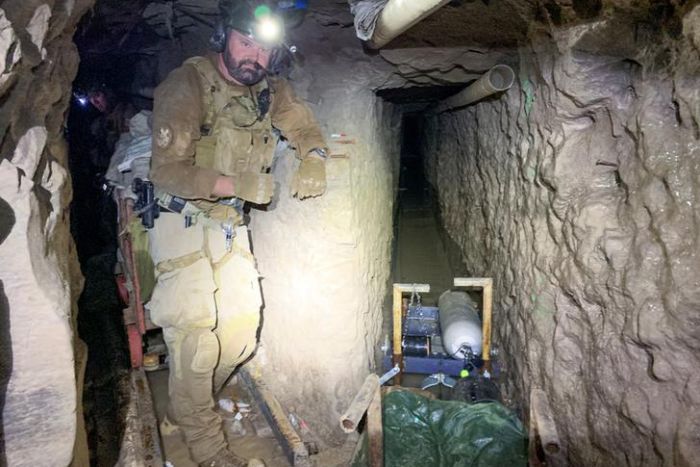 redo Jump to...
print Print...
(by Kenneth Garger, New York Post) — The longest known Southwest drug-smuggling tunnel into the United States has been discovered at the Mexican border, officials announced Wednesday.
The intricate underground pathway is more than three-quarters of a mile long and features a rail system and an elevator, according to US Customs and Border Protection.
One tunnel entrance is in an industrial area in Tijuana, Mexico, and stretches more than 4,300 feet into a San Diego neighborhood, CBP said.
"The sophistication and length of this particular tunnel demonstrates the time-consuming efforts transnational criminal organizations will undertake to facilitate cross-border smuggling," said Cardell Morant, acting special agent in charge of the Homeland Security Investigations division of Immigration and Customs Enforcement in San Diego.
The passageway, discovered by authorities in August, is about 5½ feet high and 2 feet wide and is an average 70 feet below ground.
In addition to an extensive rail-cart system and an elevator at one tunnel entrance, the passageway is outfitted with a ventilation system, high-voltage power cables and a complex drainage system, CBP said.
Following the tunnel's discovery, authorities located one entrance about a half-mile west of the Otay Mesa port of entry in San Diego.
That entrance was concealed by a small industrial building.
From there, the feds' San Diego Tunnel Task Force began mapping the pathway's route.
The task force is an inter­agency group comprising agents from Border Patrol, Homeland Security, the Drug Enforcement Administration and the local US Attorney's Office.
The tunnel's US entrance was found covered by several hundred sandbags.
A city block before the San Diego end — at the 3,529-foot mark — the task force found a tunnel branch off the main passageway that extended several feet before coming to an end without reaching the surface.
Sources said that branch may have been abandoned during the original construction.
No arrests or drug seizures have been made in relation to the tunnel discovery, officials said Wednesday.
But Border Patrol Deputy San Diego Sector Chief Agent Aaron Heitke said, "I am confident that our hard work and dedication to uphold the law will lead to future arrests and seizures."
The tunnel dwarfs the second-longest such passageway discovered in the United States, also found in San Diego, in 2014, and measuring 2,966 feet.
"As efforts to strengthen security on our Southern Border increase, Mexican drug cartels are forced underground to smuggle their deadly drugs into the United States," said DEA Special Agent in Charge John Callery.
He added, "The sophistication of this tunnel demonstrates the determination and monetary re­sources of the cartels."
(Read the CBP report at cbp.gov.)
Published at NYPost .com on Jan. 29, 2020. Reprinted here for educational purposes only. May not be reproduced on other websites without permission from the New York Post.
Questions
1. The first paragraph of a news article should answer the questions who, what, where and when. (In this article, 1st and 2nd paragraphs). List the who, what, where and when of this news item. (NOTE: The remainder of a news article provides details on the why and/or how.)
2. List the dimensions of the tunnel.
3. Describe the tunnel.
4. What is the San Diego Tunnel Task Force?
5. How does DEA Special Agent in Charge John Callery view the drug tunnel?
6. In its news report on CBP's announcement about the discovery of this tunnel, the Associated Press wrote:
"The tunnel exposes limitations of President Donald Trump's border wall, which stretches several feet underground in the area and is considered effective against small, crudely built tunnels often called "gopher holes." The one announced Wednesday was found about 70 feet underground, well below the wall."
The Trump administration has already taken multi-layered approach to border security. In addition to the wall, Acting Homeland Security Secretary Kevin McAleenan told Congress in Oct. 2019, "Every mile of border barrier comes with technology — it comes with fiber-optic sensors, it comes with cameras, lighting. It's not just a dumb wall." McAleenan said technology is essential to handling constant security threats at the border. He said having additional ground sensors, aircraft and other types of technology would improve efforts to monitor areas beyond existing physical walls.
a) What do you think: is a wall / border barrier unnecessary because it alone cannot stop every tactic used by drug cartels? Explain your answer.
b) The tunnel was found, so it was not being used anymore. Read about what Israel is doing to stop terrorist tunnels being dug into Israel at "Israel to install sensors to detect tunnels from Lebanon" (These tunnels go down about 82 feet and can be detected by their sensors.) If we don't yet, should the U.S. invest in such sensors? Explain your answer.
Resources
Watch a Jan. 30 ABC News report:
Daily "Answers" emails are provided for Daily News Articles, Tuesday's World Events and Friday's News Quiz.