redo Jump to...
print Print...
(by Deirdre Tynan, The Wall Street Journal, WSJ.com) BISHKEK, Kyrgyzstan – Protesters stormed government buildings and ransacked official media television stations in this strategically important Central Asian nation Wednesday, as demonstrations spread throughout the country against an increasingly repressive regime that hosts a major U.S. air base.

At least 17 people were killed and more than 180 injured, many of them when a crowd of several thousand protesters tried to overwhelm the presidential palace, which police defended with gunfire, eyewitnesses said. State-run television stations were off the air in the capital.
Kyrgyzstan's prime minister declared a state of emergency in response to the protests, while the president, Kurmanbek Bakiyev, has remained mostly out of sight. Mr. Bakiyev's interior minister was beaten to death in a provincial city, according to a local news report, and another top official was taken hostage.
Discontent has been rising with Mr. Bakiyev, who himself was ushered in to power by massive street protests in 2005, but who has gradually clamped down on opposition and appointed friends and family members to top government posts.
But Mr. Bakiyev has also alienated one-time foreign allies by trying to play Russia and the west off one another as they jockey for power in Central Asia. Russia, whose television stations still hold considerable sway in this former Soviet republic, has lately beamed in programming deeply critical of Mr. Bakiyev and his family, which it has accused of corruption.
The catalyst for the latest antigovernment demonstrations was an increase in utility rates that took effect on Jan. 1, coupled with allegations of corrupt privatizations and misuse of development funds. Protesters appeared to become more enraged when the government tried to quell disturbances by arresting organizers.
Demonstrations began Tuesday in two provincial cities where protesters stormed a police headquarters and took a regional governor hostage. Emboldened by their success, crowds gathered in the capital of Bishkek on Wednesday near the [government headquarters, known as the] White House.
Police tried to disperse the crowd with tear gas and rubber bullets, but protesters disarmed some of the police and seized their vehicle carriers. At one point, the protesters tried to ram their way through White House gates with a commandeered armored personnel carrier.
At least two people were killed at the White House after being shot through the head by snipers, eyewitnesses said.
Outside of the capital, protests appeared to be gathering steam. In Tokmok, a city about 60 kilometers from Bishkek, a crowd of several thousand protesters seized the city hall, local reports said.
In the provincial city of Naryn, government opponents captured two of Mr. Bakiyev's top aides -Interior Minister Moldomusa Kongantiev and Vice Prime Minister Akylbek Japarov. Protesters beat Mr. Kongantiev severely and threatened to throw him out the window of a government building if he didn't resign. Later Wednesday, Kyrgyzstan's AKI news agency reported that Mr. Kongantiev had died of his injuries.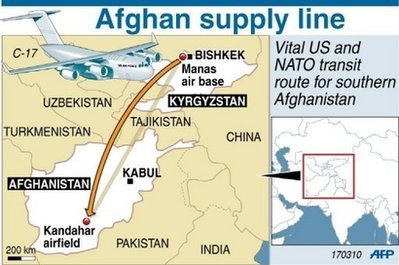 The timing of the unrest comes at an awkward time for the U.S., which has mainly bridled its criticism of the Kyrgyz government as it hosts a major military base that ferries troops and supplies into Afghanistan.
A major sore point among the opposition in Kyrgyzstan has been the rising prominence of Mr. Bakiyev's son, Maksim, who the president has lately been grooming as his heir apparent. The younger Mr. Bakiyev, 32 years old, has been appointed head of Krygyzstan's agency for economic development, and was due to arrive in the U.S. Thursday to attend the Kyrgyz Opportunities Forum in Washington, D.C.-an event hosted by the Kyrgyz-North America Trade Council and the U.S. Department of Commerce.
But closer ties to the U.S. have angered the Kremlin. Last year Russia announced a $2.15 billion aid package for Kyrgyzstan, in a deal where Mr. Bakiyev in return promised to close the U.S. air base. Instead, Mr. Bakiyev renegotiated the lease on the air base and allowed the U.S. to stay after renaming it as a transit center.
Russian-language press unleashed a flurry of criticism toward Mr. Bakiyev after it was revealed in early March that the U.S. plans to build a training center for Kyrgyz Special Forces at a cost of $5.5 million in the southern province of Batken. Mr. Bakiyev has long warned that Islamist terrorists from the country's southern regions could destabilize the government and feed a regional insurgency.
The new training center has been denounced by the Russian press as more American expansion in Moscow's traditional sphere of influence.
On April 1, Russia also imposed a new customs tariff on petroleum products exported to Kyrgyzstan. Analysts predict a 30% rise in the cost of petrol in Kyrgyzstan and knock-on price increases across the economy.
The Kyrgyz government has dangled before the Kremlin a possible Russian base near Batken. The facility will be built under the auspices of Collective Security Treaty Organization and also operate as a "training center." However, negotiations appear to have stalled despite assertions from both Moscow and Bishkek that talks are ongoing.
-The Associated Press contributed to this article.
Copyright 2010 Dow Jones & Company, Inc. All Rights Reserved. Reprinted here for educational purposes only. Visit the website at wsj.com.
Questions
1. a) List the countries that border Kyrgyzstan.
b) What is the capital of Kyrgyzstan?
c) Who is the president of Kyrgyzstan?
d) What is the population of Kyrgyzstan?
2. How many people have been killed and injured since protests began Tuesday in Kyrgyzstan?
3. What actions have protesters taken so far?
4. What actions by their president caused citizens to begin protesting? Be specific.
5. Why is the U.S. refraining from too much criticism of the Bakiyev government?
6. Why is the Russian government angry with the Bakiyev government?
Background
More on Kyrgyzstan (from wsj.com)
Capital: Bishkek
Population: 5.4 million
Gross Domestic Product in 2008: $4 billion
Main Exports: Cotton, tobacco, gold, mercury, uranium and natural gas
History: Achieved independence with collapse of Soviet Union in 1991. Both Russia and the U.S. have been courting Kyrgyzstan as an ally in a struggle for influence in the region. Since he came to power in 2005, President Bakiyev has turned Kyrgyzstan into an authoritarian state with a system of political controls starkly similar to Russia's
Relations with U.S.: Immediately after Sept. 11, 2001 attacks, U.S. set up military base in Kyrgyzstan to support war in Afghanistan. But in February 2009, at the same press conference that announced the gift of $2.1 billion in Russian aid to the Kyrgyz, President Bakiyev also announced the closure of the U.S. air base. He later backtracked, offering U.S . continued use of the base, but at three times original rent.
Sources: World Bank, CIA World Factbook, WSJ research
BACKGROUND ON KYRGYZSTAN: (from the CIA World FactBook)
A Central Asian country of incredible natural beauty and proud nomadic traditions, most of Kyrgyzstan was formally annexed to Russia in 1876.
The Kyrgyz staged a major revolt against the Tsarist Empire in 1916 in which almost one-sixth of the Kyrgyz population was killed.
Kyrgyzstan became a Soviet republic in 1936 and achieved independence in 1991 when the USSR dissolved.
Nationwide demonstrations in the spring of 2005 resulted in the ouster of President Askar Akaev, who had run the country since 1990.
Subsequent presidential elections in July 2005 were won overwhelmingly by former prime minister Kurmanbek Bakiev.
The political opposition organized demonstrations in Bishkek in April, May, and November 2006 resulting in the adoption of a new constitution that transferred some of the president's powers to parliament and the government.
In December 2006, the Kyrgyzstani parliament voted to adopt new amendments, restoring some of the presidential powers lost in the November 2006 constitutional change.
By late-September 2007, both previous versions of the constitution were declared illegal, and the country reverted to the Akaev-era 2003 constitution, which was subsequently modified in a flawed referendum initiated by Bakiev.
The president then dissolved parliament, called for early elections, and gained control of the new parliament through his newly-created political party, Ak Jol, in December 2007 elections.
In July 2009, after months of harassment against his opponents and media critics, Bakiev won re-election in a presidential campaign that the international community deemed flawed.
Just a few months later in October, Bakiev engineered changes in the government structure that further consolidated his already considerable hold on power.
Current concerns include:
-privatization of state-owned enterprises
-negative trends in democracy and political freedoms
-endemic corruption
-improving interethnic relations
-electricity generation
-combating terrorism.
Daily "Answers" emails are provided for Daily News Articles, Tuesday's World Events and Friday's News Quiz.