redo Jump to...
print Print...
Note: This article is from the British newspaper The Daily Telegraph.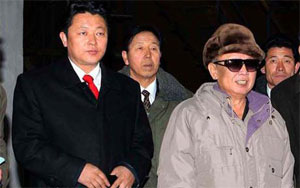 (by Peter Foster in Beijing, Telegraph.co.uk) – North Korea's ailing dictator Kim Jong-il appointed his youngest son a four-star general on Tuesday, giving his country the first official hint that he will be their next leader. (PHOTO: North Korean leader Kim Jong-il (right) with his third son Kim Jong-un. Photo: EPA)
Hours after Kim Jong-un, 28, was given his first known official position in North Korea's 1.2 million-strong army, his name was mentioned for the first time in public by the country's state media, in a move analysts described as highly significant.
The apparent confirmation that Kim Jong-un is now actively being groomed to succeed his ailing 68-year-old father came as hundreds of delegates travelled to the capital Pyongyang to attend the largest meeting of the ruling Workers Party [in] 30 years.
"As expected, the dynastic transition is becoming public. So far, they are following the pattern we saw in the 1970s when Kim Jong-il himself was moving to become the new Dear Leader. The difference is that this time they seem to be in a great hurry," said Andrei Lankov of Seoul's Kookmin University.
"It took almost a decade of 'unofficial' propaganda before Kim Jong-il's name was first mentioned in an open media, and for his son the process took less than two years. It seems that Kim Jong-il and his entourage are not certain how long the current Dear Leader will stay with us." The state television announcer, after saying that Kim Jong-il had been reappointed as general-secretary of the Workers' Party, added that a "crucial" development was under way, but gave no further details.
After the bestowal of his new military rank, Kim Jong-un is expected to be appointed to a number of key party positions as the conference progresses, including the central committee of the ruling politburo. [Politburo is defined as the principal policy-making and executive committee of a Communist party.]
Kim's sister Kim Kyong-hui, who was also appointed a four star general and has been increasingly seen at her brother's side on military inspections and field visits, is also expected to receive promotions in what analysts described as a "belt and [suspenders]" approach to keeping power in North Korea firmly within the Kim family.
Remarkably little is known about Kim Jong-un, who spent several years being educated in Switzerland, where his classmates have recalled a young man with a quick temper and a passion for America's National Basketball Association.
His introduction to the North Korean public has been hasty by North Korean standards, a reflection, say analysts, of concerns that Kim Jong-il's health is now failing fast. The "Dear Leader" suffered a stroke in 2008 and is also rumoured to have pancreatic cancer.
Before his first official mention on state media, Kim Jong-un has been the subject of a two-year propaganda campaign, with patriotic songs and poems promoting his virtues, according to leaked South Korean intelligence.
Other reports say that Kim junior had already been hailed as the "Young General" and "Our Commander," with soldiers and workers pledging allegiance to the son on his birthday in January.
Regional powers, including China, Japan, Russia and the U.S., are watching developments in Pyongyang closely, anxious for a stable transition of power at a time when tensions on the Korean peninsula have been at their highest level for a decade following the sinking of a South Korean warship [by North Korea] last March.
Analysts say the true test of the succession plans will come after Kim Jong-il's death when Kim's close aide Jang Song-taek is expected to play regent to the young Kim.
"There could be some strife within the ruling elite but a military coup or any other major upheaval is hardly likely because the elite think they and the Kims are in the same boat," said Moo-Jin of Seoul's University of North Korean Studies.
"Such conflicts might become latent or rise to the surface depending on how well Kim Jong-un's guardians back him up."
Information appearing on telegraph.co.uk is the copyright of Telegraph Media Group Limited and must not be reproduced in any medium without licence. Reprinted here for educational purposes only. May not be reproduced on other websites without permission from the Telegraph. Visit the website at telegraph.co.uk.
Questions
1. a) Who is the leader of North Korea?
b) What is the capital of North Korea?
c) What is the population of North Korea?
2. Kim Jong-il succeeded his father Kim il-Sung as dictator of North Korea. How is the transition of power to Kim Jong-il's son Kim Jong-un different from that of his father?
3. Kim Jong-un's name was mentioned for the first time in public by North Korea's state media (there is no free press in North Korea; citizens do not have internet access or cell phones either).
a) What announcement did the state media make about Kim Jong-un this week?
b) Before being introduced in the state media, what was the government doing to familiarize people with Kim Jong-il?
4. The ruling (communist) Workers Party is meeting this week in Pyongyang for the largest gathering in 30 years. What announcements regarding Kim Jong-un are expected to be made during the meeting?
5. Why are the U.S., China, Japan and Russia closely watching developments in Pyongyang?
6. Read the "Background" below. How would you describe the people's relationship with Kim Jong-il and the ruling party of North Korea?
Background
KIM JONG-IL (AND HIS FATHER KIM IL SUNG) – from guardian.co.uk/world/2010/sep/26/north-korea-new-leader-kim:
The [Kim] family's personality cult is apparent everywhere. The viewing conditions at the mausoleum of the country's founder, Kim Il-sung, are so strict that shoes are cleaned with mechanised brushes and blowers remove dust from visitors' clothes before they can step into the room to view his embalmed body.
Everybody over 13 wears a Kim Il-sung lapel pin and secondary school pupils spend a sixth of their lessons studying the thoughts of their leaders.
They are taught to believe that their country stands out among nations, and that life is better there than anywhere else. "We envy nothing in the world," children sing in a propaganda film.
Yet the country is an international pariah that spends vast sums on its military, even though the people have suffered from hunger and poverty.
ON THE NORTH KOREAN GOVERNMENT: (from the CIA World FactBook)
An independent kingdom for much of its long history, Korea was occupied by Japan in 1905 following the Russo-Japanese War. Five years later, Japan formally annexed the entire peninsula. Following World War II, Korea was split with the northern half coming under Soviet-sponsored Communist domination.
After failing in the Korean War (1950-53) to conquer the US-backed South Korea (Republic of Korea – ROK) by force, North Korea (DPRK), under its founder President Kim Il Sung, adopted a policy of ostensible diplomatic and economic "self-reliance" as a check against excessive Soviet or Communist Chinese influence.
North Korea demonized the US as the ultimate threat to its social system through state-funded propaganda, and molded political, economic, and military policies around the core ideological objective of eventual unification of Korea under Pyongyang's control.
Kim's son, the current ruler [dictator] Kim Jong Il, was officially designated as his father's successor in 1980, assuming a growing political and managerial role until the elder Kim's death in 1994.
After decades of economic mismanagement and resource misallocation, North Korea since the mid-1990s has relied heavily on international aid to feed its population while continuing to expend resources to maintain an army of approximately 1 million. [Aid agencies estimate that a famine from 1995-1997 killed 2 million to 3 million North Koreans. Foreign food aid was given to North Korea, but the government distributed the majority of it to the military and party leaders.]
North Korea's history of regional military provocations, proliferation of military-related items, and long-range missile development – as well as its nuclear, chemical, and biological weapons programs and massive conventional armed forces – are of major concern to the international community. [Kim Jong-il is an oppressive dictator who makes his people call him "Dear Leader"]
Daily "Answers" emails are provided for Daily News Articles, Tuesday's World Events and Friday's News Quiz.