redo Jump to...
print Print...
Note: This article is from the British newspaper The Daily Telegraph.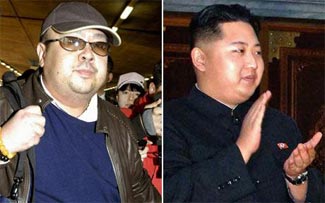 (by Peter Foster, Telegraph.co.uk) BEIJING – The eldest son of Kim Jong-il who was passed over in favour of his younger brother in the race to succeed his father as leader of North Korea, has said that he opposes the idea of a dynastic succession in the secretive Stalinist state. [PHOTO: Kim Jong-Il's sons Kim Jong-Nam (left) and the younger brother, Kim Jong-un Photo: AFP/GETTY IMAGES]
Kim Jong-nam, 39, who lives in the gambling hub of Macao and was once said to be too "wayward" for the leadership, said he did not approve of the hereditary principle that saw his 27-year-old half-brother Kim Jong-un being groomed as the North's next leader last month.
"Personally I am opposed to the hereditary transfer to a third generation of the family," Jong-nam told Japan's Asahi TV Network in an interview conducted in Beijing on Saturday.
He was speaking before Kim Jong-un made his first major public appearance as leader-in-waiting, standing next to his ailing father while reviewing a massive military parade in Pyongyang on Sunday.
Although disapproving of the hereditary principle, Jong-nam, the son of an actress who died in 2002, said he would continue to support his brother from afar, hinting that he had no plans to return home after his brother took power.
"As a matter of course, I think it was my father who made the decision. As I have had no interest in the matter, I don't care at all," he said.
He added that he also hope that his brother could improve living standards in North Korea which remains desperately poor as a result of crippling economic sanctions and a Soviet-style command-economy.
"I hope my younger brother will do his best to make the lives of the North Korean people affluent. For my part, I am prepared to help my younger brother whenever necessary while I stay abroad." After two years of speculation, the issue of who would succeed Kim Jong-il appeared to have been resolved this month in favour of Kim Jong-un who was promoted to four-star general and given a host of senior political appointments at a key meeting of the North Korea's Workers' Party.
During the mid-1990s the Swiss-educated Kim Jong-nam was often presumed to be the likely successor to the Dear Leader after also being made a general and head of foreign counter-intelligence in the secret police.
However he fell from grace in 2001 after being caught trying to enter Japan on a false Dominican Republic passport, reportedly to visit Tokyo Disneyland with his young son, an act or irresponsibility that is said to have enraged Kim Jong-il.
Since then Jong-nam has lived a relatively quiet domestic life in Macao with his wife and two children, aged 14 and 10, living on a reported $500,000 (£313,000) annual allowance that allows him to maintain a second property in Beijing and make visits to Bangkok and Moscow.
Information appearing on telegraph.co.uk is the copyright of Telegraph Media Group Limited and must not be reproduced in any medium without licence. Reprinted here for educational purposes only. May not be reproduced on other websites without permission from the Telegraph. Visit the website at telegraph.co.uk.
Questions
NOTE TO STUDENTS: For a better understanding of the situation in North Korea, read the information under "Background" below the questions, and skim through the articles linked to under "Resources."
1. Who is Kim Jong-nam?
2. What did Kim Jong-nam say about his brother's apparent appointment as successor to their father?
3. What support has Jong-nam offered to Jong-un?
4. What does Jong-nam hope his brother will do for the people of North Korea?
5. Why wasn't Jong-nam chosen to replace his father?
Background
ON THE NORTH KOREAN GOVERNMENT: (from the CIA World FactBook)
An independent kingdom for much of its long history, Korea was occupied by Japan in 1905 following the Russo-Japanese War. Five years later, Japan formally annexed the entire peninsula. Following World War II, Korea was split with the northern half coming under Soviet-sponsored Communist domination.
After failing in the Korean War (1950-53) to conquer the U.S.-backed South Korea (Republic of Korea – ROK) by force, North Korea (DPRK), under its founder President Kim Il Sung, adopted a policy of ostensible diplomatic and economic "self-reliance" as a check against excessive Soviet or Communist Chinese influence.
North Korea demonized the U.S. as the ultimate threat to its social system through state-funded propaganda, and molded political, economic, and military policies around the core ideological objective of eventual unification of Korea under Pyongyang's control.
Kim's son, the current ruler [dictator] Kim Jong Il, was officially designated as his father's successor in 1980, assuming a growing political and managerial role until the elder Kim's death in 1994.
After decades of economic mismanagement and resource misallocation, North Korea since the mid-1990s has relied heavily on international aid to feed its population while continuing to expend resources to maintain an army of approximately 1 million. [Aid agencies estimate that a famine from 1995-1997 killed 2 million to 3 million North Koreans. Foreign food aid was given to North Korea, but the government distributed the majority of it to the military and party leaders.]
North Korea's history of regional military provocations, proliferation of military-related items, and long-range missile development – as well as its nuclear, chemical, and biological weapons programs and massive conventional armed forces – are of major concern to the international community. [Kim Jong-il is an oppressive dictator who makes his people call him "Dear Leader"]
KIM JONG-IL'S FAMILY: (from yahoonews.com)
Kim Jong Il is known to have three sons – one from his second wife and two from his third. He favors his youngest, Jong Un [believed to be 26], who looks and is said to act like his father, according to the leader's former sushi chef. He studied at a Swiss school and learned to speak English, German and French, news reports have said.
In contrast, Kim often derided the middle son, Jong Chul, as "girlish," the chef, who goes by the pen name Kenji Fujimoto, said in a 2003 memoir. Little is publicly known about this brother, except that he also studied in Switzerland and is a fan of U.S. professional basketball.
Jong Nam [39 years old] is widely believed to have fallen out of favor after embarrassing the government in 2001 by being caught trying to enter Japan on a fake passport, saying he wanted to visit Tokyo Disneyland.
Experts said Jong Nam will most likely continue living abroad, with fewer reasons than ever to return to Pyongyang.
"In the future Kim Jong Nam will have little influence on the political situation in North Korea. It's very unlikely he will go back. His force within the country is now almost nonexistent," said Cai Jian, deputy director of the Center for Korean Studies in Shanghai's Fudan University.
Daily "Answers" emails are provided for Daily News Articles, Tuesday's World Events and Friday's News Quiz.