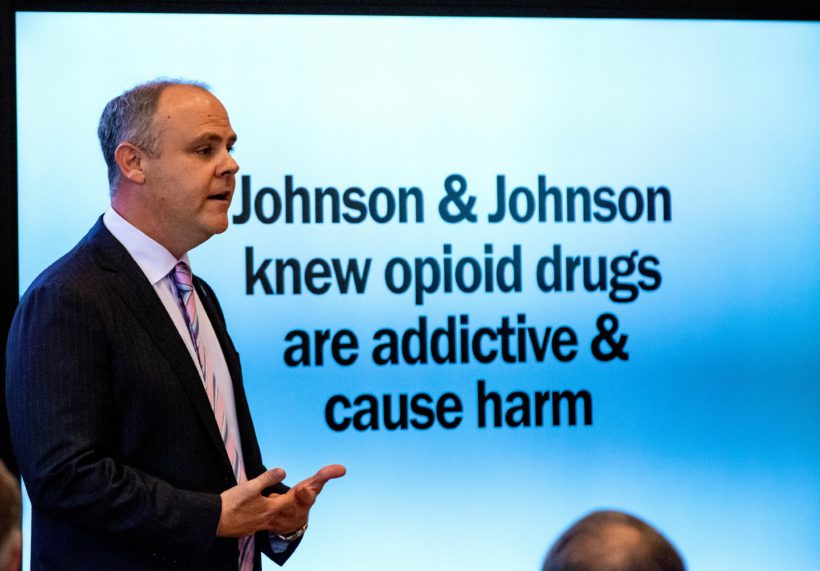 (by Jef Feeley, Bloomberg News) – Johnson & Johnson, Cardinal Health Inc. and other makers and distributors of opioid painkillers must face lawsuits claiming they banded together to wrongfully push sales of the addictive pills, a judge ruled as the first federal trial over the medicines looms next month.
U.S. District Judge Dan Polster ruled Tuesday that juries must decide whether to hold companies like pharmacy chain Walgreens liable for undertaking "coordinated efforts" to commit "unlawful acts" in the marketing, delivering and selling of opioids.
The ruling clears the way for J&J, Cardinal Health, Walgreens and other companies to face a federal court jury in Cleveland Oct. 21 on claims — by more than 2,000 U.S. cities and counties – they fueled an opioid crisis that kills more than 100 Americans daily.
The companies were seeking to throw out the municipalities' civil-conspiracy claims and other allegations, but the judge refused. Based on the cities' and counties evidence, "the court cannot conclude that no reasonable jury could find" opioid makers such as J&J and Teva Pharmaceutical Industries Ltd "entered into a conspiratorial agreement or malicious combination," Polster wrote in a 10-page decision. …
Local governments in hard-hit states including Ohio, West Virginia and Kentucky have accused opioid makers, distributors and pharmacy chains of understating the risks of prescription opioids, overstating their benefits, failing to halt suspiciously large shipments, and ignoring red-flags about repeated retail sales.
The municipalities, along with nearly all the states, are seeking to hold the companies liable for billions of dollars spent dealing with the societal fallout from opioid addictions and overdoses. Some analysts say a final global settlement could cost pharma companies more than $150 billion.
J&J officials said they responsibly marketed their opioid-based painkillers and had less than 1% of the U.S. market for such medicines. "Preparations continue for" the upcoming Cleveland trial, Sabrina Strong, one of the company's lawyers, said in an emailed statement.
In his ruling, Polster said cities and counties found evidence that J&J's Janssen unit, Teva and Purdue Pharma LP set up a joint campaign in 2003 to coordinate efforts to market opioid painkillers and "exploit a decade of pain."
That year, the companies "started a collaborative marketing strategy" that relied on paid speakers and front groups to drum up prescriptions for opioid painkillers, Polster said, summarizing the claims.
Local governments also have uncovered evidence that distributors such as Cardinal Health worked with pharmacy chains to insure the flow of opioid painkillers remained uninterrupted by regulators' actions.
"Between 2012 and 2016, Cardinal and Walgreens agreed to manipulate the timing and delivery of opioid orders," Polster wrote in his review of the evidence. Cardinal officials also "provided advance notice to Walgreens of due diligence site visits, in order to avoid reporting suspicious orders to the DEA," he said.
A Walgreens spokesman didn't have an immediate comment on Polster's ruling.
Cardinal denied the allegations in an emailed statement.
"Wholesale distributors such as Cardinal Health do not drive demand for prescription opioids," the company said. "At no time did we conspire with anyone to violate the Controlled Substances Act."
But Polster wrote that when Walgreens executives learned in 2013 that the U.S. Drug Enforcement Administration might shutter one of its Ohio distribution centers, they started working with officials at Mallinckrodt Plc, another opioid distributor, "to reroute Walgreens's opioid supply through other distributors" to keep pharmacy shelves stocked.
"A reasonable jury could review the record evidence and find that distributor defendants shared a general conspiratorial objective, with themselves and with other defendants, to expand the opioid market and disregard regulatory obligations in order to achieve that goal," the judge wrote.
Purdue has offered to resolve all its opioid litigation for more than $11 billion.
The case is In Re National Prescription Opioid Litigation, 17-md-2804, U.S. District Court, Northern District of Ohio (Cleveland).
Published at Bloomberg .com on September 3, 2019. Reprinted here for educational purposes only. May not be reproduced on other websites without permission from Bloomberg News.
Questions
1. Match the following words from the article with their definitions:
a) liable                                  e) malicious
b) claims                                f) collaborative
c) allegations                        g) manipulate
d) conspiracy                        h) distributor
_____ to influence or control someone or something to your advantage, often without anyone knowing it
_____ an assertion of fact that one intends to prove at trial
_____ intending to cause harm
_____ legally responsible for something
_____ a person or business who gives out or sells goods or services to customers or other businesses
_____ a secret plan by a group to do something unlawful or harmful
_____ involving two or more people/groups working together for a special purpose
_____ a legal assertion; a legal demand
2. The first paragraph of a news article should answer the questions who, what, where and when. (In this article, 1st and 2nd paragraphs). List the who, what, where and when of this news item. (NOTE: The remainder of a news article provides details on the why and/or how.)
3. How many cities/counties have brought the suit against the makers (pharmaceutical companies) and distributors (pharmacies) of opioids?
4. What accusations have these local governments made against the companies? Be specific.
5. What damages are the city/county governments seeking?
6. How have the companies responded to the accusations against them?
7. Consider the evidence submitted against the companies cited by the judge in his decision. Consider Purdue's offer. What do you think? Should the local governments settle? Explain your answer.
CHALLENGE:  On what grounds did the judge deny the companies' request to throw out the lawsuit? What evidence did he note in his ruling? Be specific.
Resources
On August 26, 2019 a judge found Johnson & Johnson responsible for fueling Oklahoma's opioid crisis, ordering the health-care company to pay $572 million:
Daily "Answers" emails are provided for Daily News Articles, Tuesday's World Events and Friday's News Quiz.