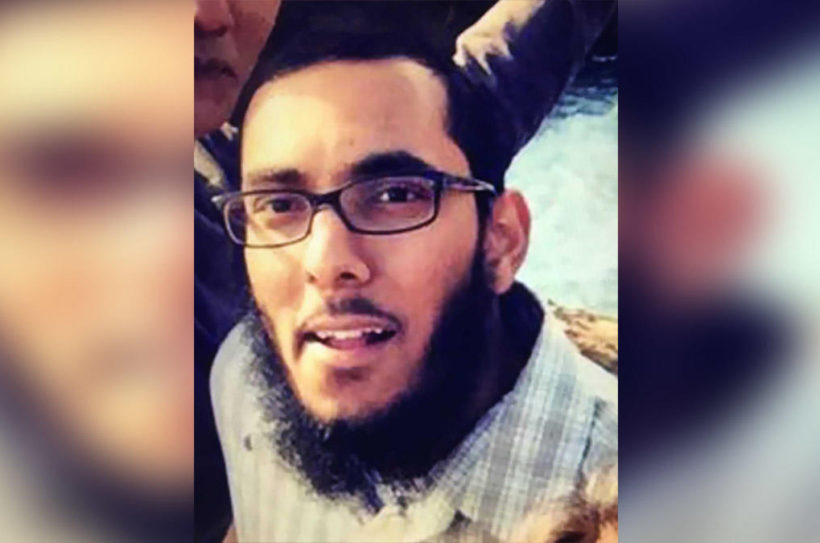 (by Sarah N. Lynch, Reuters) WASHINGTON – [Police arrested an ISIS-inspired terrorist in Maryland who had stolen a U-Haul truck that he was going to use to mow down pedestrians in a tourist area outside Washington, DC, prosecutors said in court papers Monday.
Rondell Henry, 28, of Germantown, Md., was busted on March 28 at the National Harbor just outside Washington, DC, where he had gone to carry out an attack on pedestrians — but delayed his plan and parked his vehicle when he failed to find a large crowd to target.]
The U.S. Attorney's Office for the District of Maryland said it charged Henry with interstate commerce transportation of a stolen vehicle. It said the government has since petitioned a federal court to detain Henry pending trial after learning more about his motives.
…In its criminal complaint, the government said that on March 26, the Alexandria Police Department in Virginia received a report about a leased U-Haul truck that was stolen from a nearby mall.
The driver who rented the truck initially reported seeing a man in a blue BMW follow him off Interstate 395 and park in a space near the U-Haul at the mall. When police arrived at the mall, they found the BMW still parked there and discovered it was registered to Henry.
A day later, the stolen U-Haul was found in National Harbor, a bustling development along the Potomac in Maryland across from Alexandria, Virginia, that features bars and restaurants, shops, a Ferris wheel, a luxury hotel and residential apartments.
Video surveillance showed Henry parking and getting out of the truck. He was arrested the next day.
Prosecutors say that Henry said he has harbored "hatred" for those who do not practice the Muslim faith and was allegedly inspired by videos he watched of Islamic State and other terrorists.
Specifically, they said he was inspired by the 2016 terrorist attack in Nice, France, in which a man drove a truck at high speed into crowds, killing 86 people, and for which Islamic State claimed responsibility.
Henry "walked off his job in Germantown, Maryland, in the middle of the day, determined to walk down the extremist path," the government alleged in court papers.
"Recognizing that his older four-door sedan would not cause the catastrophic damage that he desired, the defendant drove around the Washington, D.C., metropolitan area looking for a larger vehicle to steal."
According to a posting on the Montgomery County Police Department, Henry was reported missing and was last seen by his co-workers on March 26.

The Justice Department said that before setting his sights on National Harbor, Henry wanted to try driving the truck into pedestrians at Dulles International Airport in Virginia.

He arrived at the airport around 5 a.m. on March 27, but the airport "lacked the large number of unloading pedestrians the defendant hoped to find," the court filing says. He also tried to find a way through security at the airport, but struck out multiple times.

Henry then made his way to National Harbor, arriving around 10 a.m. that same day. He later told police he wanted to create "panic and chaos," just like "what happened in France," prosecutors said.

Henry still did not find a large crowd, however, so he decided to wait. He broke into a boat and hid there overnight, the government said.

The next day, police had tracked down the stolen truck and were there waiting. After Henry jumped over a security fence, the government said, he was arrested.

[On his phone, which prosecutors say he discarded on a highway in an apparent attempt to conceal evidence, authorities found images of the ISIS flag, armed ISIS fighters and the man who carried out the massacre in an Orlando, Fla., nightclub three years ago.

Acquaintances of Henry expressed surprise at the allegations.

Osman Alaalla, 61, came to pray Monday evening at a 5 p.m. service at the Islamic Society of Germantown. He said Henry typically led that service. Alaalla described Henry as a quiet, nice man but said he didn't know anything about his personal life. He said he would come to pray and leave.

"He's very peaceful," he said.]

Published at Reuters .com. Reprinted here for educational purposes only. May not be reproduced on other websites without permission from Thomson Reuters.
Questions
1. The first paragraph of a news article should answer the questions who, what, where and when. List the who, what, where and when of this news item. (NOTE: The remainder of a news article provides details on the why and/or how.
2. What was Rondell Henry's motive for his planned attack?
3. Why did Henry steal a U-Haul truck?
4. What was Henry's first target? Why didn't he carry out that attack?
5. What was his second target? Why did he wait before beginning that attack?
6. What did Rondell Henry tell police his goal was for the attack?
7. Henry made no threats online. He gave no indication that he was planning a terrorist attack. How did police catch him? Be specific.
8. a) What did a fellow Islamic Society attendee say about him?
b) This terrorist was inspired by watching terrorist attacks and propaganda online. Google, Youtube, Facebook, Twitter, Instagram… have the money (billions) and the technology to combat this but have not done so.
What do you think social media (and Google) should do about terrorist writings and videos on their sites?
Do you think they are doing a good enough job to police their sites?
What more should they do – or is this an unsolvable problem?
Explain your answers.
Daily "Answers" emails are provided for Daily News Articles, Tuesday's World Events and Friday's News Quiz.