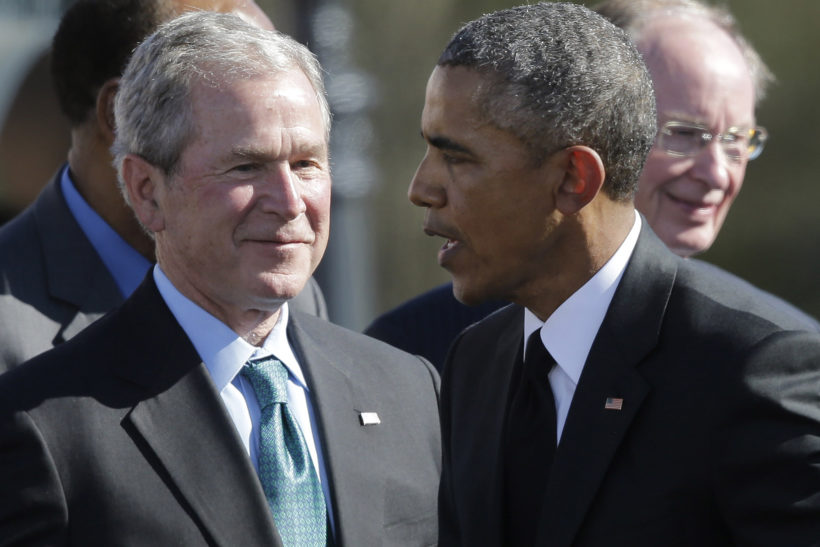 redo Jump to...
print Print...
Documents obtained by the Washington Post show that former officials told government interviewers that both commanders-in-chief failed to develop strategies for a clear victory — even though the leaders of al Qaeda and the Taliban had been killed, captured or forced into hiding within six months of the US invasion.
"If there was ever a notion of mission creep, it is Afghanistan," Richard Boucher, the State Department's former top diplomat for South Asia, admitted in 2015.

"We have to say good enough is good enough. That is why we are there 15 years later. We are trying to achieve the unachievable instead of achieving the achievable."
James Dobbins, who served as a special envoy to Afghanistan under both presidents, said Bush's decision to leave troops there while also planning to invade Iraq was a crucial — and obvious — blunder.
"First, you know, sort of just invade only one country at a time. I mean that seriously," Dobbins said in 2016.

"They take a lot of high-level time and attention and we'll overload the system if we do more than one of these at a time."
Obama's plan to defeat the Taliban with a massive counterinsurgency campaign, and his promise to bring home all American troops by the end of his presidency, were also inevitably doomed to fail, the documents reveal.
"There were a number of faulty assumptions in the strategy: Afghanistan is ready for democracy overnight, the population will support the government in a short time frame, more of everything is better," retired Army Col. Bob Crowley, who served as a counterinsurgency adviser under Obama, said in 2016.
The devastating critiques are contained in more than 2,000 pages of records that the Washington Post obtained by filing suit against the Office of the Special Inspector General for Afghanistan Reconstruction (SIGAR).
The auditing agency, created by Congress in 2008, spent $11 million on a project called "Lessons Learned" that involved having staffers interview more than 600 people with firsthand knowledge of the war in an attempt to prevent the US from repeating the mistakes made in Afghanistan.
Published at NYPost .com. Reprinted here for educational purposes only. May not be reproduced on other websites without permission from the New York Post.
Questions
1. The first paragraph of a news article should answer the questions who, what, where and when. List the who, what, where and when of this news item. (NOTE: The remainder of a news article provides details on the why and/or how.)
2. What did the documents obtained by The Washington Post reveal former officials told government interviewers about Bush and Obama?
3. What did special envoy under Bush and Obama criticize President Bush for doing?
4. What strategy and what promise made by President Obama were "inevitably doomed to fail" as revealed in the documents?
b) What faulty assumptions was the strategy made up of, according to Col Bob Crowley?
5. What do you think of the leadership of Presidents Bush and Obama in allowing the deception on Afghanistan to continue for almost 20 years?
6. a) By whom and when was the "Office of the Special Inspector General for Afghanistan Reconstruction" established?
b) How many people with firsthand knowledge of the war were interviewed?
7. This is not encouraging. No one will be held accountable for this mess. But now, going forward, the Trump administration has been working to negotiate a peace deal with the Taliban militants.
Then-presidential candidate Trump called for a complete withdrawal from Afghanistan, noting we had been there far too many years without winning.
President Obama had vowed to remove all troops from Afghanistan while he was in office. Various politicians agreed or disagreed with them.
Ask a parent: what do you think? What is the best strategy now? Is it best to negotiate a truce and completely leave Afghanistan? Please explain your answer.
Background
The United States went into Afghanistan in 2001 and ousted its Taliban leaders after they refused to hand over members of the al Qaeda terrorist group behind the Sept. 11 attack on the World Trade Center and the Pentagon.
About 2,400 U.S. service members have been killed in the Afghan conflict and many thousands more wounded.
Military commanders throughout the war publicly talked about their hopes that the conflict in Afghanistan was turning a corner, even as the Taliban held on to large parts of the country and killed U.S. and Afghan forces – without having any air combat capability.
The Washington Post reported on Monday that Pentagon officials privately told a watchdog agency for years about their deep concerns about the U.S. war strategy in Afghanistan, including senior officials who were publicly more hopeful.
Through a Freedom of Information Act (FOIA) and two federal lawsuits, The Washington Post obtained thousands of documents from the Special Inspector General for Afghanistan Reconstruction (SIGAR), the government's watchdog on the war, which interviewed more than 600 people.
The disclosure comes as U.S. President Donald Trump and the Pentagon look to draw down the number of forces in Afghanistan to focus more on battling al Qaeda and Islamic State, as the administration aims for a peace deal with the Taliban. (from a Dec. 9 Reuters report by Idrees Ali and Phil Stewart)
According to CNN, The Washington Post's report shows that throughout the Bush and Obama administrations, "top government officials misled the American public about the war in Afghanistan in order to conceal doubts about the liklihood that the US could be successful" in Afghanistan.
CNN also reports: "The Post said the interviews 'bring into sharp relief the core failings of the war that persist to this day' as 'U.S. officials acknowledged that their warfighting strategies were fatally flawed and that Washington wasted enormous sums of money trying to remake Afghanistan into a modern nation.' and that 'Several of those interviewed described explicit and sustained efforts by the U.S. government to deliberately mislead the public. "They said it was common at military headquarters in Kabul — and at the White House — to distort statistics to make it appear the United States was winning the war when that was not the case."
CNN also noted:
Michael Flynn, the retired three-star Army general and Trump supporter who briefly served as President Donald Trump's national security adviser, also provided candid thoughts on the war effort to interviewers, questioning in 2015 why officials were touting it as successful, according to the Post.  "From the ambassadors down to the low level, [they all say] we are doing a great job," Flynn told interviewers, the Post said. "Really? So if we are doing such a great job, why does it feel like we are losing?
Resources
John F. Sopko, Special Inspector General for Afghanistan Reconstruction wrote in one of the "Lessons Learned" reports on Afghanistan (from May 2018) at sigar.mil:
Our analysis reveals the U.S. government greatly overestimated its ability to build and reform government institutions in Afghanistan as part of its stabilization strategy. We found the stabilization strategy and the programs used to achieve it were not properly tailored to the Afghan context, and successes in stabilizing Afghan districts rarely lasted longer than the physical presence of coalition troops and civilians. As a result, by the time all prioritized districts had transitioned from coalition to Afghan control in 2014, the services and protection provided by Afghan forces and civil servants often could not compete with a resurgent Taliban as it lled the void in newly vacated territory.
Daily "Answers" emails are provided for Daily News Articles, Tuesday's World Events and Friday's News Quiz.