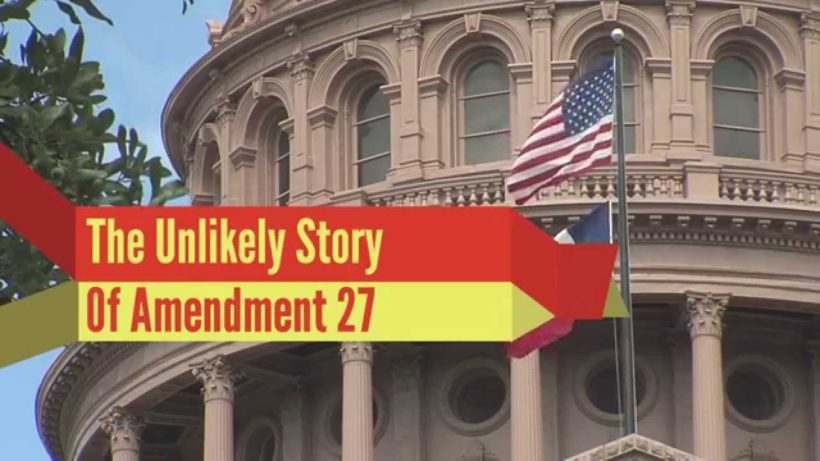 redo Jump to...
print Print...
(by Scott Bomboy from The Constitution Center at YahooNews) – The 27th Amendment is the most recent amendment to the Constitution, and its existence today can be traced to a college student who proposed the idea in a term paper and was given a C by his professor for the idea.

[Thursday, May 7 marked] the 23rd anniversary of the amendment's ratification in 1992, and it seems likely we won't see a 28th amendment for some time.

"No law, varying the compensation for the services of the Senators and Representatives, shall take effect, until an election of Representatives shall have intervened," the amendment reads, as approved in 1992. In short, the amendment states that a sitting Congress can't give itself a raise (or cut its pay) during its current session. Any pay raise or hike would take effect for the Congress that follows a sitting Congress.

It's not a new idea. Founding Father James Madison first proposed back in 1789 along with other amendments that became the Bill of Rights, but it took 203 years for it to become the law of the land.

In 1982, a college undergraduate student, Gregory Watson, discovered that the proposed amendment could still be ratified and started a grassroots campaign. Watson was also an aide to Texas state senator Ric Williamson.

Shortly after the amendment was ratified a decade later, New York Law School professor Richard B. Bernstein traced the journey from 1789 to 1992 in a Fordham Law Review article.

Bernstein called Watson the "step-father" of the 27th Amendment. Watson was a sophomore at the University of Texas-Austin in 1982 and he needed a topic for a government course. Watson researched the 27th Amendment and found that six [of the then 15] states had ratified it by 1792, and then there was little activity about it.

Watson concluded that the amendment could still be ratified, because Congress had never stipulated a time limit for states to consider it for ratification. Watson's professor gave him a C for the paper, calling the whole idea a "dead letter" issue and saying it would never become part of the Constitution.

"The professor gave me a C on the paper. When I protested she said I had not convinced her the amendment was still pending," Watson told USA Today back in 1992.

Undeterred, Watson started a self-financed campaign to get the amendment ratified. He wrote letters to state officials, and the amendment was ratified in Maine in 1983 and Colorado in 1984. The story appeared in a magazine called State Legislatures, and an official from Wyoming, reading the magazine, confirmed his state had ratified the amendment, too, six years earlier.  …..

In 1992, two states raced to be the 38th state to sign off on the 27th Amendment, making it a law. Alabama beat New Jersey to the punch on May 7, 1992, but New Jersey quickly voted for ratification, too.

The ratification, said Bernstein, caught Congress by surprise, with some key leaders questioning the legality of the ratification approach. However, the Archivist of the United States certified the amendment as ratified under Article V of the Constitution, and published it in the federal register. And Congress voiced its support of the amendment in a near unanimous vote.

Since then, the 27th Amendment has gotten very little publicity, except for the occasional news story about Watson's personal quest to get it passed, until last year. …

From The National Constitution Center's "Constitution Daily." Published at YahooNews .com. Reprinted here for educational purposes only. May not be reproduced on other websites without permission from The National Constitution Center.
Questions
PLEASE NOTE:  Daily posting and "Answers" emails will end for the school year on Friday, May 29th.
1. a) What is the most recent constitutional amendment passed?
b) Write out the text of the amendment.
2. a) When was this amendment first proposed?
b) Who proposed it?
3. a) When was the amendment ratified?
b) Who was responsible for getting the proposed amendment ratified?
4. Explain Mr. Watson's role in getting this amendment ratified.
5. What do you think about Mr. Watson's professor's reaction to his term paper?
6. How does Mr. Watson's story inspire you?
Background
From a 2002 article on Gregory Watson by John Dean at the FindLaw website (a Thomson Reuters business):
A Remarkable Effort By A Single Citizen

Remarkably, and singlehandedly, Greg Watson had amended the Constitution. Today, he is forty years of age, and a man who works three jobs, and seven days a week. In short, he is not a man of great means. Yet he spent his own money to mail countless papers to legislatures throughout the country, and to pay the long distance phone bill so he could give assistance. Watson says he also did all of his own research, running his campaign at nights and on weekends, using his own time.

Why? Based on my conversation with Watson, he strikes me as a concerned citizen – actually, a kind of super-citizen. He is modest and self-effacing – not someone seeking his fifteen minutes of fame. Rather, he is a person who sincerely believed this amendment, if ratified, would improve the Constitution in just the manner the First Congress had sought.

"The American people want a Congress that is honest, that has integrity. This Amendment is one vehicle by which some degree of decorum can be restored," Watson was quoted as saying in May 1992.

Had she ever said anything about the lousy grade she gave him? He laughed, and said that a reporter had tracked her down, and told her Watson had gotten the Constitution amended. She was quite embarrassed, and called to apologize for giving him only a "C."
---
On the 27th Amendment from National Constitution Center:
WHAT IT DOES:  The 27th Amendment makes sure that members of Congress can't vote for their own pay raises (or pay cuts)–any change in compensation won't take effect until the next election.
WHY IT WAS ADDED
The 27th Amendment, which is the most recent addition to the Constitution, was actually among the amendments that James Madison proposed in 1789. Ten of those amendments were approved and became known as the Bill of Rights, but this one languished for another 203 years, making it the longest ratification process in U.S. history.
So what revived Madison's original vision? In 1982, Gregory Watson, a 20-year-old college student at the University of Texas, Austin, wrote a paper on Madison's unratified proposal. He launched a letter-writing campaign and within a decade, in large part thanks to his efforts, what would have been the Second Amendment was passed as the 27th Amendment.
Daily "Answers" emails are provided for Daily News Articles, Tuesday's World Events and Friday's News Quiz.