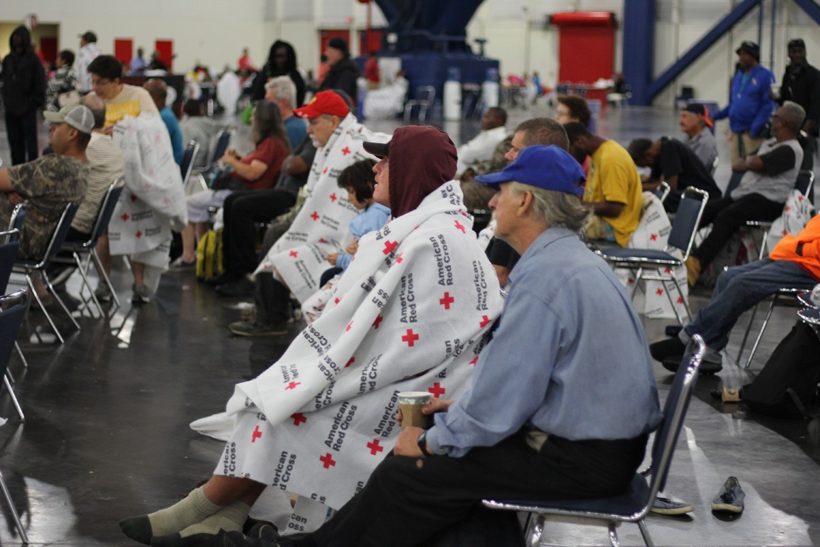 redo Jump to...
print Print...
(by Meagan Flynn, Houston Press) – Houston City Councilman Dave Martin had some harsh words for the American Red Cross at a council meeting on Wednesday (Sept. 6) and urged Houstonians to give their money and supplies to other organizations.
Repeatedly calling the Red Cross the "Red Loss," Martin said it has been local government that has done all of the heavy lifting at the shelters and that has provided most of the resources — "yet every time I turn on the TV, I see [the Red Cross] taking in millions of dollars in donations," Martin said. He said the Red Cross was the "most inept, unorganized organization I've ever experienced."
"Don't waste your time, don't waste your money [donating to the Red Cross]," he said. "Give it to another cause."
The Texas Gulf Coast Red Cross chapter did not immediately return a request for comment about the resources it has specifically devoted to Houston-area shelters.
Other council members clarified later that the city strongly supported the thousands of individual Red Cross volunteers across the region working at the shelters and elsewhere.
In recent years, the criticism lobbed at the Red Cross has mostly been reserved instead for the upper administration and how it has used millions in donations to actually help victims of natural disasters.
The criticism mounted most pointedly in 2015, after NPR and ProPublica released a series of damning reports targeting how the Red Cross responded to the hurricane that devastated Haiti in 2010. In their joint investigation, "In Search of the Red Cross' $500 Million in Haiti Relief," the news outlets found that despite claiming it had provided homes to more than 130,000 people, the Red Cross had built just six homes. (The Red Cross told the outlets that it had completed more than 100 projects in Haiti and repaired 4,000 homes, but refused to provide a list of the projects and the costs.)
NPR and ProPublica found that much of the $488 million in donations was handed off to third-party organizations, which then did the actual boots-on-the-ground work — but not before the Red Cross reserved some of the money for its own administrative fees. A subsequent report commissioned by U.S. Senator Chuck Grassley (R-Iowa) found that (25%) one quarter of the $488 million went to the nonprofit's internal expenses.
Just a week ago, NPR pressed American Red Cross executive Brad Kieserman about what percentage of the money people donate for Hurricane Harvey relief will actually end up helping the flood victims — but he did not know. [He said, "I don't think I know the answer to that any better than the chief fundraiser knows how many, how much it costs to put a volunteer downrange for a week and how many emergency response vehicles I have on the road today. So I think if he was on this interview and you were asking how many relief vehicles in Texas, I don't think he'd know the answer and I don't know the answer to the financial question I'm afraid."] …..
From HoustonPress .com. Reprinted here for educational purposes only. May not be reproduced on other websites without permission from Houston Press.
Questions
1. a) Who is Dave Martin?
b) What criticism did Mr. Martin make about the American Red Cross?
2. What recommendation did Mr. Martin make for people who want to donate to Hurricane Harvey relief?
3. How did the local Red Cross chapter respond to Mr. Martin's accusations/recommendation?
4. What clarification did other city council members make about Red Cross volunteers?
5. Who/what area of the Red Cross has much of the criticism been targeted at in recent years?
6. What did NPR and ProPublica discover when investigating the Red Cross in 2015? Be specific.
7. a) How did American Red Cross executive Brad Kieserman answer NPR's question about what percentage of the money people donate for Hurricane Harvey relief will actually end up helping the flood victims?
b) What do you think of this response?
8. Watch the video under "Resources" below. Read the caption under the photo at the top of the article.
Do you think Councilman Dave Martin's criticism/observation of the Red Cross is fair? Explain your answer.
OPTIONAL:  Research other ways to give including:
Background
Read/listen to the NPR/ProPublica reports on the Red Cross at npr.org.
NPR added a note to its Aug. 30 report on the Red Cross: Editor's note on Sept. 1: Some listeners and readers have asked why NPR pressed Red Cross operations and logistics executive Brad Kieserman about how much of the money his organization receives will actually be spent on helping those affected by Hurricane Harvey. NPR's questions were follow-ups to several years of reporting by NPR and ProPublica about shortcomings in the organization's disaster relief operations and misleading claims about its finances. NPR has asked several times in recent years to speak with Red Cross President and CEO Gail J. McGovern. Those requests have been turned down. Prior to this latest interview, NPR asked again. The organization said McGovern was unavailable, but did make Kieserman available.
The San Diego Union Tribune reported on Aug. 31:
Past reports by NPR and ProPublica over how much of the agency's money goes to actual disaster relief. Here's what some of those investigations have uncovered:
26 cents of every dollar donated go to overhead costs, not 9 cents as the agency claims (ProPublica)
The Red Cross raised half a billion dollars only to build six homes after the 2010 earthquake in Haiti (ProPublica)
The agency took emergency vehicles away from relief work to be used as backdrops for press conferences during Superstorm Sandy in 2012 (ProPublica)
---
From a report by Vox on September 6, 2017:
…Journalist Jonathan Katz … who was the Associated Press's bureau chief in Haiti during the 2010 earthquake (and later wrote a book about it), argued that the Red Cross "has proven itself unequal to the task of massive disaster relief."
The problem, as Katz sees it, is that the Red Cross is a dysfunctional organization that excels at raising money but has shown little evidence of its ability to spend that money wisely or meaningfully. The Red Cross takes in close to 3 billion annually, refuses to open its books to the public, and, according to Katz, has consistently failed to produce a useful breakdown of its spending after major disaster efforts.
They're also limited in terms of what they can do on the ground. The Red Cross isn't a development organization — they don't rebuild schools or hospitals or infrastructure. They provide short-term relief — cots for people to sleep on, blankets to keep them warm, hygiene kits, etc. This kind of work is important, Katz says, but it doesn't justify the enormous sums of money the Red Cross solicits from the public.
…
What the Red Cross does well is position very short-term relief in certain kinds of situations. They're better at it in a very small-scale disaster, where basic logistical networks aren't being affected. So if there's a single house fire or something like that, they can be effective. But in terms of broader disaster relief, they really don't do much apart from raising money.
So in Haiti, for example, where I worked, this was a big issue. The Red Cross raised tons of money but had no idea what to do with it, or how to make it work for the people who needed it. They raised something like half a billion dollars and they had no way to spend it. They did not have half a billion dollars' worth of things to do. So in a situation like that, especially in an overseas disaster, all of that was a complete waste. Almost all of that money could have been better spent somewhere else.
Resources
On Wednesday, September 6, Houston Councilman Dave Martin commended San Antonio for help after Hurricane Harvey. He also urged people not to donate to the Red Cross. In fact, Mr. Martin said he "beg(s) you not to send them a penny."
Daily "Answers" emails are provided for Daily News Articles, Tuesday's World Events and Friday's News Quiz.