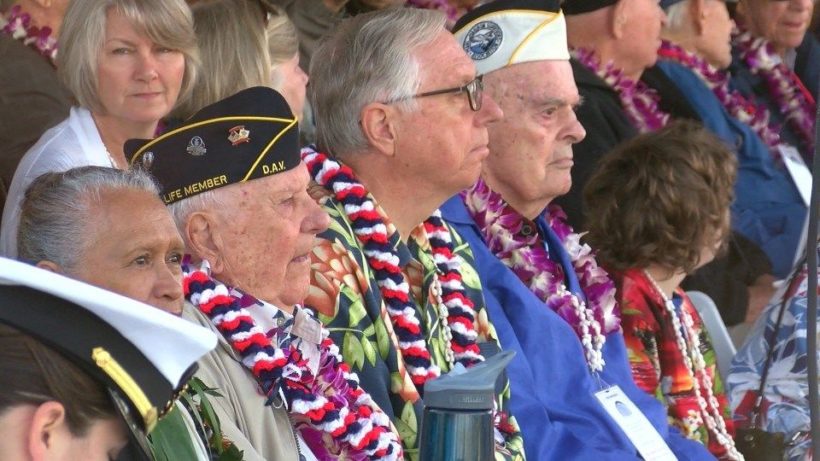 redo Jump to...
print Print...
(by HawaiiNewsNow staff) PEARL HARBOR – The crowds were smaller this year. There were fewer headlines and cameras and big names.
But none of that mattered to the survivors of the attack on Pearl Harbor and their families, who gathered — as they do every year — in the place where everything changed in an instant 76 years ago Thursday.
"I do this to honor my shipmates," said attendee Gilbert Meyer, who was 18 and aboard the USS Utah when the attack on Pearl Harbor began.
The Texas resident, 94, has returned to Hawaii for the anniversary for the last 15 years and said that every time, it "brings back memories."
This year, under the theme "Rising to the Challenge," veterans and their loved ones came together on the lawn at the World War II Valor in the Pacific National Monument to honor the fallen.
As in years' past, the commemoration started just before 8 a.m. to coincide with the exact moments on Dec. 7, 1941 that Japanese warplanes bombarded naval ships in Pearl Harbor and targeted other military installations on Oahu.
"This morning, as we have for the last 76 years, we gather here to pay our respects to America's World War II generation, the greatest generation, and in particular the veterans and civilians who responded to the attack on Pearl Harbor," said Adm. Scott Swift, commander of the U.S. Pacific Fleet.

"None of these heroes considers themselves as such. They all say they were doing their job. But by the time the guns fell silent, they were heroes all."
The gathering was notably smaller than last year's, when thousands gathered at Pearl Harbor's Kilo Pier to mark the 75th anniversary of the attack in a landmark ceremony filled with moments of reflection and calls to "never forget."
Attendees, though, say the ceremony is always a moving event. And Thursday was no exception.
The Japanese attack on Pearl Harbor dealt America a historic blow. When the last Japanese fighter planes left Hawaii skies – two hours and 20 minutes after the attack had started – 2,403 Americans were dead, the Pacific Fleet was in ruins, and the United States was thrown into war.
The Pearl Harbor ceremony is one of several happening statewide (throughout Hawaii) to mark the 76th anniversary of the attack.
There was also a commemoration at Joint Base Pearl Harbor-Hickam. And the Blackened Canteen Ceremony, which promotes peace and reconciliation, took place at the USS Arizona Memorial.
There were other smaller gatherings of Pearl Harbor survivors and World War II veterans.
One happened Wednesday, when two of the five remaining survivors of the USS Arizona were taken on a helicopter flyover of Pearl Harbor.
Donald Stratton and Lauren Bruner were accompanied by families and friends on the 15-minute flight to Pearl Harbor.
Stratton was just 19 years old when the attack happened.
And 76 years later, he saw his old ship from above for the first time. He couldn't help but become emotional.
"It's hard to say, what you're thinking," he said. "That's my ship and I remember being aboard and what happened and the shots, so … just brings back a lot of memories."
Reprinted here for educational purposes only. May not be reproduced on other websites without permission from Hawaii News Now.
---
Watch the Dec. 7, 2017 Hawaii News Now report:
Questions
1. Answer the following about Pearl Harbor:
a) Which country attacked the U.S. in Pearl Harbor?
b) Where is Pearl Harbor?
c) On what date did the attack take place?
d) How many American sailors and airmen were killed in the attack?
e) How many U.S. naval vessels and aircraft were destroyed?
f) Why were no aircraft carriers destroyed in the attack on Pearl Harbor?
2. a) How old was Gilbert Meyer when the Japanese attacked Pearl Harbor 76 years ago?
b) For what reason has Mr. Meyer traveled from Texas to Pearl Harbor for the anniversary for the past 15 years?
3. Why does the commemoration start just before 8 a.m. each year?
4. How did Admiral Scott Swift, commander of the U.S. Pacific Fleet characterize the survivors?
5. Why was this year's memorial at Pearl Harbor smaller than last year's?
6. Today's Daily News Article is a human interest story. Human interest stories differ from the regular news – they are sometimes referred to as "the story behind the story."
The major news articles of the day tell of important happenings. Human interest stories tell of how those happenings have impacted the people or places around the story. These stories take a break from the more serious news material to highlight something light or funny, something unusual and often something inspiring.
a) How does this article inspire you?
b) Ask a grandparent if he/she remembers Pearl Harbor. If not, ask your grandparent to describe what he/she learned about Pearl Harbor in elementary school. How does this compare to what you learned?
Background
Facts About Attack by Japan on United States 76 Years Ago:
(by John Haltiwanger, Newsweek.com, Dec. 7, 2107) – Seventy-six years ago, the United States was "suddenly and deliberately" attacked by Japan. President Franklin Roosevelt famously described December 7, 1941, as a date that will "live in infamy."
The attack began before 8 a.m. on a Sunday morning, with hundreds of Japanese planes swooping in for a surprise assault on U.S. warships in Pearl Harbor, Hawaii. America had not been expecting an attack, and Pearl Harbor found itself relatively undefended when Japan launched its assault.
The raid left almost 20 U.S. naval vessels, including eight battleships, damaged or destroyed, as well as more than 300 aircraft.
More than 2,400 Americans were killed, and about 1,000 were wounded.
The Japanese attacked Pearl Harbor to cripple the U.S. Pacific Fleet, but America's aircraft carriers––perhaps the most vital type of warship––were not stationed there on December 7. Not long after the attack, these ships would go on the offensive against the Japanese. (Read about U.S. victories involving aircraft carriers:  Battle of the Coral Sea and Lessons from the Battle of Midway). The surprise assault on Pearl Harbor was a devastating moment for the U.S. that catapulted it into World War II, the deadliest conflict in human history. "No matter how long it may take us to overcome this premeditated invasion, the American people in their righteous might will win through to absolute victory," Roosevelt said as he addressed Congress on December 8 and asked it to declare war on Japan.
"With confidence in our armed forces, with the unbounding determination of our people, we will gain the inevitable triumph—so help us God," the president said.
Congress gave full support to war against Japan: The Senate voted 82-0 in favor, while the House approved the resolution by a 388-1 vote. The only person to vote against entering the war was Representative Jeannette Rankin of Montana, a devout pacifist. Rankin had also voted against the U.S. entering World War I.
Days later, on December 11, 1941, Germany and Italy declared war on America, and the U.S. government promptly returned the gesture. The war, which would last until 1945, turned America into a global power and changed the world irrevocably.
Few survivors of the Pearl Harbor attack are still alive. Five of the remaining survivors from the USS Arizona, the ship hit hardest by the attack, reunited at Arlington National Cemetery in July to pay tribute to those who were killed. The Arizona sank after it was hit by an 1,800-pound bomb, killing 1,177 sailors.
Resources
Watch a Pearl Harbor video below:
---
Watch President Franklin D. Roosevelt's speech to Congress on Dec. 8, 1941 declaroing war on Japan after the bombing of Pearl Harbor:
Daily "Answers" emails are provided for Daily News Articles, Tuesday's World Events and Friday's News Quiz.