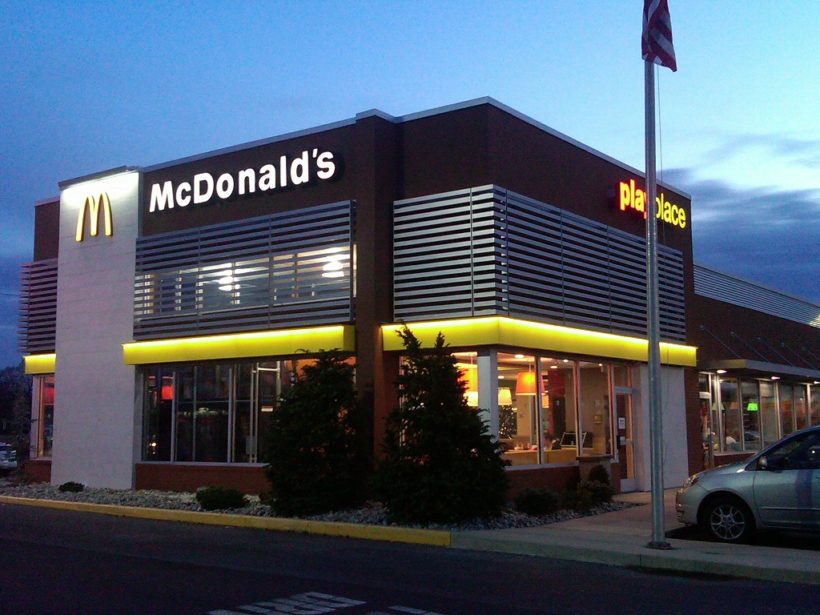 redo Jump to...
print Print...
Effective July 1, starting wages at McDonald's (MCD) will be at least $1 an hour more than the minimum wage set by local law, the fast-food chain announced Wednesday. All employees up to restaurant managers will get a pay bump as well.
The result: the fast food giant projects that its average hourly wage will reach more than $10 an hour by the end of 2016 — up from $9.01 currently. The new average will be $2.75 above the federal minimum wage.
(by Hayley Peterson, BusinessInsider) – Some McDonald's franchisees are furious over the company's recent decision to raise wages for some employees. [A franchisee is an individual who purchases the rights to use a company's trademarked name and business model to do business. The franchisee purchases a franchise from the franchisor. The franchisee must follow certain rules and guidelines already established by the franchisor, and in most cases the franchisee must pay an ongoing franchise royalty fee to the franchisor.]
They say that the decision, which affects just 10% of McDonald's US employees, was an "embarrassing" marketing stunt that's backfired against them, according to a survey by Janney Capital Markets.
"McDonald's has stabbed us in the gut," one franchisee wrote in response to the survey. "My 'partner' [McDonald's Corp.] has only itself in mind [and] it has declared war on the operator."
The pay raise affects only employees of company-owned restaurants, which account for one-tenth of the 14,350 McDonald's restaurants in the US. The rest of McDonald's restaurants are owned by franchisees, who are now under pressure to raise wages for their employees.
But franchisees say they can't afford more payroll costs because sales are plunging and McDonald's corporate is bankrupting them with fees, aggressive promotions, and costly restaurant upgrades.
"Relations between McDonald's Corporation and the operators are the worst I have ever seen," one franchisee wrote. "Operators feel betrayed. We have been struggling with profitability for the last year. We thought our partner understood this."
The decision to raise wages for 10% of employees "did nothing to quiet the labor issues and seems to have poured fuel on the fire," the operator added.
Franchisees pay a lot of extra money to the company (which corporate-owned restaurants don't owe) for advertising, rent, and other expenses. The company charges a service fee equal to 4% of gross sales, and rent can cost franchisees up to 12% of gross sales, according to a 2013 Bloomberg report.
Operators also have to pay for restaurant upgrades, including the new "Create Your Taste" digital displays that will allow people to customize their burgers. The equipment will cost operators between $120,000 and $160,000, according to franchisees cited in the Janney survey.
With all the financial pressure they are facing, franchisees said that they wished the company had at least warned them about its decision to raise wages instead of blindsiding them.
"None of us knew until the last hour … it's embarrassing," one operator wrote. "What the [heck] is McDonald's Corporation doing to our great company."
Restaurants like Chick-fil-A, Panera, and Five Guys are killing McDonald's. "It's going to take years if we ever turn this around," the operator wrote.
Another franchisee suggested that McDonald's has irreversibly damaged its relationship with operators.
The wage announcement "sent a wave through the operator community," the franchisee wrote. "An already-strained relationship was fractured and I don't know if they can recover."
Reprinted here for educational purposes only. May not be reproduced on other websites without permission from Business Insider. Visit the website at businessinsider .com.
Questions
NOTE TO STUDENTS:  Many issues can be controversial.  While you might not feel strongly about a certain topic, others around you might take a strong position on one side or the other.  Learn to logically defend your position, and politely respect your neighbor's point of view.  And if your neighbor gets argumentative with you, remind each other that both sides need to be tolerant of the other's point of view.
1. a) How many McDonald's stores are there in the U.S.?
b) In what percent of McDonald's stores has corporate raised employee wages?
c) Why haven't they done so in all McDonald's stores?
2. a) What is a franchise/franchisee?
b) Why are franchise owners (franchisees) upset with McDonald's decision?
3. List the fees and other expenses franchise owners must pay McDonald's Corporation to run their stores.
(para. 8-9)
4. Do you think franchise owners are justified in not wanting to increase employee pay above federal or state minimum wage? Explain your answer.
5. What do you think:
a) Is an entry level job at McDonald's meant to support a family and/or be a long-term full-time job, or is it a way to gain work experience and responsibility (to help a person move up to a job that requires increased skills and therefore higher pay)?
b) Should both McDonald's corporate and franchise owners pay higher wages and benefits to employees? Full-time AND part-time? All positions (manager, cashier, etc.)?
c) If franchise owners raise employee wages, and as a result food prices increase, would you still visit McDonald's as often as you do now?
6. Kwanza Brooks, a former McDonald's manager from Charlotte, North Carolina, said in a statement issued in response to the news of a wage increase in some stores, "This is too little to make a real difference, and covers only a fraction of workers. We're going to keep fighting until we win $15 and union rights for all fast-food workers and our families."
a) Do you agree with Ms. Brooks sentiment? Explain your answer.
b) Do you think $15 an hour is enough to support a family in most cities? Should McDonald's pay more than $10 or $15 an hour depending on a store's location? Explain your answer.
c) Ask a parent the same question.
OPTIONAL: Do you or anyone you know work (or worked) at McDonald's? Does there seem to be a difference in how people who have had experience working at McDonald's and those who haven't view this wage issue? Do you think adults and teens view this controversy differently?
Background
McDonald's announcement to raise wages in its corporate-owned stores mirrors moves by other national retailers to increase workers' pay amid growing concerns over income inequality and calls by President Obama to boost the federal minimum wage to $10 an hour.
Retailer Target last month announced it would raise its minimum wage to $9 an hour starting in April, following news from Wal-Mart that it plans to raise its wages to $9 an hour in April and $10 an hour by the end of 2016.
Worker advocates largely attribute the increases to worker protests the past two years, including at McDonald's stores, calling for a $15 hourly pay floor.
The pay increase comes as the restaurant giant struggles for ways to boost sagging sales, including bringing in a new CEO and experimenting with offering its popular breakfast menu all day. (from an April 1 USA Today article)
---
Also starting in July, many full- and part-time employees at company owned locations will begin to accrue paid time off. The PTO policy is being extended to workers with at least one year of experience. For example, an employee who works an average of 20 hours a week would earn about 20 hours of PTO in a year.
In addition, McDonald's is adding other perks for all 750,000 workers at any McDonald's location:
Free high-school completion: McDonald's said it will pay for employees at any company or franchise-owned location to take classes required to earn a high-school diploma through a national program.
Financial assistance for college: The chain also said it would assist with college credits and tuition assistance, though more details were not immediately provided.
Classes for non-English speakers: The company will also expand it's offering of free English language classes for workers. (from an April 1 CNN Money article)
Daily "Answers" emails are provided for Daily News Articles, Tuesday's World Events and Friday's News Quiz.